A lire
Using Public Data to Fight a War
How does a technology built for apartment-hunting end up being evaluated by the U.S. Army for use in Afghanistan? Cazoodle is using public data sources like Flickr and OpenStreetMap to build detailed guidebooks for American soldiers. Last week at Strata I sat down with company CTO Govind Kabra to find out how they do it. Its project for the Army is to build a detailed database of information about places in Afghanistan, using only public sources on the Web. The goal is to describe in detail the towns and cities including everything from names, locations and populations, as well as lists and coordinates for schools, mosques, banks and hotels.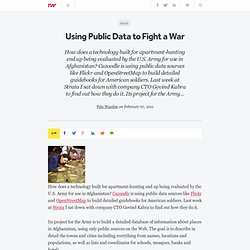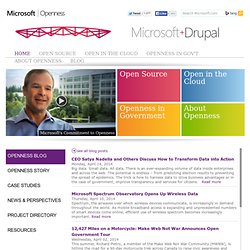 Case Studies Fusionex Read about how Fusionex, a provider of business intelligence solutions, leveraged Windows Azure HDInsight Service and Hadoop to help a customer better analyze its data, cut reporting its time from three months to less than 30 minutes, and reduce its energy consumption by 20 percent.
An Intro To The Semantic Web: Why You Need To Know About It Sooner Than Later | Web Central Station
Data mining and data warehousing
Scalable ontological EAI and e ...
Manuel sur la communication et la ...
Gephi Tutorial Visualization
Open Knowledge Foundation Blog » Blog Archive » Playing around with Open Linked Data: data.totl.net
Refining UMBEL's Linking and Mapping Predicates with Wikipedia We are only days away from releasing the first commercial version 1.00 of UMBEL (Upper Mapping and Binding Exchange Layer) [1]. To recap, UMBEL has two purposes, both aimed to promote the interoperability of Web-accessible content. First, it provides a general vocabulary of classes and predicates for describing domain ontologies and external datasets. Second, UMBEL is a coherent framework of 28,000 broad subjects and topics (the "reference concepts"), which can act as binding nodes for mapping relevant content.
Making Connections Real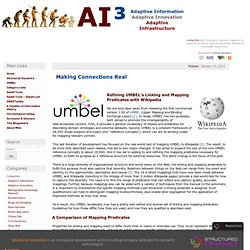 Co-located with the 9th International Semantic Web Conference (ISWC 2010) 7th November, 2010, Room 3D, Shanghai, China Summary Useful semantic content cannot be created fully automatically, but motivating people to become an active part of this endeavor is still an art more than a science. In this tutorial we will revisit fundamental design issues of semantic-content authoring technology in order to find out which incentives speak to people to become engaged with the Semantic Web, and to determine the ways they can be transferred into technology design.
The INSEMTIVES ISWC2010 Tutorial - 10 ways to make your semantic app addictive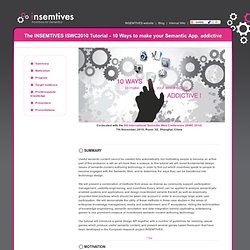 Meditating on Perl, Python and the Semantic Web
I have been working on a project with the National Labs over the past several months. A central element of that work has been an effort to bring much of the information and computatiom power of the Labs into a Service Oriented Architecture paradigm and the Semantic Web constructs are at the heart of that part of the work. Not being that familiar with the Semantic Web constructs, I embarked on a concerted effort to teach myself about it. So I have read through several books. But, for me, there is no substitute for doing some actualy programming on a topic to really do a "deep dive" into the material.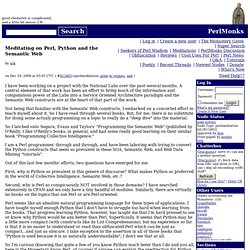 web - python semantic proxy/server, wich framework use
This year me and a friend have to make a project for the final year of university. The plan is to make a proxy/sever that allows to store ontologies and RDF's, by this way this data is "chained" to a web, so you can make a request for that web and the proxy will send you the homepage with metadata. We have been thinking to use python and rdflib, and for the web we don't know which framework is the best.
The Web has evolved from HTML quite dramatically over the last few years with revolutionary techniques for content and structural modeling, including XML (eXtensible Markup Language), RDF (Resource Definition Framework) and Topic Maps. Compared to HTML, the content of XML documents is enriched with semantic and structural features, and also is completely separated from its visual appearance. This allows a Web document to be displayed in any desired form. Given such an unrestricted choice, many companies and end users prefer a graphically rich document appearance with effective visual access to semantic and structural information. Visualizing the Semantic Web: XML-based Internet and Information Visualization is the first book dealing specifically with visualization of the Second-Generation Web.
Visualizing the Semantic Web (9781852335762): Vladimir Geroimenko, Chaomei Chen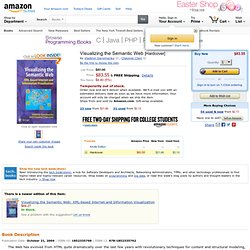 From the Back Cover Generating huge interest and backed by the global WorldWideWeb consortium the semantic web is the key initiative driving the future of the World Wide Web. Towards the Semantic Web focuses on the application of Semantic Web technology and ontologies in particular to electronically available information to improve the quality of knowledge management in large and distributed organizations. Ontologies are formal structures supporting knowledge sharing and reuse. They can be used to represent explicitly the semantics of structured and semi-structured information which enable sophisticated automatic support for acquiring, maintaining and accessing information. Covering the key technologies for the next generation of the WWW, this book is an excellent mixture of theory, tools and applications in an important area of WWW research.* Aims to support more efficient and effective knowledge management and focuses on weakly-structured online information sources.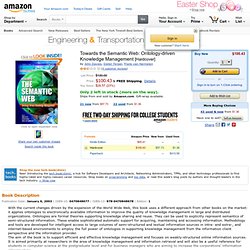 Towards the Semantic Web: Ontology-Driven Knowledge Management (9780470848678): John Davies, Dieter Fensel, Frank van Harmelen
Spinning the Semantic Web: Bringing the World Wide Web to Its Full Potential (9780262062329): Dieter Fensel, Wolfgang Wahlster, Henry Lieberman, James Hendler
FREE Two-Day Shipping is available to Amazon Prime members. To join, select "Yes, I want FREE Two-Day Shipping with Amazon Prime" above the Add to Cart button and confirm your Amazon Prime free trial sign-up during checkout. Amazon Prime members enjoy: Unlimited Free Two-Day Shipping Instant streaming of over 40,000 movies and TV episodes A Kindle book to borrow for free each month - with no due dates
Le salon E-Marketing 2011 s'est tenu à Paris hier et avant-hier. C'est un gros succès avec d'année en année, toujours plus de stands et de visiteurs. L'occasion aussi de discuter d'affiliation avec des représentants des grosses plateformes (Zanox, Tradedoubler, etc.), mais aussi au hasard des rencontres, avec quelques éditeurs, et même quelques annonceurs Avec également une conférence d'introduction au sujet de très bonne qualité par Michel Racat de Beezup (un "dashboard" d'affiliation pour les marchands).
Social commerce | Quand le e-commerce rencontre le Web d'aujourd'hui | Julien Chaumond
Seth Grimes's Tweet on the Sandro Hawke's video presentation caught my attention. The presentation, entitled An Introduction to Linked Data, was recorded in June 8, 2010 at the Cambridge Semantic Web Gathering, occurred at Massachusetts Institute of Technology(MIT) in Cambridge, MA. Sandro works at World Wide Web Consortium, an international community where Member organizations, a full-time staff, and the public work together to develop Web standards. From a Summary: "Although the first Semantic Web standards are more than ten years old, only recently have we begun to actually see machines sharing data on the Web.
An Introduction to Linked Data
How-to create a Linked Data site
Dans le développement logiciel, les démarches « Lean » inculquent une culture de l'amélioration continue qui s'articule autour de méthodes et d'outils, parmi lesquels : le kanban, la gestion des flux, le WIP, la taille des lots, la gestion des queues, l'intégration poussée des tests depuis les phases de spécifications, etc. Mais je remarque que, outre les nombreuses vertus de ces démarches, elles peuvent avoir des effets anesthésiants sur le comportement des équipes et peuvent s'avérer néfastes si l'on n'y prend pas garde. Car, à force de travailler à petit pas, à flux tendu et dans une perspective systémique ; à force d'être attentif aux petites corrections et optimisations, on devient aveugle aux aspects environnementaux et architecturaux qui rendent possible cette logique de l'amélioration continue.
Semantic Search Gets On The Map - semanticweb.com
Présentation du web de données
Use Google Refine to Export JSON
Henry Thompson : Are Uris really names?
The Twitter data extraction begins! « Laurens goes semantic…
Featured Tools and Technologies
Présentation du web de données
Object-Oriented PHP for Beginners
Recherche à facettes
Tunnel SSH, proxy HTTP [NoJhan - Site perso]
Strata Conference 2011, Day 2 Keynotes
The Semantic Link Podcast RSS Feed is live!
Episode 2 of The Semantic Link podcast discusses Drupal and more
MapReduce from the basics to the actually useful (in under 30 minutes)
When supercomputers meet the Semantic Web – Post
Easy Semantic Solution Is At Hand! – Post
Mapping Wikileaks' Cablegate using Python, mongoDB and Gephi – Saturday, 5 Feburary 2011
Need faster machine learning? Take a set-oriented approach
Developer Week in Review
Handling RDF on Your Own System – Quick Start
Tags Associated With Other Tags on Delicious Bookmarked Resources