A lire
Using Public Data to Fight a War
How does a technology built for apartment-hunting end up being evaluated by the U.S. Army for use in Afghanistan? Cazoodle is using public data sources like Flickr and OpenStreetMap to build detailed guidebooks for American soldiers. Last week at Strata I sat down with company CTO Govind Kabra to find out how they do it. Its project for the Army is to build a detailed database of information about places in Afghanistan, using only public sources on the Web. The goal is to describe in detail the towns and cities including everything from names, locations and populations, as well as lists and coordinates for schools, mosques, banks and hotels.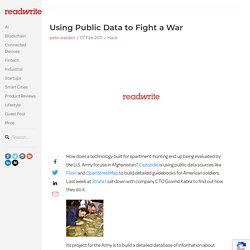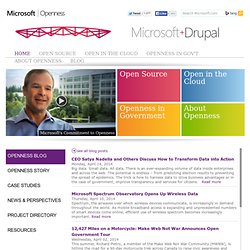 Case Studies Fusionex Read about how Fusionex, a provider of business intelligence solutions, leveraged Windows Azure HDInsight Service and Hadoop to help a customer better analyze its data, cut reporting its time from three months to less than 30 minutes, and reduce its energy consumption by 20 percent.
An Intro To The Semantic Web: Why You Need To Know About It Sooner Than Later | Web Central Station
Data mining and data warehousing
Scalable ontological EAI and e ...
Manuel sur la communication et la ...
Gephi Tutorial Visualization
Open Knowledge Foundation Blog » Blog Archive » Playing around with Open Linked Data: data.totl.net
Refining UMBEL's Linking and Mapping Predicates with Wikipedia
Making Connections Real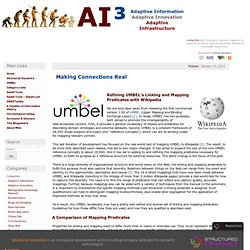 Co-located with the 9th International Semantic Web Conference (ISWC 2010) 7th November, 2010, Room 3D, Shanghai, China
The INSEMTIVES ISWC2010 Tutorial - 10 ways to make your semantic app addictive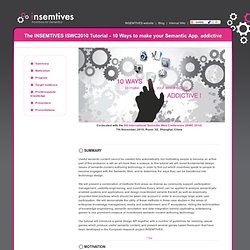 Meditating on Perl, Python and the Semantic Web
I have been working on a project with the National Labs over the past several months.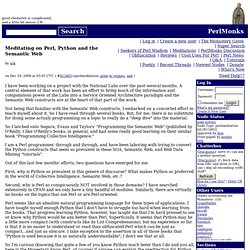 web - python semantic proxy/server, wich framework use
Visualizing the Semantic Web (9781852335762): Vladimir Geroimenko, Chaomei Chen
Towards the Semantic Web: Ontology-Driven Knowledge Management (9780470848678): John Davies, Dieter Fensel, Frank van Harmelen
Spinning the Semantic Web: Bringing the World Wide Web to Its Full Potential (9780262062329): Dieter Fensel, Wolfgang Wahlster, Henry Lieberman, James Hendler
Social commerce | Quand le e-commerce rencontre le Web d'aujourd'hui | Julien Chaumond
Seth Grimes's Tweet on the Sandro Hawke's video presentation caught my attention.
An Introduction to Linked Data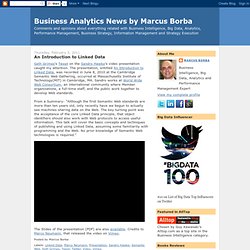 How-to create a Linked Data site
Semantic Search Gets On The Map - semanticweb.com
Présentation du web de données
Use Google Refine to Export JSON
Henry Thompson : Are Uris really names?
Today I started with the implementation of the extraction package. The package contains two models: one for the user's profile and one for the user's tweets.
The Twitter data extraction begins! « Laurens goes semantic…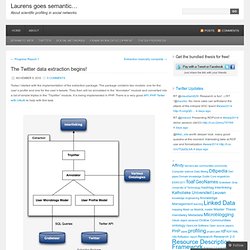 Featured Tools and Technologies
Présentation du web de données
Object-Oriented PHP for Beginners Twice a month, we revisit some of our readers' favorite posts from through out the history of Nettuts+.
Recherche à facettes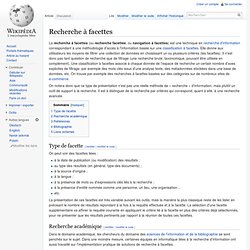 Un article de Wikipédia, l'encyclopédie libre. La recherche à facettes (ou recherche facettée, ou navigation à facettes) est une technique en recherche d'information correspondant à une méthodologie d'accès à l'information basée sur une classification à facettes.
Tunnel SSH, proxy HTTP [NoJhan - Site perso]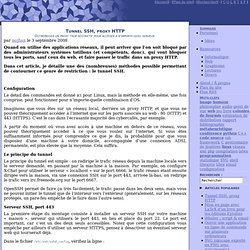 par nojhan le 3 septembre 2008
As described in the HOW TO, svnX has trouble dealing with the https protocol.
HOW TO Work-around for the https protocol error in svnX on OS X
Day 2, and after yesterday's tutorials the conference is really getting going.
Strata Conference 2011, Day 2 Keynotes
The Semantic Link Podcast RSS Feed is live!
Episode 2 of The Semantic Link podcast discusses Drupal and more
Episode 2 of our new Semantic Link podcast went up on SemanticWeb.com this evening, and it's another good one.
MapReduce from the basics to the actually useful (in under 30 minutes)
When supercomputers meet the Semantic Web – Post
Easy Semantic Solution Is At Hand! – Post
Mapping Wikileaks' Cablegate using Python, mongoDB and Gephi – Saturday, 5 Feburary 2011
Need faster machine learning? Take a set-oriented approach
Developer Week in Review
Handling RDF on Your Own System – Quick Start
Tags Associated With Other Tags on Delicious Bookmarked Resources