Datajournalism
Last week ReadWriteWeb asked : "Is Linked Data Gaining Acceptance?"
Introduction to Linked Open Data for Visualization Creators on Datavisualization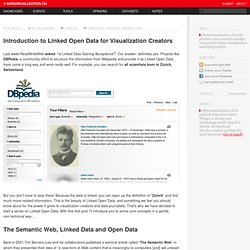 Photo by Dan Nguyen/ProPublica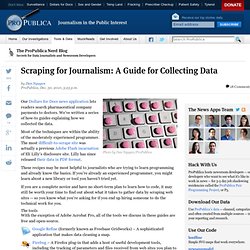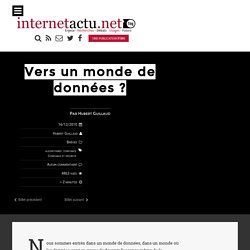 Nous sommes entrés dans un monde de données, dans un monde où les données sont en passe de devenir l'essence même de la connaissance et de l'information. La donnée ( data ) est la plus petite part d'information accessible, à la manière des zéros et des uns qui constituent les bits d'information à l'heure du numérique.
Par Hubert Guillaud le 16/12/10 | 9 commentaires | 4,627 lectures | Impression Sur Place de la Toile, le 12 décembre dernier , Xavier de la Porte recevait Guillaume Main, consultant et statisticien, qui s'occupe du site Statosphère ; Erick Alphonse, maître de conférences au Laboratoire d'Informatique de Paris-Nord (LIPN) et responsable d' Idaaas , une société qui construit des modèles prédictifs, notamment via PredictiveDB , un logiciel prédictif et Antoinette Rouvroy , chercheuse au Fonds national de la Recherche scientifique, qui travaille sur les formes de pouvoir induites par l'usage des données. Réécouter l'émission en ligne , ou parcourez le transcript augmenté de liens.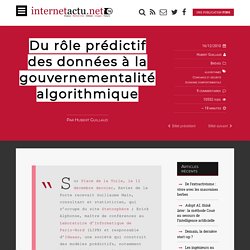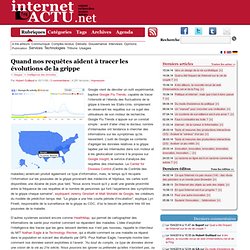 Par Hubert Guillaud le 20/11/08 | 3 commentaires | 4,249 lectures | Impression Google vient de dévoiler un outil expérimental, baptisé Google Flu Trends , capable de tracer l'intensité et l'étendu des fluctuations de la grippe à travers les Etats-Unis, simplement en observant les requêtes sur ce sujet des utilisateurs de son moteur de recherche.
Quand nos requêtes aident à tracer les évolutions de la grippe
50 most stunning examples of data visualization and infographics Posted by Richie on Thursday, April 15, 2010 · 86 Comments "A picture is worth a thousand words", if I had a penny for every time I heard that!!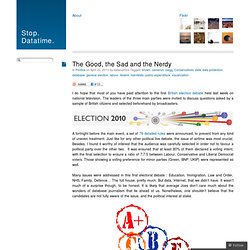 The Good, the Sad and the Nerdy « Stop. Datatime.
I do hope that most of you have paid attention to the first British election debate held last week on national television. The leaders of the three main parties were invited to discuss questions asked by a sample of British citizens and selected beforehand by broadcasters.
On en parle de plus en plus, notamment sur ce site, mais qu'est-ce que ce fameux "journalisme de données" qui est censé révolutionner les salles de rédactions et permettre aux journalistes de trouver leur place dans la grande révolution web. Un signe, d'ailleurs : au sein de la prestigieuse université américaine de Columbia, les étudiants en journalismes suivent désormais plusieurs cours leur permettant d'apprendre à naviguer dans des bases de données et à en tirer les outils nécessaires à leurs enquêtes ( lire également l'excellent Medialab de Cécile à ce sujet ). En (très) résumé, le journalisme de données, c'est savoir naviguer, comprendre et interpréter les millions de données qui sont mises en ligne chaque jour à travers le monde. Concrètement, qu'est-ce que cela peut donner ? Voici quelques exemples qui me semblent particulièrement intéressant. L'équipe multimédia du New-York Times a ainsi proposé il y a peu à ses lecteurs une carte des déplacements des taxis dans New-York .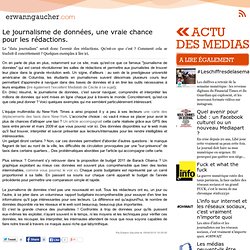 Accueil - Le journalisme de données, une vraie chance pour les rédactions.
Ce que cache le débat sur le journalisme de données
La thématique du « journalisme de données » suscite des échanges de points de vue très intéressants et très opposés.
The Real Results series is supported by Gist , an online service that helps you build stronger relationships. By connecting your inbox to the web, you get business-critical information about key people and companies. See how it works here .
How Journalists are Using Social Media for Real Results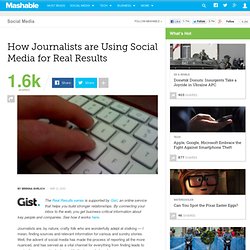 J'ai eu l'impression, ces derniers jours, de répéter plusieurs fois la même chose à des personnes différentes.
Quatre voies du datajournalism
Hubs and Connectors: Understanding Networks Through Data Visualization
Hubs and Connectors: Understanding Networks Through Data Visualization – Post