Standards, Normes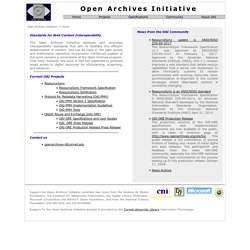 Standards for Web Content Interoperability The Open Archives Initiative develops and promotes interoperability standards that aim to facilitate the efficient dissemination of content. OAI has its roots in the open access and institutional repository movements. Continued support of this work remains a cornerstone of the Open Archives program.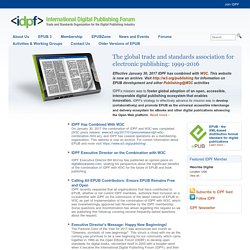 The IDPF Board of Directors Nominating Committee has announced a slate of recommended candidates for the upcoming Board election. The committee received over twice as many candidates as available places, but ultimately unanimously agreeed on the slate of seven candidates, which was subsequently approved by the full Board. The candidates are: Paul Belfanti (Pearson), Angela Bole (Independent Book Publishers Association - incumbent), Leslie Hulse (HarperCollins - incumbent), Rick Johnson (Vital Source Technologies), Bill Kasdorf (Apex Covantage), Liisa McCloy-Kelley (Penguin Random House - Incumbent), and Junichi Yoshii (Kodansha). Eight seats will be filled in this cycle so at least one "at large" candidate will be elected.
EPUB (short for electronic publication) is a free and open e-book standard by the International Digital Publishing Forum (IDPF). Files have the extension .epub. EPUB is designed for reflowable content, meaning that an EPUB reader can optimize text for a particular display device. EPUB also supports fixed-layout content. The format is intended as a single format that publishers and conversion houses can use in-house, as well as for distribution and sale.