Standards, Normes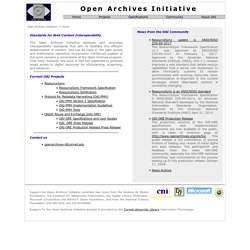 Standards for Web Content Interoperability The Open Archives Initiative develops and promotes interoperability standards that aim to facilitate the efficient dissemination of content. OAI has its roots in the open access and institutional repository movements. Continued support of this work remains a cornerstone of the Open Archives program.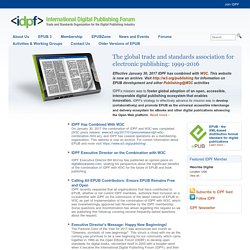 The IDPF will hold a technical workshop on Sequential Art (Comics, Manga, Bandes dessinées, and new form) on March 26, 2014 in Paris, France, hosted by Cap Digital, and via web meeting. The goals of this international workshop are to inform IDPF members and other interested parties about the new features for fixed-layout EPUB that have been developed by the Advanced-Hybrid Layout (AHL) Working Group, to determine what gaps may still remain in EPUB relative to requirements for digital comics and manga (such as interactive cutscenes and other advanced inter- and intra-page transition effects), and to reach consensus of stakeholders on an action plan to address these gaps and ensure that EPUB is a complete foundation for rich, interactive digital comics and manga on a global basis. For more information on the event and how to participate, visit the event page at http://idpf.org/idpf-comics-manga-workshop-paris .
EPUB (short for electronic publication) is a free and open e-book standard by the International Digital Publishing Forum (IDPF). Files have the extension .epub. EPUB is designed for reflowable content, meaning that an EPUB reader can optimize text for a particular display device. EPUB also supports fixed-layout content. The format is intended as a single format that publishers and conversion houses can use in-house, as well as for distribution and sale.