Diagrams
LucidChart - Flow Chart Maker & Online Diagram Software
We've redesigned the entire diagramming process to make it as easy as possible. Make flow charts, wireframes, mind maps, and org charts. Try it now Sign up free Diagramming Software Drag and drop shapes onto the canvas to startflowcharting and mapping out a process. There's no learning curve with our free flow chart software—it's easy and intuitive. Try it now Sign up free Wireframes & Mockups From static wireframes to rapid prototypes, web developers can do it all with Lucidchart's wireframe tool. Collaborate with your client and design team in real-time to cut down on iterations.
"Visio Alternative
Lucidchart is a complete diagramming solution.
We support working with existing Visio files and
any new projects can be exported as a Visio file.
No download or credit card required." by feillet Oct 3
Free Online Organization Chart - EasyOrgChart.com
Flowchart Symbols Defined: Business Process Map and Flow Chart Symbols and their Meanings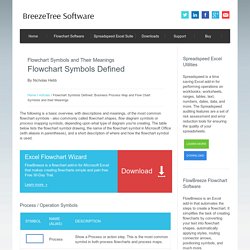 Flowchart Symbols and Their Meanings By Nicholas Hebb Excel Flowchart Timesaver FlowBreeze is a flowcharting automation add-in for Excel ® that makes creating flowcharts simple and pain free. Free 30-Day Trial. The following is a basic overview, with descriptions and meanings, of the most common flowchart symbols - also commonly called flowchart shapes , flow diagram symbols or process mapping symbols , depending upon what type of diagram you're creating.
What do the Different Flowchart Shapes Mean?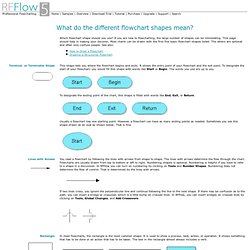 For most flowcharting you need only use the basic flowchart shapes listed above. Those listed below are included to be complete, but you don't have to use them. If you are working in a group, you should decide which flowcharting shapes should be used and form your own standards. There are no universal standards in flowcharting. There have been ISO standards written, like ISO 5807 and DIN 66001, but they were largely ignored. DIN 66001 seems to be popular in Germany.
By Mike Hughes Published: November 16, 2009 "Many of us are more comfortable communicating in words than in pictures."
Visual Methods of Communicating Structure, Relationship, and Flow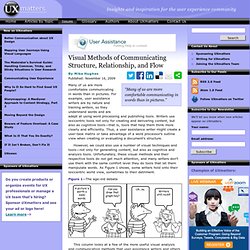 Let's say you know which work area, or process, needs improvement. You may even have concrete data about how that area performs (effectively or not). Before you can improve the work area, you'll need a solid understanding of what works and what really needs improvement. Now is the time to visually represent your findings, so that you can profoundly understand the "current state" (also known as "As Is") of your process and discover its true potential. Process maps are much more than simple boxes and lines that document a how work flows. They are a potent set of tools that, when used properly, can unlock urgent opportunities to: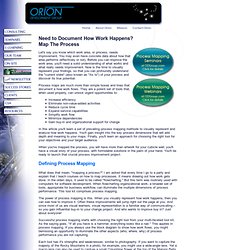 Need to Document How Work Happens? Map The Process