CMS Content Management Systems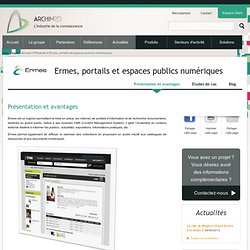 En 2009, La communauté d'agglomération Angers Loire Métropole et la Ville d'Angers, ont souhaité revoir en profondeur la gestion de leurs postes publics en libre accès. L'objectif étant de pouvoir administrer de manière unifiée l'ensemble des postes publics présents, entre autres, dans les 10 Bibliothèques, les Mairies de quartier, le Centre d'Information Jeunesse, le Muséum d'Histoire Naturelle et le Musée des Beaux Arts de la Ville d'Angers. Le périmètre concerne un peu moins d'une centaine de postes publics répartis sur différents sites géographiques.
Portails culturels et documentaires, espaces publics numériques
Institutional Repository Platform - Open Source
Web Content Management Systems - Open Source
WordPress as CMS for Libraries
Luna Imaging, Inc. | Welcome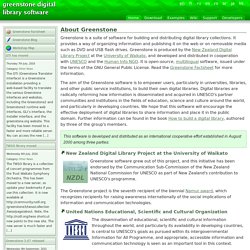 Greenstone is a suite of software for building and distributing digital library collections. It provides a new way of organizing information and publishing it on the Internet or on CD-ROM. Greenstone is produced by the New Zealand Digital Library Project at the University of Waikato, and developed and distributed in cooperation with UNESCO and the Human Info NGO. It is open-source, multilingual software, issued under the terms of the GNU General Public License. Read the Greenstone Factsheet for more information.
CONTENTdm Digital Collection Management Software by OCLC