Embedded
Embedded systems development and process improvement - QSpin. Linux on ARM. ARM Linux Android. Mikrotik. Ethernet routers 5x Ethernet, Small plastic case, 400MHz CPU, 32MB RAM, Most affordable MPLS router, RouterOS L4 5xEthernet with PoE output for all ports, USB, 400MHz CPU, 32MB RAM, RouterOS L4 5x Gigabit Ethernet, 400Mhz CPU, 64MB RAM, RouterOS L4 RB2011iL-IN Desktop metal case, 5xEthernet, 5xGigabit Ethernet, PoE out on port 10, 600MHz CPU, 64MB RAM, RouterOS L4.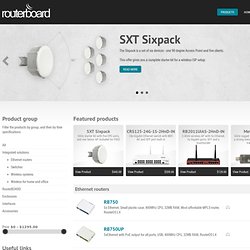 Applianceshop.eu Home page - Open source for your Business! Www.dd-wrt.com | Unleash Your Router. The Heartbleed vulnerability in discovered in OpenSSL 1.0.1 - 1.0.1f is one of the most serious matters in encrypted data communication during the last years.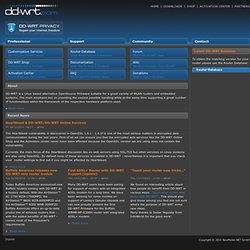 First of all we can ensure you that the encrypted web services like the DD-WRT Online Shop and the Activation center never have been affected because the OpenSSL version we are using does not contain the vulnerability. Currently the main focus of the Heartbleed discussion lies on web servers using SSL/TLS but other services on Linux systems are also using OpenSSL. OpenPICUS. Arduino - HomePage.
---