Embedded
Embedded systems development and process improvement - QSpin
Linux on ARM
Linux is omnipresent in your life via gadget running Android, but in the desktop world, as many of you already know, it's not straightforward to get a Linux distribution fully work on ARM platform, because each ARM SoC or board is different, and above all binary blobs used for GPUs, VPUs, Wi-Fi and Bluetooth chips can make it extremely complex, even impossible, to have a fully working ARM Linux distribution for a given hardware.
Ethernet routers 5x Ethernet, Small plastic case, 400MHz CPU, 32MB RAM, Most affordable MPLS router, RouterOS L4 5xEthernet with PoE output for all ports, USB, 400MHz CPU, 32MB RAM, RouterOS L4 5x Gigabit Ethernet, 400Mhz CPU, 64MB RAM, RouterOS L4 RB2011iL-IN Desktop metal case, 5xEthernet, 5xGigabit Ethernet, PoE out on port 10, 600MHz CPU, 64MB RAM, RouterOS L4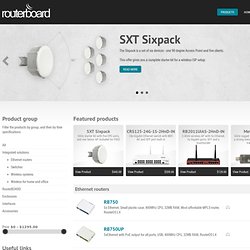 Mikrotik
Applianceshop.eu Home page - Open source for your Business!
What Arduino can do Arduino can sense the environment by receiving input from a variety of sensors and can affect its surroundings by controlling lights, motors, and other actuators. The microcontroller on the board is programmed using the Arduino programming language (based on Wiring) and the Arduino development environment (based on Processing).