Let's feed that little photography addiction of yours. c;
Create HDR Photos Online. ComparePSD - compare Photoshop PSD files layer-by-layer - PixelNovel. Imagine.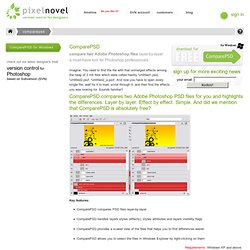 You need to find the file with that unmerged effects among the heap of 2 mb files which were called hastily 'Untitled1.psd, 'Untitled2.psd', 'Untitled2_a.psd'. And now you have to open every single file, wait for it to load, scroll through it, and then find the effects you was looking for. Sounds familiar? Key features: FotoFlexer - The world's most advanced online photo editor. Photo Editing, Photo Sharing. Picnik - Photo editing the easy way, online in your browser. Photo Effects and Photo Editing with One Click - BeFunky.com. Home - PhotoFunia. PicMagick.
Stitch app Photosynth. Rollip - Pro Photo Effects. Sumo Paint | Online Image Editor. Splashup. Photo editor online - Pixlr.com edit image. BestSites Photo-Editing & Photo Effects | Larry. Over the past few years, I've been accumulating links to — and experimenting with — various online photo editors and sites for photo effects.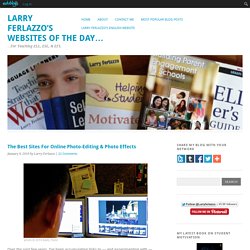 There are certainly a zillion of them out there. I finally decided it was time to narrow all the links down into some kind of "The Best…" list, and have divided this post into two sections. The first part lists sites where you can upload your own images and, with no registration required (or, perhaps, in one or two instances, an extremely minimal registration process) easily edit the photo or add effects. The second section lists sites that I've specifically used with my English Language Learner students.
These sites let you easily grab an image off the web, lets you add add a speech bubble to it, and then gives you a more or less permanent url address for your creation that you can post on a student or teacher website/blog.
---