SOPA/PIPA
Get flash to fully experience Pearltrees
An overzealous bill that claims to be about stopping child pornography turns every Web user into a person to monitor Every right-thinking person abhors child pornography. To combat it, legislators have brought through committee a poorly conceived, over-broad Congressional bill, The Protecting Children from Internet Pornographers Act of 2011.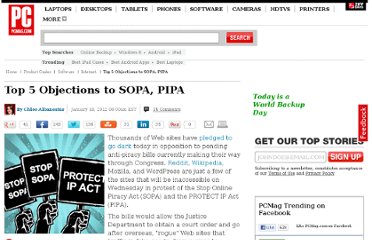 Thousands of Web sites have pledged to go dark today in opposition to pending anti-piracy bills currently making their way through Congress. Reddit , Wikipedia , Mozilla, and WordPress are just a few of the sites that will be inaccessible on Wednesday in protest of the Stop Online Piracy Act (SOPA) and the PROTECT IP Act (PIPA). The bills would allow the Justice Department to obtain a court order and go after overseas, "rogue" Web sites that traffic in fake goods, from purses to prescription drugs. The DOJ could have these sites removed from search engines, while copyright holders could have the agency target sites they believe to contain infringing content. Detractors believe SOPA and PIPA are too broad and could have unintedned consequences for legitimate sites. Most are in agreement that something needs to be done about Web sites offering pirated goods, but how exactly to accomplish that goal remains a sticking point.
When we talk about how dangerous PROTECT IP is as a censorship bill, we're often told that we shouldn't worry so much, because it's only targeted at "rogue sites" and thus wouldn't impact any legitimate sites. We're told there's nothing about rogue sites that is worth defending. And yet, as we've seen with the list of "pirate" sites that GroupM put together with help from the music and movie industries, their definition of a "pirate" site is expansive in the extreme. It included the Internet Archive, Vimeo, Soundcloud and a ton of blogs and news sites, including the famed Vibe magazine. And don't think it gets any different when you hop over to the trademark/counterfeit side of the debate. In Tim's post about Monster Cable lobbying in favor of PROTECT IP , as an aside at the end, he notes that on Monster Cable's own list of "rogue sites," eBay and Craigslist top the list.