Politics
WOW! Sean Hannity-FOX Pal: "Don't Let Women Vote"
To put the problem in the simplest terms, the interests of the client continue to be sidelined in the way the firm operates and thinks about making money. Goldman Sachs is one of the world's largest and most important investment banks and it is too integral to global finance to continue to act this way. The firm has veered so far from the place I joined right out of college that I can no longer in good conscience say that I identify with what it stands for. It might sound surprising to a skeptical public, but culture was always a vital part of Goldman Sachs's success. It revolved around teamwork, integrity, a spirit of humility, and always doing right by our clients. The culture was the secret sauce that made this place great and allowed us to earn our clients' trust for 143 years.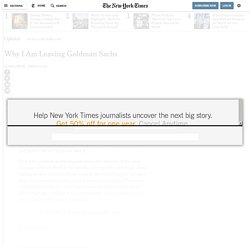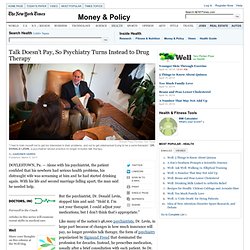 Richard Perry/The New York Times "I had to train myself not to get too interested in their problems, and not to get sidetracked trying to be a semi-therapist." DR. DONALD LEVIN , a psychiatrist whose practice no longer includes talk therapy. But the psychiatrist, Dr. Donald Levin, stopped him and said: "Hold it.
Talk Doesn't Pay, So Psychiatry Turns Instead to Drug Therapy Print - The War Against Youth
Published in the April 2012 issue Twenty-five years ago young Americans had a chance. In 1984, American breadwinners who were sixty-five and over made ten times as much as those under thirty-five.
www.justice.org/docs/tenworstinsurancecompanies.pdf
Learning How to Argue: An Interview with Ran Yunfei by Ian Johnson
Ian Johnson Ian Johnson Ran Yunfei One of China's most outspoken public intellectuals, Ran Yunfei was detained last year after calls went out for China to emulate the "Jasmine Revolution" protests sweeping North Africa. He was held without trial for six months until last August. Interestingly, prosecutors turned down police requests for Ran to be formally charged, sending the case back to police with requests for more evidence.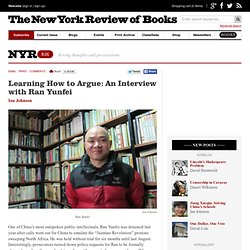 On March 17, revelers will drink green beer (and eat corned beef ) in celebration of the man who, according to David Plotz, "didn't rid the land of snakes, didn't compare the Trinity to the shamrock, and wasn't even Irish." In a 2000 piece reproduced below, Plotz stripped the myth away from St. Patrick, evaluating the many different popular incarnations that have arisen in the years since his birth. Today we raise a glass of warm green beer to a fine fellow, the Irishman who didn't rid the land of snakes, didn't compare the Trinity to the shamrock, and wasn't even Irish. St.
The man behind the green beer and myth
I was having a little chit-chat last weekend on teh twitterz (the same conversation wherein I was introduced to the epic awesomeness that is Fuck Yeah Disingenuous Liberal ) in which somehow or another I ended up being reminded of the fact that throughout my life, some of the most macho, sexist, patronizing, gender-binarist, insecure men I ever knew were poets, artists and hipsters. Thinking about that, and looking back on all of it I was exposed to (with no small amount of guilt at recognition that I'd participated in a good deal of hipster sexism myself), I found myself getting increasingly angry. I'm not entirely sure why… I guess perhaps because of how limited our conceptions of the danger of these concepts and attitudes can be.
Hipster Misogyny | Sincerely, Natalie Reed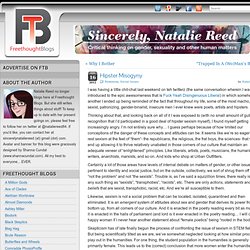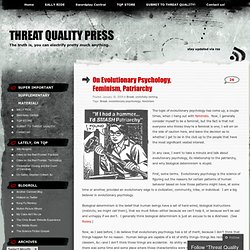 The topic of evolutionary psychology has come up, a couple times, when I hang out with feminists . Now, I generally consider myself to be a feminist, but the fact is that not everyone who thinks they're a feminist is one; I will err on the side of caution here, and leave the decision as to whether I get to be in the club up to the people that have the most significant vested interest. In any case, I want to take a minute and talk about evolutionary psychology, its relationship to the patriarchy, and why biological determinism is stupid. First, some terms. Evolutionary psychology is the science of figuring out the reasons for certain patterns of human behavior based on how those patterns might have, at some time or another, provided an evolutionary edge to a civilization, community, tribe, or individual. I am a big believer in evolutionary psychology.
On Evolutionary Psychology, Feminism, Patriarchy « Threat Quality Press
This photo's been kicking around Facebook for the past few days. The first time I saw it, it miffed me. The second time, it aggravated me. Times three and four I was angry.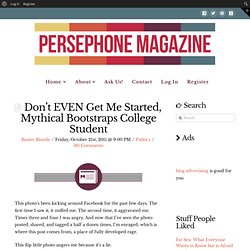 Don't EVEN Get Me Started, Mythical Bootstraps College Student
Craig T. Nelson on Government Aid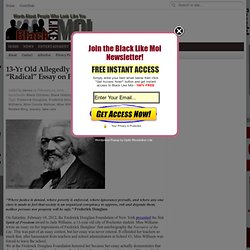 13-Yr Old Allegedly Persecuted by Teachers for "Radical" Essay on Frederick Douglass
"Where justice is denied, where poverty is enforced, where ignorance prevails, and where any one class is made to feel that society is an organized conspiracy to oppress, rob and degrade them, neither persons nor property will be safe." Frederick Douglass On Saturday, February 18, 2012, the Frederick Douglass Foundation of New York presented the first Spirit of Freedom award to Jada Williams, a 13-year old city of Rochester student. Miss Williams wrote an essay on her impressions of Frederick Douglass' first autobiography the Narrative of the Life .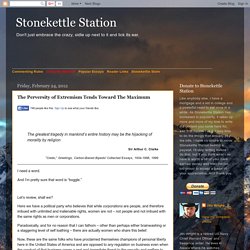 The greatest tragedy in mankind's entire history may be the hijacking of morality by religion Sir Arthur C. Clarke "Credo," Greetings, Carbon-Based Bipeds! Collected Essays, 1934-1998, 1999 I need a word. And I'm pretty sure that word is "boggle." Let's review, shall we?
Station: The Perversity of Extremism Tends Toward The Maximum
On February 6, following Personhood USA's push to proclaim fertilized human eggs the same as grown humans, the Republican dominated Oklahoma legislature introduced the bill known as "Personhood Bill" SB 1433 to the Senate Floor. In response, Democratic State Senator Constance Johnson attached an amendment to the bill that would ban the spilling of semen in any location other than a woman's vagina. According to the report in thelostogle.com , the amendment would outlaw masturbation by men, and all forms of sexual activity "in which a man ejaculates or otherwise deposits semen anywhere but in a woman's vagina shall be interpreted and construed as an action against an unborn child." Monty Python would be so proud! She later removed the measure stating that she wanted to emphasize the absurdity of the bill and its sexist undertones that is inherent in Personhood movement.
Thou Shalt Not Spill Thy Seed! Anti-Masturbation Amendment Added To Anti-Abortion Bill
Undercover police cleared 'to have sex with activists' | UK news
Mark Kennedy had sexual relationships with several women while serving as an undercover policeman and infiltrating a ring of environmental activists Undercover police officers routinely adopted a tactic of "promiscuity" with the blessing of senior commanders, according to a former agent who worked in a secretive unit of the Metropolitan police for four years. The former undercover policeman claims that sexual relationships with activists were sanctioned for both men and women officers infiltrating anarchist, leftwing and environmental groups.
In this podcast short, a strange twist of legal taxonomy causes a dispute over whether X-MEN action figures are toys or dolls and sparks a court case about what it means to be human. Reporter Ike Sriskandarajah tells Jad and Robert a story about two international trade lawyers, Sherry Singer and Indie Singh , who noticed something interesting while looking at a book of tariff classifications. "Dolls," which represent human beings, are taxed at almost twice the rate of "toys," which represent something not human - such as robots, monsters, or demons. As soon as they read that, Sherry and Indie saw dollar signs. it just so happened that one of their clients, Marvel Comics, was importing its action figures as dolls. And one set of action figures really piqued Sherry and Indie's interest: The XMEN, normal humans who, at around puberty, start to change in ways that give them strange powers.
Mutant Rights
The Dumbest Idea In The World: Maximizing Shareholder Value
Scribd
Sen. Joe Lieberman Asks Google For A 'Report Blog As Terrorist' Button
Senator Joe Lieberman, taking a break from his usual schedule of trying to stamp out all things Wikileaks-related, returns to his old anti-terrorism stomping grounds, sending out a letter to Google CEO Larry Page, expressing his concern that not enough stuff is getting labeled "terrorism." He bases his request on the old "because someone did something once" argument that has served the DHS and TSA so well. (See also: "See something.
In August of 1865, a Colonel P.H. Anderson of Big Spring, Tennessee, wrote to his former slave, Jourdon Anderson, and requested that he come back to work on his farm. Jourdon — who, since being emancipated , had moved to Ohio, found paid work, and was now supporting his family — responded spectacularly by way of the letter seen below (a letter which, according to newspapers at the time , he dictated). Rather than quote the numerous highlights in this letter, I'll simply leave you to enjoy it. Do make sure you read to the end. UPDATE: Head over to Kottke for a brief but lovely little update about the later years of Jourdon and family.
Falwell v Flynt Trial (1984)