Books
If you want to save time, money, get free stuff, save up to 50% on groceries, and more, then you need the Who Knew? books! You'll get Who Knew? - 10,001 Easy Solutions for just $10 plus $7.99 shipping and handling!
Who Knew? ™ | Official TV Site | Save Money. Save Time. Get Free Stuff!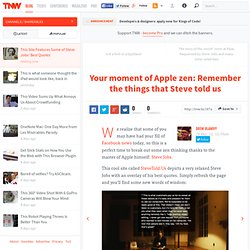 We realize that some of you may have had your fill of Facebook news today, so this is a perfect time to break out some zen thinking thanks to the master of Apple himself: Steve Jobs. This cool site called SteveTold.Us depicts a very relaxed Steve Jobs with an overlay of his best quotes. Simply refresh the page and you'll find some new words of wisdom: There's nothing more to the site than that, but as usual, the words of Steve Jobs still resonate like they always did.
This Site Features Some of Steve Jobs' Best Quotes
LibraryThing
Amazon.com
Half.com
eBay
BookLookr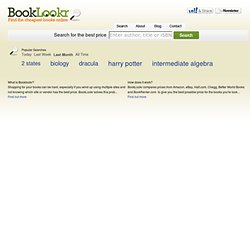 Popular Searches What is Booklookr? Shopping for your books can be hard, especially if you wind up using multiple sites and not knowing which site or vendor has the best price. BookLookr solves this prob...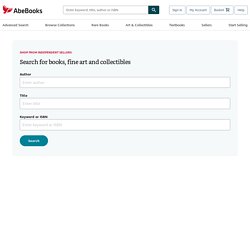 Often complete with heartfelt stories and vibrant photography, today's cookbooks have evolved into carefully curated works of art, full of recipes for modern lifestyles. Join us on a culinary tour led by world-famous chefs, award-winning restaurateurs, and acclaimed food writers. ›Learn more Browse for Books Browse All Subjects <div id="abe-bestsellers-noscript" style="display:none"><h3>AbeBooks' Bestselling Books - April 2013</h3><ol><li><a href="/servlet/SearchResults?
FetchBook
After an extended period of development and testing we are now ready to launch the beta version of Libribot™, an automated searching service that will continuously scour the internet to find new items that match your permanent wants. Just record your wants in the Wants Manager and Libribot will take over from there. Freshly uploaded listings on 10 major search engines (more to come) and the independent websites of dozens of individual booksellers are regularly scanned for their most recent additions. When new matches are discovered they are added to your personal catalogue of found items where they can be easily browsed at any time. If you are a registered user with wants already saved in the viaLibri Wants Manager Libribot may already be at work for you. Just click the tab marked "Libribot" at the top of the screen and you will find a catalogue of your latest matches.