Free music
Classic Cat - the free classical music directory. Melody Loops - Royalty-free Background Music. Free Midi Files and Midi Songs, Free Background Music. Free Sound Clips | SoundBible.com. WolframTones: An Experiment in a New Kind of Music. Podsafe Audio - Podcast Music for the Revolution: home. Free Royalty Free Music, Free Sound Effects. Free and legal music downloads. My Music Inc. - Music Downloads. Free Stock Music for Educational Use. Who says you can't get something for nothing?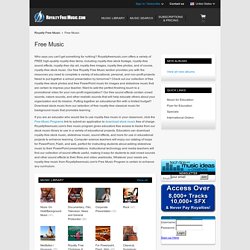 Royaltyfreemusic.com offers a variety of FREE high-quality royalty-free items, including royalty-free stock footage, royalty-free sound effects, royalty-free clip art, royalty-free images, royalty-free photos, and of course, royalty-free stock music. Our free Royalty Free Music section provides you with the resources you need to complete a variety of educational, personal, and non-profit projects. Need to put together a school presentation by tomorrow? Check out our collection of free royalty-free stock photos and free PowerPoint music for images and slideshow music that are certain to impress your teacher.
Free Music Archive. Download free free music and sound loops for PowerPoint presentations at Brainy Betty. Monkey Machine - online drum machine.
---