Meat analogs
A semi-vegetarian or flexitarian[1][2] diet is one that is plant-based with the occasional inclusion of meat products.[3][4][5][6][7] In 2003, the American Dialect Society voted flexitarian as the year's most useful word and defined it as "a vegetarian who occasionally eats meat".[8] In 2012, the term was listed for the first time in the mainstream Merriam-Webster's Collegiate Dictionary.[9] Difference between similar terms[edit]
Semi-vegetarianism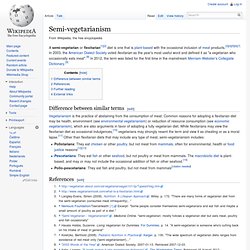 Meet the 'flexitarians': Meat-eating vegetarians - Health - Fitness - Diet and Fitness
CONCORD, N.H. — Even after five years, Christy Pugh has no trouble sticking to her vegetarian regimen. The secret to her success? Eating meat. "Sometimes I feel like I'm a bad vegetarian, that I'm not strict enough or good enough," the 28-year-old bookkeeper from Concord said recently. "I really like vegetarian food but I'm just not 100 percent committed."
Recession Flexitarians: Food Politics
The economic downturn may have a positive effect on the meat-heavy American diet.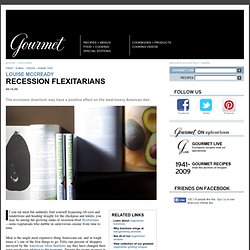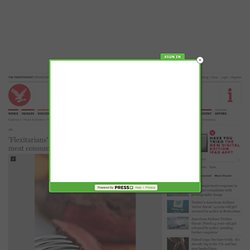 'Flexitarians' driving global move away from meat consumption: study - Life & Style
According to an August report from Euromonitor International, meat was one of the worst performers over the 2005 to 2010 period, with sales growing less than 14 percent over the six-year period.

Appearance matters more than taste for meat substitutes, says study
The appearance of meat substitutes in a meal may have more of an effect on consumer acceptance than flavour and texture, suggests a new study.
Many consumers around the globe are turning away from meat as health, price and ethical concerns grow.

Have meat substitutes missed the boat?
An international group of scientists has taken a step closer to its goal of producing cultured meat by agreeing on important common positions about how to bring the research forward. The expert panel met at a recent workshop to discuss the future of research in the area, in the process drawing up early agreed positions on some of the issues surrounding lab grown meat.
Researchers agree on lab grown meat plans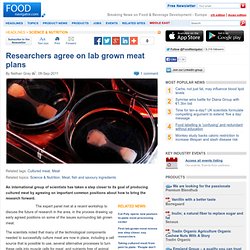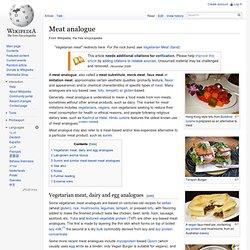 Hong Kong style tofu from Buddhist cuisine is prepared as an alternative to meat Two slices of vegetarian bacon
Meat analogue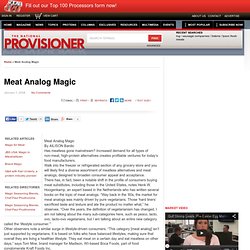 Meat Analog Magic
Meat Analog Magic
Meat extender promises cost savings for industry
French ingredients supplier Roquette has further extended the applications for its Nutralys pea protein by teaming up with extrusion technology experts Sotexpro to develop a textured version that allows for high levels of meat substitution.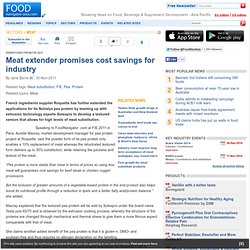 Meat Analog
A meat analog is a manufactured food product that looks and tastes like meat.
Quorn
Sojasun
Cauldron
Vivera