Video Game Webcomics
Griefing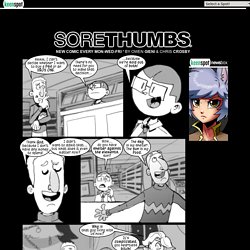 ABOUT SORE THUMBS (courtesy of Comixpedia) Sore Thumbs is a manga-style webcomic drawn by Owen Gieni and written by Chris Crosby, which started on March 8, 2004. It is more or less an allegory of the current political landscape in America. Sore Thumbs mainly centres on the trials of Fairbanks Greensworthington and his sister Cecania. The focus of the comic is the Sore Thumbs Video games store, which Fairbanks owns; Cecania, Harmony and Sawyer are employees there.
SORE THUMBS by Owen Gieni and Chris Crosby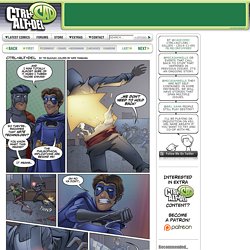 Monday, April 14, 2014 | 02:00 AM | by Tim "Oh boy, another zombie survival MMO!" said nobody ever. Look, I've held onto enjoyment of zombie-based titles a long longer than most people, but even I'm starting to get a little fatigued with so many of them continuing to pop up. You know what, though?