Architecture
Cool Architectural Alternatives For Living Without Air Conditioning
With the heatwave sweeping the country, an urban air conditioning addiction is also on the rise.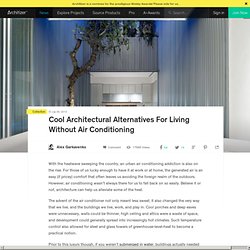 On Diseño - Projects: Alhóndiga Library-media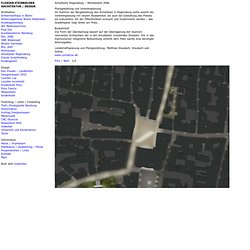 Arnulfplatz Regensburg – Wettbewerb 2006
Arnulfplatz Regensburg : FLORIAN STEINBÄCHER
Lepel & Lepel - Architektur, Innenarchitektur - Köln: Projekte
"Je nezbytné dívat se na bydlení jako na věc individuální, soukromou a intimní. Proto mějme pochopení i pro jiný pohled, pro odlišný vkus jednotlivých stavebníků.
Nevšedně romantický dům | Dům a byt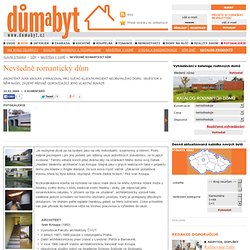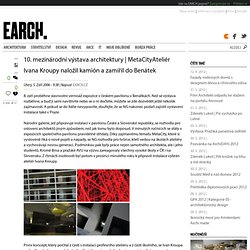 Národní galerie, jež připravuje instalaci v pavilonu České a Slovenské republiky, se rozhodla pro oslovení architektů jiným způsobem, než jak tomu bylo doposud.
10. mezinárodní výstava architektury | MetaCityAteliér Ivana Kroupy naložil kamión a zamířil do Benátek | EARCH.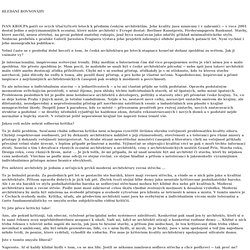 Hledání rovnováhy - IVAN KROUPA
IVAN KROUPA patří ve svých třiačtyřiceti letech k předním českým architektům.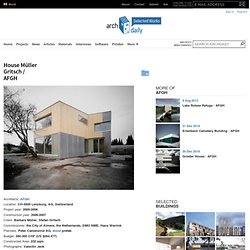 House Müller Gritsch / AFGH
Architects: AFGH Location: CH-5600 Lenzburg, AG, Switzerland Project year: 2005-2006 Construction year: 2006-2007 Client: Barbara Müller, Stefan Gritsch Commissioner: the City of Almere, the Netherlands, DMO NME, Hans Warrink Planners: Peter Camenzind AG, wood prefab Budget: 580.000 CHF (US $564.477) Constructed Area: 232 sqm Photographs: Valentin Jeck House Müller Gritsch in Lenzburg.
ARKKIVAHTI
margherita spiluttini architekturfotografie
Welkom - Bouwservice
| Fearon Hay Architects
Podnikatel Mick Newton narazil před deseti lety na neobvyklou venkovskou farmu, která už pár let zela prázdnotou. Nejprve s koupí váhal, ale přesvědčila ho poloha v malé vesničce Dowdeswell, ležící na strategickém místě, jen pár kilometrů od měst Cheltenham a Gloucester. S přestavbou památkově chráněného objektu začal Newton v roce 2006 a svěřil ji londýnskému architektonickému studiu De Matos Ryan.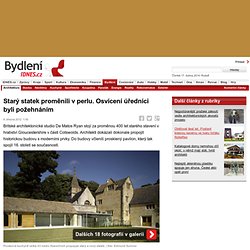 Starý statek proměnili v perlu. Osvícení úředníci byli požehnáním - iDNES.cz
ERIKSEN SKAJAA ARKITEKTER
FAR frohn&rojas
enric ruiz-geli interview: cloud 9 at venice architecture biennale
'cloud 9 installation' by enric ruiz-geli for the spanish pavilion at the 2012 venice biennale image © designboom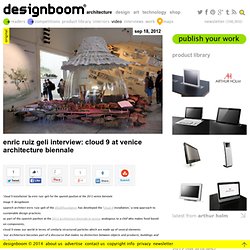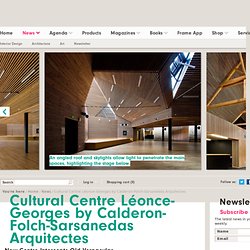 A small town in eastern France has been given a cultural boost via a new multi-functional hall, evolving the local vernacular with indigenous materials and new geometries. Barcelona-based Calderon-Folch-Sarsanedas Arquitectes transformed an existing L-shaped orthogonal farmhouse in Chauffailles, adding a new centre that encourages community interaction and industry. The new building is constructed of timber and braced by light steel frames. The natural, soft material palette of locally-sourced douglas fir creates a sense continuity, comfortably fitting into its surrounding rural landscape and adjacent farmhouse. Angled roof planes and large folding, openable walls create opportunities for light to enter large internal spaces. Tilted, triangular skylights allow natural light to spotlight the stage below.
Cultural Centre Léonce-Georges by Calderon-Folch-Sarsanedas Arquitectes
urbanism.org urban news [almost] daily.
Tiny Off-Grid Cabin in Maine is Completely Self-Sustaining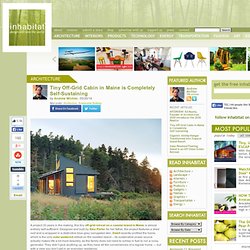 A project 30 years in the making, this tiny off-grid retreat on a coastal island in Maine is almost entirely self-sufficient. Designed and built by Alex Porter for her father, the project features a shed roof and is wrapped in a distinctive blue-grey corrugated skin. Dwell recently profiled the home, which is the only solar-powered retreat on the isolated island – its sustainable power source actually makes life a lot more leisurely, as the family does not need to schlep in fuel to run a noisy generator. They didn't give anything up, as they have all the conveniences of a regular home — but with a view you don't get in an everyday residence. The house is situated on a tiny sleeve of rock tucked close to the water.
Voltaire Building @ Paris Diderot University
The latest addition to the Paris Diderot University campus is a slender tower. The Voltaire building was strategically positioned to respect its neighbor – an old flour market. A small gap between the two preserves their senses of identity while allowing them to coexist.
Biennalearch Tweets | Stefano Mirti Twitter
Arquitectura Arkinetia - Casa en Avintes - Rehabilitación de una casa centenaria
A casa localizada na Vila de Avintes, do início do séc. XX, foi encontrada em estado de degradação avançado. Identificavam-se as alterações e ampliações ocorridas ao longo dos tempos e que foram eliminando a sua identidade. A estratégia foi procurar a ligação entre o passado e o presente.
::Fat::Architecture::
Brask & Leonhardt Arkitekter MAA/DA
The roof and upper walls of a house in Tübingen, Germany, are covered in rubber, like a fisherman's hat pulled low over his eyes. Designed by German studio Architekten Martenson und Nagel Theissen, the five-storey Just K house has walls that pitch in and out to maintain views from neighbouring houses to a nearby castle. The raised seams that line the house are welded together and allow rainwater to naturally drain from the walls. As the family grows, the house could be split into two separate residences with entrances on the basement floor and at first floor level, accessed by an outdoor staircase. Rooms are warmed and cooled by passive house technology, where hot air is drawn up through the building by a ground-air heat exchanger, and solar panels on the south elevation provide additional electricity.
Just K by Architekten Martenson und Nagel Theissen
'studio for an artist' by ashley cox architect, bluff hill, napier, new zealand image courtesy of paul mccredie, photographer all images courtesy of ashley cox
ashley cox architect: studio for an artist
first image 'small house in shinjuku' by junpei nousaku architects, shinjuku, tokyo, japan all images courtesy of junpei nousaku architects japanese firm junpei nousaku architects have completed the 'small house in shinjuku', a single family dwelling in a high density district in tokyo, japan. the design opposes the commonly used techniques in urban residential areas to enclose the interiors with solid walls for privacy and to place bathrooms or parking on the ground level due to limited natural daylight. this structure places the living room side by side with the street, opening to its immediate surroundings with large windows. an atrium spanning the full height of the three-storey building forms an airy space, introducing natural daylight through a band of clerestory windows at the roofline.
junpei nousaku architects: small house in shinjuku
marco casagrande: nomad city - aurora observatory
jun igarashi architects: shounan house
habitatio_2
cphark's Photostream
Casa Paz / Arturo Franco, Fabrice van Teslaar
C+ arquitectos: periscope house
SO-IL interview with architects jing liu and florian idenburg
Vårt Nya Hem - Inredning & Livsstil - Hem
Aqua Living Modern House Experience by David Mutal Architect - Modern Homes Interior Design and Decorating Ideas on Decodir
Turku City Library
POJMY TEORIE ARCHITEKTURY
Barns Ennobled
scott brown architect
Hledat Googlem
December 2010
Past Futures
Dream Works
Architecture
Zesnulý Karel Hubáček nebyl jen architektem Ještědu, podívejte se i na jeho další stavby | art.ihned.cz - Architektura
Dřevěná rozhledna na břehu mytického jezera Seljord připomíná periskop | art.ihned.cz - Architektura
|Robin Závodný| : Urbánní krajiny
SANAA : kazuyo sejima + ryue nishizawa
Download El Croquis 99 Kazuyo Sejima + Ryue Nishizawa 1995 2000 from scribd.com - FilesTube.com - download everything
archiweb.cz
Dům v lese. Stromy zůstaly nedotčeny a příroda se stala součástí bydlení
Fossil Inc - 8-K - For 9/11/07 - EX-99.1
(NE)PŘEDNÁŠKA IVANA KROUPY V NoD -
proStory: Huť architektury
Rozhovor s Ivanem Kroupou — proStory: Postavy domů
Studentské prezentace
archiweb.cz
Informační systém abART - dokument: Povolání: Architekt[ka] / Profession: [Woman] Architect
Dennis Hambeukers: information-design/brand-architecture/color-space
Kai's Notes on Architecture | Research, Inspiration, Observation, Musings
Classes | Kai's Notes on Architecture
www.andrew.cmu.edu/user/gutschow/theory_course/Theory Reading Assignments S06.pdf
www.basicinitiative.org/images/alleyflatinspiration.pdf
Back issues | VELUX
Architecture eBook Collection [39 PDFs]
Index of /data/media/bp250/08s2/tech3/submit
Interactive Architecture - Home
Space | Dennis Hambeukers
Norwegian Wood Cabin hotel Askland | Low rates. No booking fees.