Invites
Google+ Invites: Get Them Here. Please read recent updates at the foot of the post Here's a neat little tip via Search Engine Land and Jennifer 8 Lee.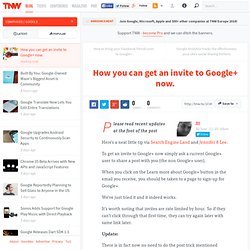 To get an invite to Google+ now simply ask a current Google+ user to share a post with you (the non Google+ user). As quickly as they opened up, Google+ closes invites again after insane demand - TNW Google. It was a fun couple of hours while it lasted, but just a short while after opening up Google+ invitations, Google has closed them down again.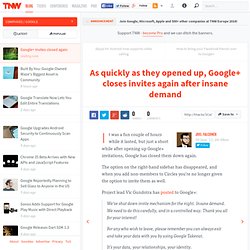 The option on the right-hand sidebar has disappeared, and when you add non-members to Circles you're no longer given the option to invite them as well. Project lead Vic Gundotra has posted to Google+: We've shut down invite mechanism for the night. Insane demand. Google+ invites being sold on eBay for up to $27 each - TNW Google. In case you hadn't noticed by now, demand for access to Google+ is astronomic right now, and when demand for something is exceed supply, the scammers and others looking to make a quick buck will undoubtedly come out to play.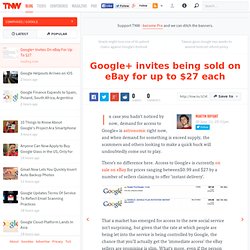 There's no difference here. Access to Google+ is currently on sale on eBay for prices ranging between$0.99 and $27 by a number of sellers claiming to offer 'instant delivery'. That a market has emerged for access to the new social service isn't surprising, but given that the rate at which people are being let into the service is being controlled by Google, the chance that you'll actually get the 'immediate access' the eBay sellers are promising is slim. What's more, even if the person you hand your cash over does get you in, you'll be paying for something that Google will give you for free.
Here's how you can get an invite to Google+ right now - TNW Google. Surely by now you've sent out loads of invites to Google+.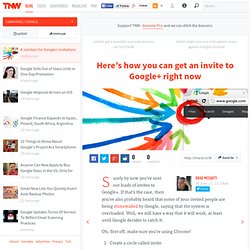 If that's the case, then you've also probably heard that some of your invited people are being stonewalled by Google, saying that the system is overloaded. Well, we still have a way that it will work, at least until Google decides to catch it:
---