Science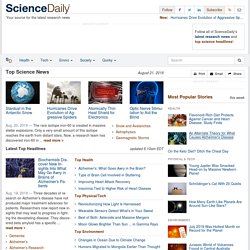 Megafloods: What They Leave Behind South-central Idaho and the surface of Mars have an interesting geological feature in common: amphitheater-headed canyons. Researchers offer a plausible account that all these canyons were created by enormous floods. ... > full story Image Perception in the Blink of an Eye Imagine seeing a dozen pictures flash by in a fraction of a second. You might think it would be impossible to identify any images you see for such a short time.
Science - News for Your Neurons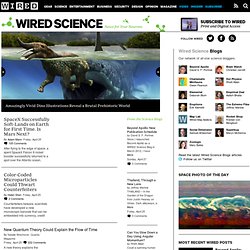 At 90, Freeman Dyson Ponders His Next Challenge By Thomas Lin, Quanta Magazine Monday, March 31 2 Comments Freeman Dyson — the world-renowned mathematical physicist who helped found quantum electrodynamics with the bongo-playing, Nobel Prize-winning physicist Richard Feynman and others, devised numerous mathematical techniques, led the team that designed a low-power nuclear reactor that produces medical isotopes for research hospitals, dreamed of exploring the solar system in spaceships propelled by nuclear bombs, wrote technical and popular science books, penned dozens of reviews for The New York Review of Books, and turned 90 in December — is pondering a new math problem. Renewables Aren't Enough. Clean Coal Is the Future By Charles C.
(Date:4/16/2014)... U.S. and beyond will convene in Lincoln, Nebraska, USA, ... existing science, and explore the unique geologic and historic ... applied geology, paleontology, and mid-continent geology. Events include a ... Kirk Johnson, Sant Director of the Smithsonian National Museum ... by the University of Nebraska-Lincoln. Lincoln is located near ... (Date:4/16/2014)...
Bio-Medicine - latest biology and medical news/technology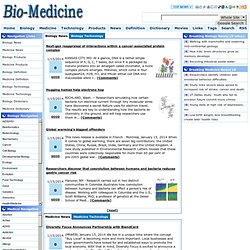 Technology Review: Biotech Channel