Jeux plus classiques
Free Online Game - Robot Unicorn Attack Heavy Metal from Adult Swim. Description: Enter a world of darkness, where rainbows are replaced by fire and brimstone, skillfully navigating the platforms that stretch unending through the deepest depths of the underworld.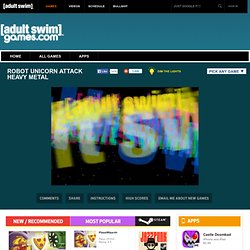 Collect imps as you go, leaping majestically from island to island and dashing through the perilous pentagrams that block your way. You have but three tries. Failure is inevitable. Instructions: Akinator, le génie du Web. DHTML Lemmings? by crisp - Menu. Jeux de Strat?gie. Tetris - Play free Tetris games online at Tetris Friends. 20Q.net. Docteur Quizz. Accueil jeux quizz gratuits de géographie. Accueil jeux quizz gratuits d'histoire.