Social
The swell folks at BlueGlass made me a nifty infographic about Google+ for business, replete with all kinds of factoids and thoughts to consider. I'm not always a super fan of infographics, but there are clearly some advantages to them, it would appear. So, take a look at what Google+ can do for you. This infographic has a bunch of marketing points scattered throughout it. You'll see why Google+ might help you take your business goals to the next level.
Infographic: Google+ for Business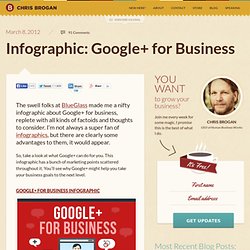 nielsen Suzanne Choney NBC News Dec. 28, 2011 at 6:31 PM ET Lots of folks are making best-of-2011 lists, and Nielsen's no exception. The research firm says that Google was the "most visited U.S. Web brand," Facebook "held its lead among social networks and blogs," and Apple was the "top smartphone manufacturer," while Android was the "leading" smartphone operating system.
Technolog - Google, Facebook rule as top sites in 2011: Nielsen
Study: Why Do People Use Facebook?
Facebook is an accepted means of communication. It is a never-ending virtual social gathering filled with adopted puppies, cute LOL kitties, baby announcements, viral articles and videos, events, groups, organizations and fan pages. But why do people really use it?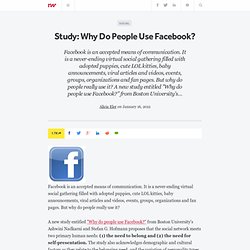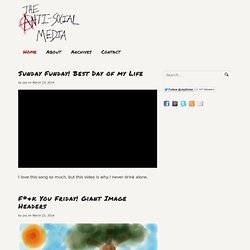 Facebook released a new app yesterday for iPhones called Paper. Paper makes the newsfeed on Facebook prettier. But only if you have an iPhone. Now, when your uncle shares his crazy conspiracy theories, you at least have something nice to look at. But only if you have an iPhone.
The average news feed post by a Facebook Page receives Likes and comments for 3 hours after being published. To maximize the engagement, impressions, and traffic driven by the news feed, Facebook Page owners should wait at least 3 hours between posts. This new finding from a study by Facebook Page analytics company EdgeRank Checker could help Page owners avoid cutting short the lifetimes of their posts and overshadowing them with new content. Each Page is different and needs to find its own optimal posting frequency depending on its content and audicence, but no more frequently than every 3 hours is a good general guideline.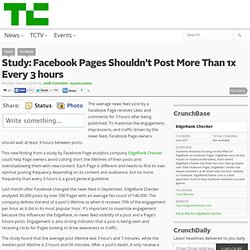 Study: Facebook Pages Shouldn't Post More Than 1x Every 3 hours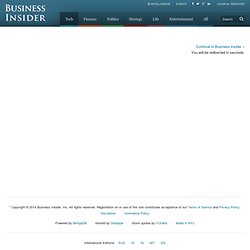 The Google +1 Is More Popular For Retailers Than The Facebook Like Button
Google's +1 buttons appear on more retail websites than Facebook share buttons or Twitter buttons according to an analysis by Darren Herman, chief digital officer at The Media Kitchen, a media planning and buying firm. The finding is both surprising and logical. It's surprising because Google's +1 buttons are relatively new. It's logical because any smart retailer is going to do whatever Google wants in the hopes of getting better search placement. Herman worked with Evidon, which tracks online ad tags, to see what ad technology and social buttons were on 20 major retail sites. The sites looked at were: Best Buy, CouponCabin, Sports Authority, LL Bean, Gap, Dicks Sporting Goods, Bed Bath & Beyond, SVPPLY, DSW.com, Modells, Zappos, Old Navy, Disney, Target, Walmart, Gilt, Sears, Amazon, NewEgg, and Piperlime.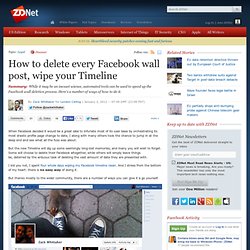 When Facebook decided it would be a great idea to infuriate most of its user base by orchestrating its most drastic profile page change to date, I along with many others took the chance to jump in at the deep end and see what all the fuss was about. But the new Timeline will dig up some seemingly long-lost memories, and many you will wish to forget. Some will choose to delete their Facebook altogether, while others will simply leave things be, deterred by the arduous task of deleting the vast amount of data they are presented with.
How to delete every Facebook wall post, wipe your Timeline