Design
Home. Craftsmanship In Every Website. The Archer Group. The Photoshop Etiquette Manifesto for Web Designers. InspireUX - User Experience quotes and articles to inspire and connect the UX community. Design Kindle | Free, high quality websites, graphics, vectors, and icons. NounProject. 100 Principles for Designing Logos and Building Brands | Brand Identity Essentials. The Anatomy of a Perfect Landing Page. Home - Dark Patterns.
Design
August « 2010. These are some beautiful wedding invitations designed by Anchalee Chambundabongse just letterpress printed here at Studio On Fire.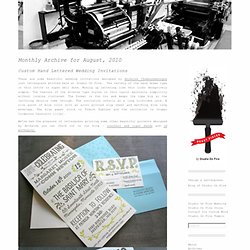 The variety of the hand drawn type in this invite is super well done. Mixing up lettering like this looks deceptively simple. The texture of the diverse type styles in this layout maintains simplicity without looking cluttered. The format is fun too and keeps the type big so the lettering details come through.
---