Ilustras
Sketcheria » um passeio pelas gavetas, mesas e telas aqui do estúdio. Faz tempo que eu não posto um daqueles insights aqui na Sketcheria, e quero compartilhar um momento de reflexão que tive, com os amigos do traço.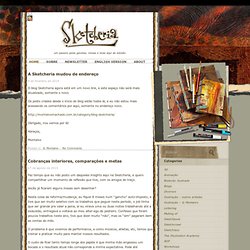 Vocês já ficaram alguns meses sem desenhar? Nesta coisa da reforma/mudança, eu fiquei 8 meses num "gancho" auto-imposto, e tive que ser muito seletivo com os trabalhos que peguei neste período, o job tinha que ser grande pra valer a pena, aí eu virava uma ou duas noites trabalhando até a exaustão, entregava e voltava ao meu alter-ego de pedreiro. Confesso que foram poucos trabalhos neste ano, tive que dizer muito "não", mas os "sim" pagaram bem as contas do mês. The Art of Negative Space. on the Behance Network. Typography-feature-2.html from blogspot.com. ♥ CATALINA ESTRADA ♥ Julia Pott. Featured Geek Artist: Coran &Kizer& Stone - This Art is&Awesome!...
There are so many artists in the world that do such great work, we want to try and give exposure to as many of them as we can so we've starting a Featured Artist column that will focus on one artist, and a collection of their work.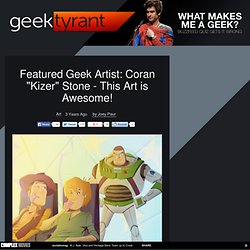 This week we featured two pieces of Geek Art from Deviant Art user Kizer180 also known as Coran "Kizer" Stone, and . These are just a couple of pieces from the artist awesome collection of work. I love this guys stuff, and I dig his style. I'm sure you will as well. I just wanted to share some more of my favorite pieces of his work with you, and get it all out there. Rebecca Dautremer - Illustratrice - Site Officiel.
IdeaFixa | ilustração, design, fotografia, artes visuais. Maija Louekari . Works. Oliver Jeffers - Illustration.
---