mappe
Get flash to fully experience Pearltrees
Mindmapping is the process of drawing up diagrams that show relations between various ideas, tasks or information. For many of us this shows to actually be a way of taking notes that can be more useful than just writing down keywords or sentences like we do on a to-do list. By drawing mind maps you actually visualize your tasks and how each task can influence each other in a better way, making your brain remember more easily and/or come up with new ideas. The Tools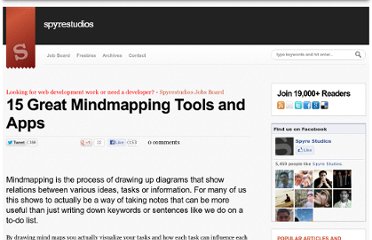 Tanto per cominciare occorre fare la distinzione tra Mappe Mentali ( Mind map ) e Mappe Concettuali ( Concept map ) . Entrambe partono dallo stesso obiettivo: creare una gerarchia dei concetti (di un singolo capitolo, di più capitoli, di un intero libro, dipende). Con le prime tuttavia si suole fare riferimento ad una mappa a raggiera disegnata a mano, con rami colorati in base alle affinità dei temi e con disegni fantasiosi accanto alle parole chiave per facilitare la memorizzazione, molto in voga negli Stati Uniti ( Lifehacker ). Col termine Mappa Concettuale invece si fa riferimento a qualcosa di più schematico e veloce (perfetto per il computer): un grafico anche questo ad albero o raggiera, ma senza la parte "creativa", nato cioè per riorganizzare gli argomenti in base a categorie, sottocategorie, parole chiave e link.
The AXON Idea Processor provides an environment that supports the thinking processes. It helps you to create, communicate, explore, plan, compose, design, learn... and: Work with ideas & concepts rather than words. See the big picture and not get lost in details. Analyze and solve more complex problems.
I use lots of tools for writing. The other day, I talked about the importance of writing practice . Today, as I'm working on a new speech, I wanted to share another tool I use: mind mapping . Before you ask, because the technology minded of you often do, this particular mindmapping software is called Mind Node and it's for Mac. There are plenty of tools for Windows and some that operate online. I think Steve Rubel covered some a while back, but I'm too lazy to Bing the exact title.
One of the presentations that I made this week was about having students create videos to demonstrate their knowledge of a topic. In that presentation one of the points that I stress is the need for students to create outlines of their videos before moving onto the technical aspects of constructing a video. Here are some tools for creating outlines and mind maps to plan video projects, podcasts, or essays. Quicklyst is a nice tool for taking notes and creating outlines.