2012
All My "Best Of 2012″ Lists In One Place!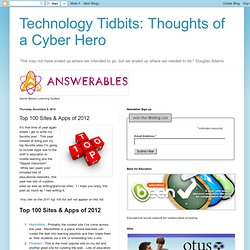 Technology Tidbits: Thoughts of a Cyber Hero: Top 100 Sites & Apps of 2012
It's that time of year again where I get to write my favorite post. This year instead of doing just my top favorite sites I'm going to include Apps due to the shift in education to mobile learning and the "flipped classroom". While last years post included lots of educational networks, this year has lots of curation sites as well as writing/grammar sites. I I hope you enjoy this post as much as I had writing it. *Any site on the 2011 top 100 list will not appear on this list. Top 100 Sites & Apps of 2012
Microsoft pushed three big new products in 2012: Windows 8, Windows Phone 8 and its Surface tablet. This is Windows 8, the company's bold new operating system, running on an HP Envy x2, left, and a Lenovo IdeaPad Yoga, right. On January 18 several major websites, including Wikipedia, went dark to protest the Stop Online Piracy Act (SOPA), which many felt would unfairly criminalize sites that hosted pirated content. SOPA died in Congress soon afterwards. In November, missile strikes between Israel and Palestinian forces in Gaza were accompanied in real time by boasts and threats on Twitter.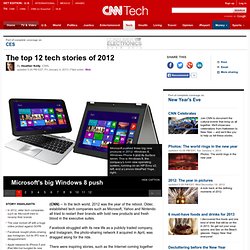 The top 12 tech stories of 2012
2012 Told Through Twitter - Year in Review
Top 10 Mobile Products Of 2012
50 Higher Education Technology Infographics We Loved in 2012
Infographics are often the best way to quickly digest a lot of information, especially in the technology world, where data abounds. In 2012, we collected 50 higher education technology infographics from around the web, all of which are displayed below. These infographics provide a snapshot of the advances in education technology we witnessed in 2012, which was definitely a blockbuster year. As we prepare for the new year, we referenced the Washington Post's article Eight thoughts on higher education in 2012 , which was published just over a year ago: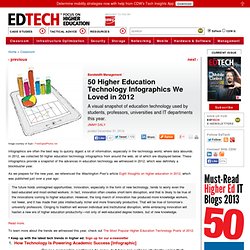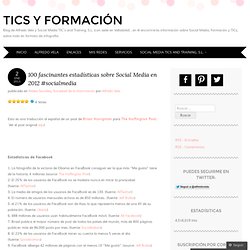 100 fascinantes estadísticas sobre Social Media en 2012 #socialmedia
i 3 Votes Esto es una traducción al español de un post de Brian Honigman para The Huffington Post . Ver el post original aqu í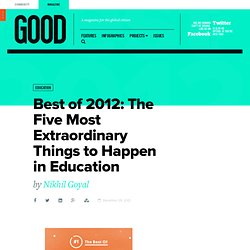 It's been quite an incredible year in the education space. While we've witnessed a surge in the number of politicians with no education experience make decisions on how schools should run and a wider adoption of nonsensical ideas like the "flipped classroom" and value-added teacher evaluations, there have been some memorable, equation-changing events and initiatives that have emerged. So, let's highlight five of the most extraordinary things that happened in education in 2012: 1. The Students Speak Out: Students around the nation have seized the national microphone and have begun articulating their voices in education. With hundreds of student protests documented, young people are no longer willing to sit idly on the sidelines.
Best of 2012: The Five Most Extraordinary Things to Happen in Education | Education on GOOD
Wikipedia Remembers 2012
14 of the best apps from 2012 for designers, developers and creatives
If you're a creative with a penchant for eking out the best tools to help you produce the goods, 2012 saw a slew of handy apps that could help you in your endeavors. Indeed, The Next Web covered thousands of apps throughout this year, from nifty new browser extensions, to the latest game-changing Android and iOS apps, so we sifted through the archives and pulled out some of best apps for designers, developers and creatives in 2012…just for you. Don't miss our other 2012 lists for more great recommendations. Pop: Prototyping on paper Pop's iOS app is every designer's missing puzzle piece for prototyping on paper. Amid a myriad of prototyping tools, Pop is an insanely useful way to explore user experience problems and share iPhone app concepts with others.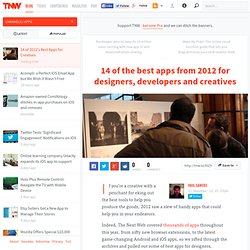 I already know what some of the comments to this list are going to be. I know the movies you'll be incredulous that I left off the list. I'm incredulous too.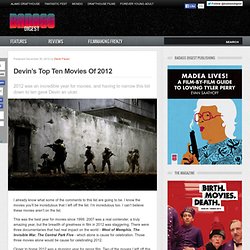 Devin's Top Ten Movies Of 2012
2012 Year in Pictures: Part II - The Big Picture
2012 Year in Pictures: Part I - The Big Picture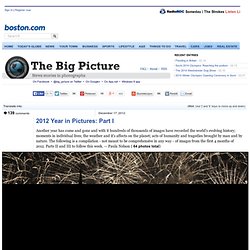 Another year has come and gone and with it hundreds of thousands of images have recorded the world's evolving history; moments in individual lives; the weather and it's affects on the planet; acts of humanity and tragedies brought by man and by nature. The following is a compilation - not meant to be comprehensive in any way - of images from the first 4 months of 2012. Parts II and III to follow this week. -- Paula Nelson ( 64 photos total )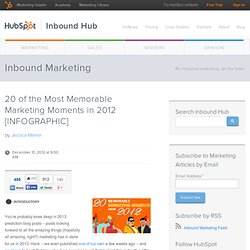 You're probably knee deep in 2013 prediction blog posts -- posts looking forward to all the amazing things (hopefully all amazing, right?) marketing has in store for us in 2013. Heck -- we even published one of our own a few weeks ago -- and an ebook to boot! But how about we accompany all that looking forward with a little looking back? 2012 was a great year, after all -- full of memorable marketing moments that we should take a minute to celebrate. So, we put together a list of 20 memorable marketing moments in 2012 that we thought represented some monumental strides for our industry.
20 of the Most Memorable Marketing Moments in 2012 [INFOGRAPHIC]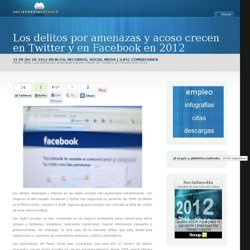 Los delitos, amenazas y ofensas en las redes sociales han aumentado notablemente, con respecto al año pasado. Facebook y Twitter han registrado un aumento del 780% de delitos en el Reino Unido, respecto a 2008. Algunos grupos sociales han criticado la falta de control de este entorno virtual. Las redes sociales se han convertido en un espacio preferente para comunicarse entre amigos y familiares, establecer relaciones comerciales, buscar información relevante o promocionarse.
Los delitos por amenazas y acoso crecen en Twitter y en Facebook en 2012
MediaShift . The 10 Most Disruptive News Apps of 2012
According to research produced by Nielsen, as of 2012 the majority of phone owners in the U.S. now operate smartphones . Accordingly, the growth in app markets for Apple and Android continues unabated, and 2012 brought users a strong list of powerful news and content browsing options. Click here to read the entire series Publishers, in particular broadcasters and newspapers, were quick in releasing apps for the first-generation iPhone and Android handsets, but 2012 was remarkable for the number of great mobile apps that were developed to disrupt news consumption. On the footsteps of startups such as Flipboard, Pulse and Stitcher, we've put together a list of some of the most innovative and refined mobile apps to come along within the past year, along with a couple of existing apps that went through a "rebirth" with a comprehensive redesign.
OPCIONWEB.com, Experiencias Informáticas » Blog Archive » Buscando inocentadas 2012
dic 28 2012 El recopilatorio de inocentadas , se esta convirtiendo en una tradición en opcionweb ( puedes rememorar las inocentadas de 2011 , 2009 , 2008 y 2007 ), como el monigote blanco que el día de los inocentes se coloca en la espalda de los viandantes. El particular humor de la web hace que se aproveche este día para lanzar noticias bomba o cambiar el aspecto de la web o… el ingenio del webmaster no tiene limites. Estas son las inocentadas que he ido encontrando (se agradecen aportaciones en los comentarios). Las iré actualizando a lo largo del día:
Mejores Apps iOS de 2012 Según Cult of Mac
Faltan pocos días para que termine el año 2012 y los chicos de Cult Of Mac han querido hacer una recopilación de las 12 mejores apps para iOS de este año que dejamos atrás. Se han lanzado algunas aplicaciones realmente buenas que bien valen lo que cuestan. Sin más dilación, vamos con la lista de las aplicaciones más destacables del 2012.
Como cada mes de diciembre, desde hace algunas semanas han proliferado los reportajes sobre lo mejor del año que está a punto de terminar, un "goteo" sinfín en el que Google, Facebook, Twitter y otros tantos recopilan lo más llamativo que se ha producido en sus plataformas durante los últimos 365 días. Desde The Social Media Family hemos querido hacer nuestro particular anuario, ofreciéndoos de manera ordenada lo más destacado de todo aquello que se ha producido durante el último ejercicio, así como las proyecciones que están surgiendo de cara a 2013. Google Empezamos por EL buscador , que este año ha alcanzado la cifra de 1,2 billones de búsquedas en 146 idiomas. A nivel global , personajes como Whitney Houston , Kate Middleton o Jeremy Lin han copado las primeras posiciones, mientras que acontecimientos como el Huracán Sandy, Los Juegos Olímpicos también han tenido su lugar. ¿ Y en España ?
Lo mejor de 2012 en Social Media | THE SOCIAL MEDIA FAMILY
Top 20 Shared Resources and Tools of 2012
Wikipedia's most searched articles of the year revealed
Everything You Need To Know About the Economy in 2012, in 34 Charts - Matthew O'Brien
Noticias más leídas 2012 | Ranking de lo más leído en eitb.com | EITB Tecnología
The Best Smart Products of 2012 | Technology on GOOD
2012′s biggest tech news in pictures
60 Great Visualizations of 2012
Resumen digital 2012 | Pepe Cerezo
25 cosas interesantes que la ciencia ha descubierto en 2012
Most Popular Chrome Extensions and Posts of 2012
Lo mejor de los Récord Guiness oficiales de 2012
Indoor Clouds | Best Inventions of the Year 2012
Top 10 Career Management blogs of 2012
The 17 Best Twitter Hashtags for Education (2012 ) ~ Educational Technology and Mobile Learning
My 10 Favorite Learnist Boards Of The Year
Best of 2012: Top apps for smartphones and tablets
EE.UU: Así cambiaron los medios digitales en el 2012
The Best eLearning Articles of 2012
ko ikusienak, hilabetez hilabete
Top 10 Ed-Tech Startups of 2012
De qué tuiteamos en 2012 >> Tuitología
Holiday Reads: Top 10 Articles in 2012 - Getting Smart by Sarah Cargill -
The Best 21 Educational Wikis of 2012 ~ Educational Technology and Mobile Learning
The Best of 2012: EdTech Resources | DyKnow
2012 Ed Tech Trends: Insights From Insiders
Top Ed-Tech Trends of 2012
Lo más popular en Twitter en 2012 según Hootsuite
Top Kids Christmas Toys 2012
The five most disruptive technologies of 2012 - Quartz
This Year in Twitter: 9 Important Milestones
Las mejores aplicaciones de 2012 para iPhone e iPad
The 33 Best Educational Technology Blogs for 2012 ~ Educational Technology and Mobile Learning
Top Ed-Tech Trends of 2012: The Battle to Open Textbooks
Golden Tweets
E-learning Review of 2012 | Elearning Market
Qué nos interesó en Internet en 2012
The Best Videos For Educators In 2012 — Part Two
Los mejores juegos de Facebook del año
Google presenta su resumen de 2012 – Videos de dibujos animados, series de televisión y películas ¿ Terra TV
Echando la vista atrás: lo que más se ha compartido en la red este 2012
El año 2012 según Twitter | Navegante