Public Datas sharing
World Legal Information Institute (WorldLII)
EU law ground
Prospects. What's New Remittances to stay robust, despite deportations of migrant workers April 11, 2014 -- International migrants from developing countries are expected to send $436 billion in remittances to their home countries this year, despite more deportations from some host countries, says the World Bank's latest issue of the Migration and Development Brief.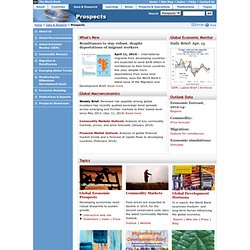 Read more Global Macroeconomics Weekly Brief: Renewed risk appetite among global investors has recently pushed sovereign bond spreads across emerging and frontier markets to their lowest level since May 2013.
Wikipedia
Visualizing.org. Vivek Kundra. Vivek Kundra (Hindi: विवेक कुंद्रा; born October 9, 1974) is an Indian American administrator who served as the first chief information officer of the United States from March, 2009 to August, 2011 under President Barack Obama.[1] He is currently the Executive Vice President of Emerging Markets for Salesforce[2] and a visiting Fellow at Harvard University.[3] He previously served in D.C.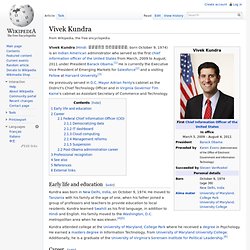 Mayor Adrian Fenty's cabinet as the District's Chief Technology Officer and in Virginia Governor Tim Kaine's cabinet as Assistant Secretary of Commerce and Technology. Early life and education[edit] Kundra was born in New Delhi, India, on October 9, 1974. He moved to Tanzania with his family at the age of one, when his father joined a group of professors and teachers to provide education to local residents.
---