Sun
Get flash to fully experience Pearltrees
Sun Rise & Set Calculators
Current Position of the Sun
Click on any of the following thumbnail images for the most recent, full-resolution solar image of each type in the SDAC archive. The time and date of each image is below the image description. All times are in coordinated Universal Time (UTC). Images from the Solar Dynamics Observatory (SDO) Atmospheric Imaging Assembly (AIA)
SWPC Anonymous FTP Server Alerts, Forecasts, and Summaries Solar Region Summary Top-level directory To parent directory About this Menu
When's the last time you gazed upward and marveled at the mysterious, life-giving force that is the sun? If you believe the whole staring-at-the-sun-makes-you-go-blind thing (which is actually true), you're probably not doing a whole lot of sun-gazing. But it's a real marvel: The sun warms our planet every day, provides the light by which we see and is necessary for life on Earth . It can also cause cell death and make us blind.
The sun is a star, a hot ball of glowing gases at the heart of our solar system . Its influence extends far beyond the orbits of distant Neptune and Pluto. Without the sun's intense energy and heat, there would be no life on Earth. And though it is special to us, there are billions of stars like our sun scattered across the Milky Way galaxy. Featured Mission: Solar Dynamics Observatory SDO will study the sun's influence by observing the solar atmosphere simultaneously in several wavelengths.
Handle on the Sun Date: 14 Sep 1999 This Extreme Ultraviolet Imaging Telescope (EIT) image of a huge, handle-shaped prominence was taken on Sept. 14,1999. Taken in the 304 angstrom wavelength, prominences are huge clouds of relatively cool dense plasma suspended in the Sun's hot, thin corona. At times, they can erupt, escaping the Sun's atmosphere. Emission in this spectral line shows the upper chromosphere at a temperature of about 60,000 degrees K.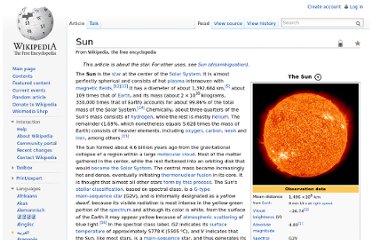 The Sun is the star at the center of the Solar System . It is almost perfectly spherical and consists of hot plasma interwoven with magnetic fields . [ 12 ] [ 13 ] It has a diameter of about 1,392,684 km, [ 5 ] about 109 times that of Earth , and its mass (about 2 × 10 30 kilograms, 330,000 times that of Earth) accounts for about 99.86% of the total mass of the Solar System. [ 14 ] Chemically, about three quarters of the Sun's mass consists of hydrogen , while the rest is mostly helium . The remainder (1.69%, which nonetheless equals 5,628 times the mass of Earth) consists of heavier elements, including oxygen , carbon , neon and iron , among others. [ 15 ] The Sun formed about 4.6 billion years ago from the gravitational collapse of a region within a large molecular cloud . Most of the matter gathered in the center, while the rest flattened into an orbiting disk that would become the Solar System .
Equinoxes, Solstices, Crossquarter Days