Moon
Earth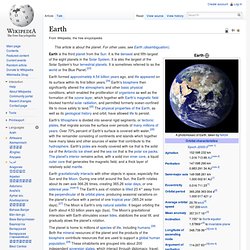 Earth is the third planet from the Sun , and the densest and fifth-largest of the eight planets in the Solar System . It is also the largest of the Solar System's four terrestrial planets . It is sometimes referred to as the world or the Blue Planet. [ 22 ]
Our Moon makes Earth a more livable planet by moderating our home planet's wobble on its axis, leading to a relatively stable climate, and creating a rhythm that has guided humans for thousands of years. The Moon was likely formed after a Mars-sized body collided with Earth and the debris formed into the most prominent feature in our night sky. Featured Mission: GRAIL The Gravity Recovery And Interior Laboratory (GRAIL) mission will create the most accurate gravitational map of the Moon to date, improving our knowledge of near-side gravity by 100 times and of far-side gravity by 1000 times.
Earth's Moon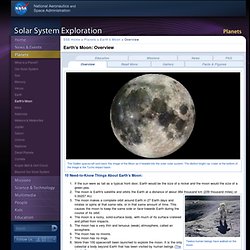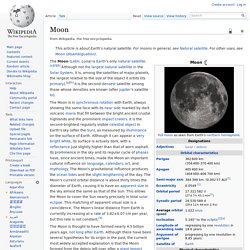 Moon
Red and orange tinted Moon, as seen from Earth during a lunar eclipse, where the Earth comes between the Moon and Sun The Moon is the only natural satellite of the Earth , [ d ] [ 7 ] and the fifth largest satellite in the Solar System . It is the largest natural satellite of a planet in the Solar System relative to the size of its primary , [ e ] having 27% the diameter and 60% the density of Earth, resulting in 1 ⁄ 81 its mass .
Moon Rise & Set Calculators
Current Position of the Moon
Moon: Rise, set times, Lunar eclipse dates, Moon phase calendar, Almanac Best Days
The Moon I had the ambition to not only go farther than man had gone before, but to go as far as it was possible to go. - Captain Cook Copyright © 1995-2011 by Rosanna L.
The Moon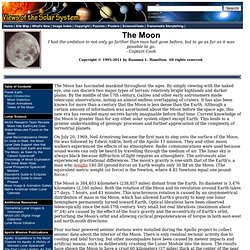 Waiter, There's Metal in My Moon Water Bring a filter if you plan on drinking water from the moon. Water ice recently discovered in dust at the bottom of a crater near the moon's south pole is accompanied by metallic elements like mercury, magnesium, calcium, and even a bit of silver. Now you can add sodium to the mix, according to Dr.
Waiter, There's Metal in My Moon Water