General Vegan Recipe Sites
Vegan recipes and vegetarian recipes - living and raw - uncooked! The Elizavegan Page. Vegan Recipes & Healthy Diet Food | Cuisine Vegan Cooking. Recipe Search. Mango, orange juice, candied ginger, cherries, blueberries and watermelon B 25 mins, 6 ingredients syrup, garnish, red and lime B 25 mins, 4 ingredients sea salt, peanuts, sugar, water and chili powder B 5 ingredients.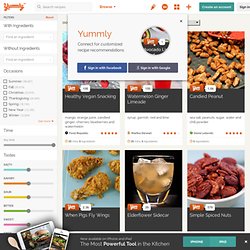 Little House of Veggies. | Post Punk Kitchen | Vegan Baking & Vegan Cooking.
---