Cool pictures
Before I Die. What is important to you 2011 After Candy Chang lost someone she loved, she went through a long period of grief and depression.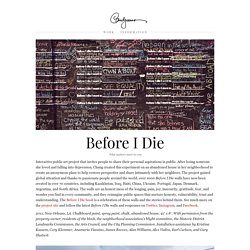 With time she felt gratitude for the time they had together and eventually she found clarity in her life by contemplating death so much. But she struggled to maintain this perspective. It's easy to get caught up in the day-to-day and forget what really matters to you. She wanted a daily reminder and she wanted to know what was important to the people around her. Launch_vernacotola_s.jpg (JPEG Image, 1000x761 pixels) - Scaled (84.
Ngpc-wp-wk-10-11_29512_990x742.jpg (JPEG Image, 990x617 pixels) Aurora_kuenzli.jpg (JPEG Image, 1527x600 pixels) - Scaled (66. Ole-Christian-Salomonsen1. Real-toy-story-sean-izaakse-rymslim-buzz-lightyear-woody.jpg (JPEG Image, 900x1307 pixels) - Scaled (49%)
6247-23938489.png (PNG Image, 559x749 pixels) - Scaled (85%) 629269_78. 4058_20e950107194be4b810e555919b6147d_2.jpg (JPEG Image, 650x433 pixels) The_fire_within_by_lowapproach.jpg (JPEG Image, 900x599 pixels) Most Amazing Time Lapse Video of Milky Way Ever Made. Seriously. 40411_990x742-cb1262898460.jpg (JPEG Image, 989x742 pixels) - Scaled (86%)
Nature-photography-1. Hang-en-cave-vietnam_32754.
---