Fashion Blogs
Louis philippe de gagoue.
Nadinoo. Fashiolista Blog. Maritsa. WALTER JETI. Inside am-lul's closet. Maria Eugenia Elias. Hannah and Landon. Alice Madness. LovelyPepa. Dulceida. Tea Time. Superado el jet lag ya no hay excusas.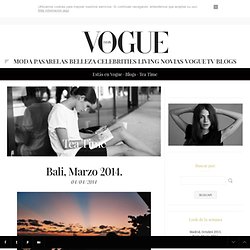 Ayer, al salir de la clase de estiramientos de ballet, deseé con todas mis fuerzas el teletransportarme a "Jemeluk Bay", en Bali. Cerré fuerte los ojos y repetí tres veces para mis adentros "Jemeluk Bay, Jemeluk Bay, Jemeluk Bay", una brisa con olor a mar revolvió un poco mi pelo todavía mojado por el sudor. Abrí los ojos con la emoción de una niña que entra por primera vez en una tienda de juguetes y apuuf…la gente a mi alrededor me miraba raro, con una expresión que daba paso a sus pensamientos, pensamientos claros, "esta pobre niña loca".
K a t e l o v e s m e. Tea Time. ---the-cobra-snake--- Fashiontoast | NOWMANIFEST.com. Passage Paradis. Shared Closet. Collective fashion consciousness. AnnnMarie. THE STYLE SCOUT - London Street Fashion. Face Hunter. The Sartorialist. Fashion Gone Rogue : The Latest in Fashion Photography and Models. Adeline Rapon. :: Rétine Mécanique | Gaël Rapon - Photographe :: Pandora » Make my lemonade. Wolves & Bucks. Peruvian Fashion Blogs.
KissMeQuick. The Black Effect. A Beautiful Mess. EVERYDAY ELSIE. Style rookie. Fashion pirate ☠ Found: Happiness. MIRANDA JULY. Where Did U Get That - The Fashion Blogger from London living in New York.
---