Løgn
Eyes for Lies Blog: Microexpressions -- Test Yourself. Eye Direction and Lying - How to detect lies from the direction of an individual's gaze / visual accessing cues. Interesting Info -> Lying Index -> Eye Direction & Visual Accessing Cues Eye Movement and Direction & How it Can Reveal Truth or Lies This is a continuation of our previous article Detecting Lies.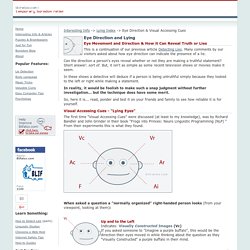 Many comments by our visitors asked about how eye direction can indicate the presence of a lie. Can the direction a person's eyes reveal whether or not they are making a truthful statement? Short answer: sort of. How to Detect Micro Expressions. Learning micro-expressions.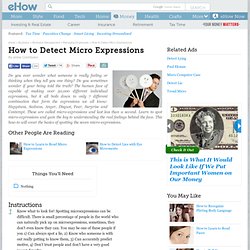 Learning micro-expressions can take time. But, one of the best ways to learn them is to just read and read. Pictures and videos are also a great tool. Microexpression. A microexpression is a brief, involuntary facial expression shown on the face of humans according to emotions experienced.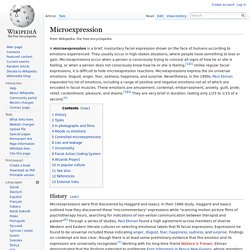 They usually occur in high-stakes situations, where people have something to lose or gain. Microexpressions occur when a person is consciously trying to conceal all signs of how he or she is feeling, or when a person does not consciously know how he or she is feeling.[1][2] Unlike regular facial expressions, it is difficult to hide microexpression reactions.
---