Løgn
Eyes for Lies Blog: Microexpressions -- Test Yourself
A micro expression of fear A microexpression is a flash of emotion that tells what you are really feeling. For instance, if you ask someone how they are feeling and they reply they are doing great, when let's say they are dying inside, people who can see microexpressions will potentially see a flash of pain or fear or sadness, regardless of what this person is actually saying.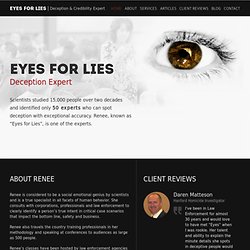 Interesting Info -> Lying Index -> Eye Direction & Visual Accessing Cues Eye Movement and Direction & How it Can Reveal Truth or Lies This is a continuation of our previous article Detecting Lies. Many comments by our visitors asked about how eye direction can indicate the presence of a lie. Can the direction a person's eyes reveal whether or not they are making a truthful statement? Short answer: sort of.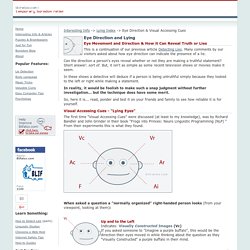 How to Detect Micro Expressions
Learning micro-expressions. Learning micro-expressions can take time. But, one of the best ways to learn them is to just read and read. Pictures and videos are also a great tool.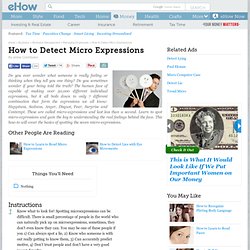 Microexpression
A microexpression is a brief, involuntary facial expression shown on the face of humans according to emotions experienced. They usually occur in high-stakes situations, where people have something to lose or gain. Microexpressions occur when a person is consciously trying to conceal all signs of how he or she is feeling, or when a person does not consciously know how he or she is feeling.[1][2] Unlike regular facial expressions, it is difficult to hide microexpression reactions.