Sketching
Working Arts for Street Involved and Homeless youth.
physicSketch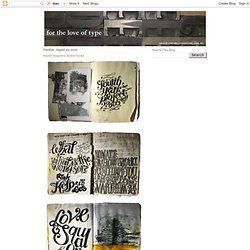 Tuesday, August 24, 2010 Nearly-forgotten sketch books Posted by mrs eaves at 2:07 AM 14 comments: bykirabo said...
for the love of type: Nearly-forgotten sketch books
Sketching: the Visual Thinking Power Tool
As a kid, I spent hours drawing and sketching ideas that popped into my head.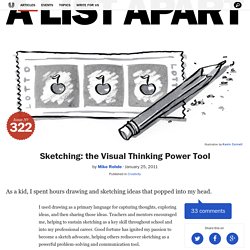 Excelentes recursos para aprender "Sketching" o bocetaje | SomosDi
Sketchbooks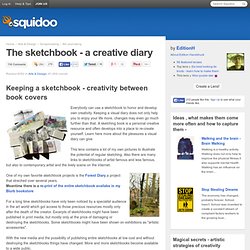 The tendency to show only "sketches" that are worthwhile to be shown in public has a strong influence as mentioned already. In many cases sketchbooks contain no sketches, but more or less elaborate works detailed drawings or color studies. I made my own experience with this phenomenon when I worked on a series of sketches originally not intended for display,but as studies for a series of monotype prints on the urban landscape. During the project the sketchbook gained importance not only as indispensable basis for printmaking, but also as independent work.
The sketchbook - a creative diary
andrea joseph's sketchblog
Travel Sketching, Illustrated Journals and Sketchbooks : Trumpetvine
USKLisboa | Flickr: Intercambio de fotos
3rd International Urban Sketching Symposium
Ken's Sketch Journal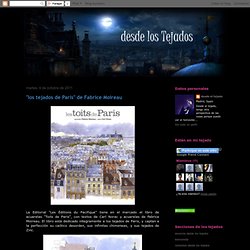 DESDE LOS TEJADOS: "los tejados de Paris" de Fabrice Moireau
La Editorial "Les Éditions du Pacifique" tiene en el mercado el libro de acuarelas "Toits de Paris", con textos de Carl Norac y acuarelas de Fabrice Moireau. El libro está dedicado integramente a los tejados de Paris, y captan a la perfección su caótico desorden, sus infinitas chimeneas, y sus tejados de Zinc. Fabrice Moireau ha ilustrado numerosísimos cuadernos de viaje (En la editorial Anaya podéis encontrar libros dedicados a Paris, Londres, Nueva York, o Venecia) y en esta ocasión se dedica exclusivamente a los tejados de Paris, desde todos sus barrios, captando todos sus monumentos, con los matices que las distintas horas del día da con su luz a los tejados, en todas las estaciones del año. Realmente una maravilla de libro dedicado a los tejados.
My Paris Sketchbook
fabrice moireau
Carnets de voyages - Dessins de Jean-Luc Leguay
Illustrateurs de carnets de voyage
Leonardo's Sketch Books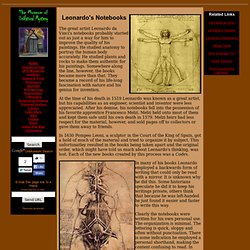 The great artist Leonardo da Vinci's notebooks probably started out as just a way for him to improve the quality of his paintings. He studied anatomy to portray the human body accurately. He studied plants and rocks to make them authentic for his paintings.
The sketchbook's name is Homs.
Sketchbook -
The Bearskinrug Sketchbook
Sketchbook Magazine
A sketchbook is an internal discourse that takes an artist from an initial idea to the eventual work of art. A sketchbook is a research document, shoebox and a junk drawer. An artist's sketchbook serves as chronicle and witness. Through sketchbook-journals, students begin to record their creative process in a way that leads to their own self-definition of creativity as well as to the discovery of internal and external creative development.
ChickenScratch-Sketchbooks: Contemporary Sketchbook Examples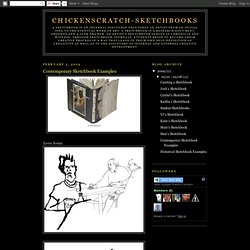 Travel Sketches - Journaling and Sketching for the Travelling Artist
Travel sketchbooks and journals have a personal touch that will bring back memories of your trip for years to come. Here are a collection of resources for the travelling artist. This art professor's blog includes many sketchbook drawings, and they are really something different: crisp, clean and beautiful line drawings, with a striking sense of composition. Pages from Bill Sharp's travel journal. Lovely, relaxed sketches and bright fresh color. Lots of text too - a journal, after all, can include text as well as image.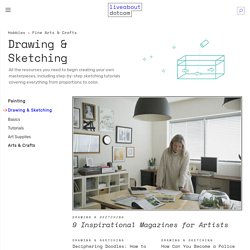 Travels with a Sketchbook in.......
Sketchbooks « time for a teabreak
Sketchbook
sketchbooks
Moleksine sketchbooks
dnewmanpaintings: Sketchbook Envy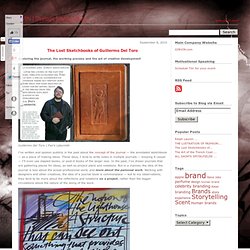 Strategic Branding Blog | The Lost Sketchbooks of Guillermo Del Toro
Exploring the journal, the working process and the act of creative development Guillermo Del Toro | Pan's Labyrinth I've written and spoken publicly in the past about the concept of the journal — the annotated sketchbook — as a place of making ideas.
A Seed of Thought: Artist Sketchbooks
Snap Happy: Example - Sketchbooks.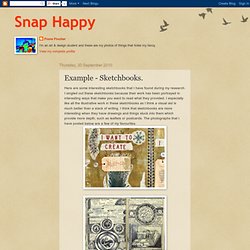 Here are some interesting sketchbooks that I have found during my research. I singled out these sketchbooks because their work has been portrayed in interesting ways that make you want to read what they provided. I especially like all the illustrative work in these sketchbooks as I think a visual aid is much better than a stack of writing. I think that sketchbooks are more interesting when they have drawings and things stuck into them which provide more depth, such as leaflets or postcards. The photographs that I have posted below are a few of my favourites.
Sketchbooks: Most artists keep sketchbooks in which they experiment with ideas and collect drawings of their environment. The most famous artist sketchbooks are those of Leonardo da Vinci. His sketchbooks are filled with drawings, diagrams and written notes of things he saw and ideas he came up with.
Sketchbooks
The Sketchbook Project - WE DESIGN STUDIOS
We recently heard about a really amazing art event that is currently traveling throughout the United States. The Sketchbook Project is displaying nearly 10,000 completed sketchbooks in nine major cities in the United States and is produced by Arthouse , a Brooklyn-based co-op with a goal to bring art to the masses. Arthouse began its project by sending out 28,839 blank sketchbooks to artists in 94 different countries.
1000 Hours of Drawing (Taylor O) sketchbooks | sketch 1000 JOURNALS PROJECT (Someguy)
LINKS to ARTISTS' SKETCHBOOKS ONLINE
urban sketchers - Flickr: Buscar
Draw, paint, sketch, create art online