Sketching
Sketchbook on the Behance Network. The Sketchbook Project: Limited Edition. If you have any other questions, please visit our dedicated support website at support.sketchbookproject.comWhat is The Sketchbook Project?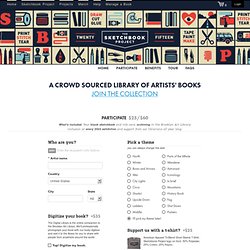 The Sketchbook Project is a crowd-sourced library of over 30,000 sketchbooks (and counting) submitted by people of all ages and backgrounds from more than 135 countries. Anyone can add their voice to the collection by signing up to fill a Sketchbook Project book of their own to submit. The entire project is on view to the public as a permanent collection at Brooklyn Art Library, our storefront exhibition space in the heart of Williamsburg, Brooklyn, NY. PhysicSketch. Sketch Swap. SKETCHES on the Behance Network.
Sketch Swap - Haz un dibujo y consigue otro a cambio. BOOK. For the love of type: Nearly-forgotten sketch books. This Blog Linked From Here The Web Tuesday, August 24, 2010 Nearly-forgotten sketch books.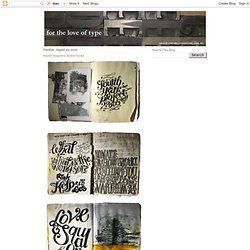 Sketching: the Visual Thinking Power Tool. As a kid, I spent hours drawing and sketching ideas that popped into my head.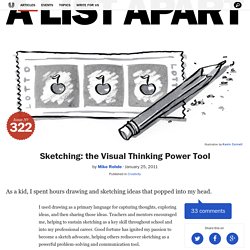 I used drawing as a primary language for capturing thoughts, exploring ideas, and then sharing those ideas. Teachers and mentors encouraged me, helping to sustain sketching as a key skill throughout school and into my professional career. Good fortune has ignited my passion to become a sketch advocate, helping others rediscover sketching as a powerful problem-solving and communication tool. I'm excited to share why sketching can be so beneficial, show samples of sketches, and provide helpful resources. The Sketchbook Project 2013. BLU. Sketchbooks. The sketchbook - a creative diary. Keeping such a book is not only a nice hobby or a pleasing pursuit.Live changes when you keep a diary.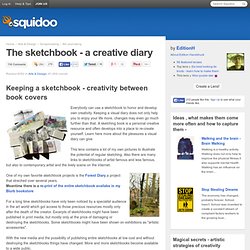 Do not expect less. It might take some time until you notice it, but it will happen. Especially sketching outdoors from life has a strong influence on body and mind. Andrea joseph's sketchblog. Travel Sketching, Illustrated Journals and Sketchbooks : Trumpetvine. USKLisboa | Flickr: Intercambio de fotos. 3rd International Urban Sketching Symposium. Urban Sketchers. Ken's Sketch Journal. DESDE LOS TEJADOS: "los tejados de Paris" de Fabrice Moireau. La Editorial "Les Éditions du Pacifique" tiene en el mercado el libro de acuarelas "Toits de Paris", con textos de Carl Norac y acuarelas de Fabrice Moireau.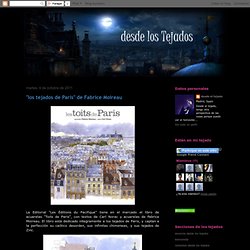 El libro está dedicado integramente a los tejados de Paris, y captan a la perfección su caótico desorden, sus infinitas chimeneas, y sus tejados de Zinc. Fabrice Moireau ha ilustrado numerosísimos cuadernos de viaje (En la editorial Anaya podéis encontrar libros dedicados a Paris, Londres, Nueva York, o Venecia) y en esta ocasión se dedica exclusivamente a los tejados de Paris, desde todos sus barrios, captando todos sus monumentos, con los matices que las distintas horas del día da con su luz a los tejados, en todas las estaciones del año. Realmente una maravilla de libro dedicado a los tejados.
My Paris Sketchbook. Fabrice moireau. Carnets de voyages - Dessins de Jean-Luc Leguay. Illustrateurs de carnets de voyage. Leonardo's Sketch Books. The great artist Leonardo da Vinci's notebooks probably started out as just a way for him to improve the quality of his paintings.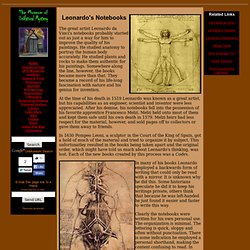 He studied anatomy to portray the human body accurately. He studied plants and rocks to make them authentic for his paintings. The sketchbook's name is Homs. Sketchbook - The Bearskinrug Sketchbook. Sketchbook Magazine. ChickenScratch-Sketchbooks: Contemporary Sketchbook Examples. A sketchbook is an internal discourse that takes an artist from an initial idea to the eventual work of art.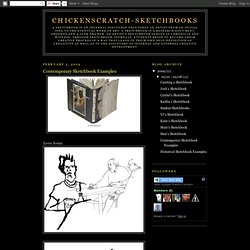 A sketchbook is a research document, shoebox and a junk drawer. An artist's sketchbook serves as chronicle and witness. Through sketchbook-journals, students begin to record their creative process in a way that leads to their own self-definition of creativity as well as to the discovery of internal and external creative development. Travel Sketches - Journaling and Sketching for the Travelling Artist. Travel sketchbooks and journals have a personal touch that will bring back memories of your trip for years to come.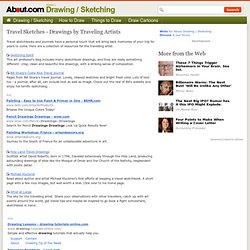 Here are a collection of resources for the travelling artist. Sketching Spirit This art professor's blog includes many sketchbook drawings, and they are really something different: crisp, clean and beautiful line drawings, with a striking sense of composition. Bill Sharp's Costa Rica Travel JournalPages from Bill Sharp's travel journal. Lovely, relaxed sketches and bright fresh color. Travels with a Sketchbook in....... Sketchbook. Sketchbooks. Moleksine sketchbooks. Dnewmanpaintings: Sketchbook Envy. Strategic Branding Blog | The Lost Sketchbooks of Guillermo Del Toro.
Exploring the journal, the working process and the act of creative development Guillermo Del Toro | Pan's Labyrinth I've written and spoken publicly in the past about the concept of the journal — the annotated sketchbook — as a place of making ideas.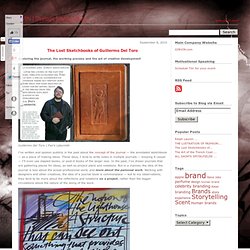 A Seed of Thought: Artist Sketchbooks. Snap Happy: Example - Sketchbooks. Here are some interesting sketchbooks that I have found during my research.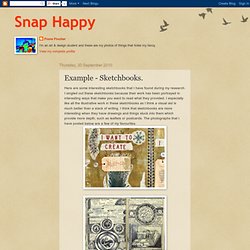 I singled out these sketchbooks because their work has been portrayed in interesting ways that make you want to read what they provided. I especially like all the illustrative work in these sketchbooks as I think a visual aid is much better than a stack of writing. I think that sketchbooks are more interesting when they have drawings and things stuck into them which provide more depth, such as leaflets or postcards.
The photographs that I have posted below are a few of my favourites. Sketchbooks. The Sketchbook Project - WE DESIGN STUDIOS. LINKS to ARTISTS' SKETCHBOOKS ONLINE. Urban sketchers - Flickr: Buscar. Sketch Swap. Urban Sketchers. Sketching, Drawing. Scrapbooking. Draw, paint, sketch, create art online. Sketch. Drawings/sketch.
Sketch. Drawing and sketching. Sketching, Drawing. Sketch. Sketching. Sketch. Sketching.
---