Human Rights
Universality of Human Rights under attack at the UN | International Humanist and Ethical Union
Human Rights Watch | Defending Human Rights Worldwide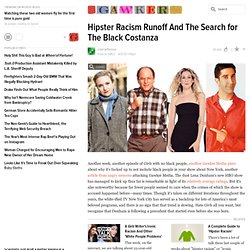 Another week, another episode of Girls with no black people, another Gawker Media piece about why it's fucked up to not include black people in your show about New York, another article from angry neocons attacking Gawker Media. The dust Lena Dunham's new HBO show has managed to kick up thus far is remarkable in light of its relatively average ratings . But it's also noteworthy because far fewer people seemed to care when the crimes of which the show is accused happened before—many times. Though it's taken on different iterations throughout the years, the white-ified TV New York City has served as a backdrop for lots of America's most beloved programs, and there is no sign that that trend is slowing. Hate Girls all you want, but recognize that Dunham is following a precedent that started even before she was born. The Honeymooners didn't have any blacks in it, of course, despite the fact that New York City was already about 14 percent black by 1960.
Hipster Racism Runoff And The Search for The Black Costanza
DrMartinLutherKingJr.com - Audios and Text of His Most Famous Speeches and Writings
012 Human Rights through Visual Storytelling Award » | anthropographia |
:: Derechos Humanos :: Giza Eskubideak :: Human Rights :: Droits de l homme :: - Presentación
Martin Luther King and the Montgomery Story - Arabic Edition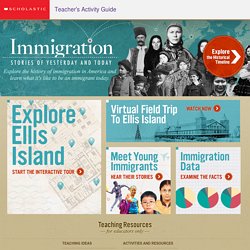 World War II and the Postwar Period The United States entered World War II in 1942. During the war, immigration decreased.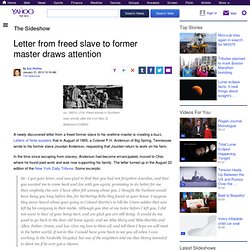 ca. 1860's, USA. Freed slaves in Southern town shortly after the Civil War. © Bettmann/CORBIS A newly discovered letter from a freed former slave to his onetime master is creating a buzz. Letters of Note explains that in August of 1865, a Colonel P.H. Anderson of Big Spring, Tennessee wrote to his former slave Jourdan Anderson, requesting that Jourdan return to work on his farm. In the time since escaping from slavery, Anderson had become emancipated, moved to Ohio where he found paid work and was now supporting his family.
Letter from freed slave to former master draws attention | The Sideshow
Hoy en día hay 870 millones de personas desnutridas en el mundo. Esto significa que al menos uno de cada seis personas no tiene alimentos suficientes para estar saludable y llevar una vida activa. El hambre y la desnutrición son considerados a nivel mundial el principal riesgo a la salud, más que el SIDA, la malaria y la tuberculosis juntas. Entre las principales causas del hambre están los desastres naturales, los conflictos, la pobreza, la falta de infraestructura agrícola y la sobre-explotación del medioambiente. Recientemente, el número de personas con hambre ha aumentado debido a las crisis financieras y económicas. Además del hambre que se siente cuando se tiene el estómago vacío, también existe otro tipo de hambre: el hambre oculta.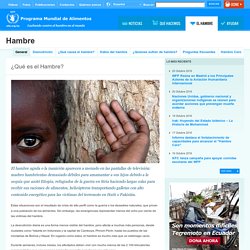 El Hambre | WFP | Programa Mundial de Alimentos - Luchando contra el hambre en el mundo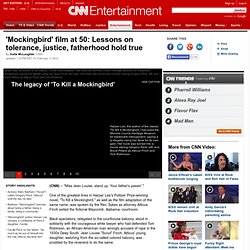 Actors Gregory Peck and Brock Peters portray Atticus Finch and Tom Robinson. Gregory Peck and Mary Badham as Atticus and Scout. Jem and Dill push Scout in the tire. Mary Badham as Scout Finch.
'Mockingbird' film at 50: Lessons on tolerance, justice, fatherhood hold true
Café restaurant tenu et fréquenté par des personnes sourdes et entendantes ~ Café Signes
Martin Luther King Jr. - A True Historical Examination
Elderly or Physically Challenged People Can Ride This Universal Electric Scooter | Modern Industrial Design and Future Technology - Tuvie
The new Universal Electric Scooter designed by Ji-Hoon Hong is primarily for the elderly and physically challenged so that they can use the same without any assistance. While one of the major advantages with this Universal Electric scooter is that unlike other scooters that are built for physically challenged, these come with adjustable seats so one can adjust the height accordingly. This allows easy accessibility, seat positioning, and better comfort.
Follow us on Twitter, Facebook and YouTube! Parent and Teacher Corner - Start here to get information and to get connected with LPA's parent and peers network. New to LPA? Start here to find a local contact.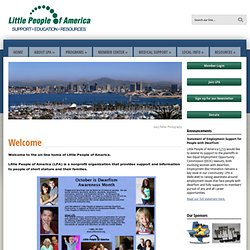 Home
By Meg Quinlan: Teenage Disney star and singer Demi Lovato was recently treated for an eating disorder, bipolar disorder, and self-mutilation, and revealed that her increasingly destructive behavior began at age 8 after being bullied by her peers. Gossip Girl's Michelle Trachtenberg was physically assaulted by a girl who threw her down a flight of stairs, punched her in the nose, and got her sent to detention. Actress Jessica Alba used to eat lunch in the school nurses' office to avoid her bullies, and her dad would escort her to school so that she wouldn't be attacked. Bullying is everywhere in our schools.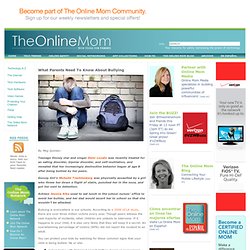 What Parents Need To Know About Bullying - The Online Mom
I know people need to make a living. I know there's a food chain, even and especially where it comes to health care and caregiving. Knowing this about people doesn't mean I like or condone their actions. Ever since being officially diagnosed with endometriosis, I have been seeking out alternative health remedies for my illness, because the surgery did not provide pain relief. The biggest pet peeve I have regards what I call information hoarders. Here we are, women suffering horribly with an incurable, debilitating disease that we were born with, and all we want is to find out what we can do to ease our symptoms.
I Will Not Suffer In Silence » Qigong/Chi Nei Tsang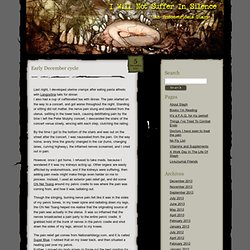 Disability | parentlineplus | parents - BullyingUK Registered Charity 1120107
Human rights | Law
Whereas recognition of the inherent dignity and of the equal and inalienable rights of all members of the human family is the foundation of freedom, justice and peace in the world, Whereas disregard and contempt for human rights have resulted in barbarous acts which have outraged the conscience of mankind, and the advent of a world in which human beings shall enjoy freedom of speech and belief and freedom from fear and want has been proclaimed as the highest aspiration of the common people, Whereas it is essential, if man is not to be compelled to have recourse, as a last resort, to rebellion against tyranny and oppression, that human rights should be protected by the rule of law, Whereas it is essential to promote the development of friendly relations between nations,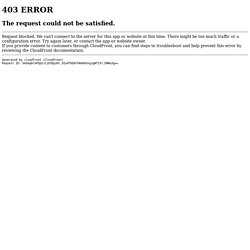 National Coalition for the Homeless