Global Brain & Collective Inteligence
Co-Creating Transmedia Communities
You shouldn't be asking do I need a community of interest around me and my work but what will happen if I don't have one! Yesterday I presented twice at a great two day conference in Melbourne called ' Arresting Audiences '. The irony of the title not lost on this writer as the real intention of the event run by Film Victoria (a traditional film funding organisation) was commendable – finally focus on 'users ', 'watchers', 'participants' aka as old school 'audiences'. Most of the talks explored new marketing, basic demography and obligatory future trends with a couple of inspirational 'write for your inner audience' highlight talks from the likes of Jane 'buffy/BSG' Espenson, but I was asked to look at the social and transmedia aspects that affect and impact on audiences/communities so below is: the embedded slideshare of my presentation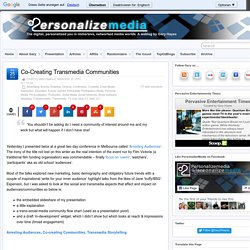 Multi, inter, Transdisciplinarity...
from metaphor to model...
The Social Superorganism and its Global Brain
This is IBM attempting to use enterprise artificial intelligence to accelerate technology in science, medicine and business. If they succeed this could be the first real artificial intelligence acceleration of technological development and they are attempting to enhance the productivity of science and business. It is a huge lift that is being attempted and it would not be a fast iteration of improvement. It is not like the vision of vastly greater than human level artificial intelligence setting off an explosion of intelligence.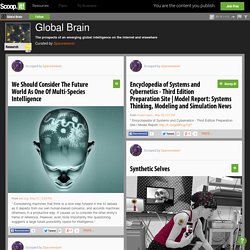 Global Brain
Dr. Sputnik's Society PagesAnd yes this is what passes for a gossip column in these parts 7-Apr-2014 · Werner Herzog explains that chickens are "the most horrifying, cannibalistic and nightmarish creatures in the world" ... US National Security Agency and British intelligence have plans to covertly use social media for propaganda, deception, and pushing stories ...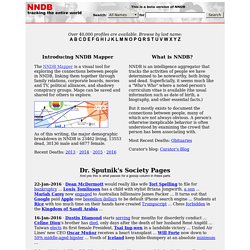 Citations Fiers du service public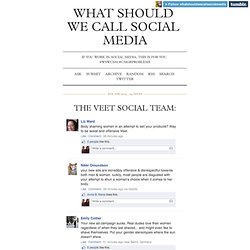 OK, I am apparently very late to the party, but this was a revelation and I can't just not share. I apologize in advance if I'm posting something old. So you know this really stupid thing that happens with links? It's actually the worst thing in the world. WELL, to fix the problem, all you have to do is copy & paste the link here. Once you press debug, try the link again and all your problems should be solved!
The Stone is a forum for contemporary philosophers and other thinkers on issues both timely and timeless. Public policy debates often involve appeals to results of work in social sciences like economics and sociology. For example, in his State of the Union address this year, President Obama cited a recent high-profile study to support his emphasis on evaluating teachers by their students' test scores. The study purportedly shows that students with teachers who raise their standardized test scores are "more likely to attend college, earn higher salaries, live in better neighborhoods and save more for retirement."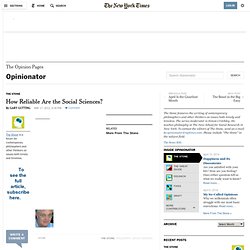 How Reliable Are the Social Sciences?
Power of One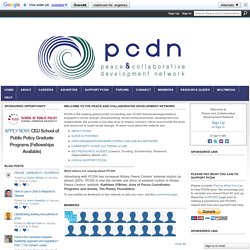 PCDN is the leading global portal connecting over 31,800 individuals and organizations engaged in peacebuilding and collaborative development. To learn more about the network see: What others are saying about PCDN: The PCDN has emerged in a short time to become an absolutely essential resource for the peacebuilding field. Nowhere else can one find the tremendous range of information -- from articles on innovative ideas, to job postings and event announcements. PCDN supports its community members in very tangible ways.