Cool & Trend Blogs
Current Projects | Fluid Interfaces
batixa
BKRW.COM Extraordinaire Digital Magazine about Extraordinaire Products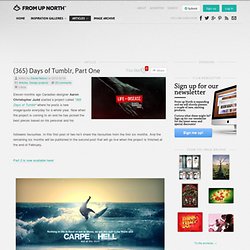 Eleven months ago Canadian designer Aaron Christopher Judd started a project called "365 Days of Tumblr" where he posts a new image/quote everyday for a whole year. Now when the project is coming to an end he has picked the best pieces based on his personal and his followers favourites.
(365) Days of Tumblr, Part One & From up North | Design inspiration & news - StumbleUpon
A Seed of Thought
Absolutely Genius Ideas - StumbleUpon
Agence Digitale Paris - Et Si Communication, Le Blog - Internet, Animation 2D/3D, Application mobile, Virale, Buzz, ...
Andy Nyman - Diamond Thoughts
Overlooked movie gems you really should see #38 I remember being blown away by this movie when I saw it back in the day.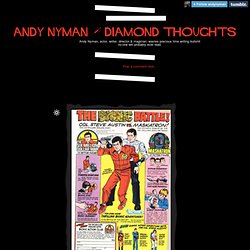 Au coin de ma rue
BlogPulse
Connecting Bloggers
contemporary monkey //
Un progetto ironico e geniale di Jared Wunsch e Hans Johnson. Le stampe si possono acquistare online ma la cosa più divertente è inviare le proprie submission e vedersele pubblicate sul sito. Altri esempi dentro al post. UPDATE: si può scaricare gratis l'app per iPhone da qui.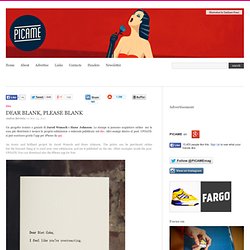 DEAR BLANK, PLEASE BLANK - Pìcame – Visual arts smugglers.
Design & Inspiration
Didnt You Hear… — Anything and Everything that is Cool, Hot, Fresh and Classic.
Epic revenge on office food stealers
Evewithoutadam.net
Explore
feel desain | The Creative Side
Fubiz™
http://aestheticinterlude.blogspot.com.es/
Inspiration
Inspiring Images
Web-Culture
It Seemed Like A Good Idea On Paper
Kitta.net - Don't feed or spank the monkey
Le ciel est bleu, la mère est calme...
Lovilee | Daily blog with ideas and inspiration for SA Weddings, Kids and Home Decor
Mayhem & Muse
not martha
OMGWTFBBQ
Beverly Semmes Beverly Semmes is an internationally recognized artist who has been showing her work since 1990. Her first exhibitions were two concurrent project rooms at PS1 and Artist's Space in New York City. Other early exhibitions included a large installation at the Southeastern Center for Contemporary Art in Winston-Salem, N.C. and a room-scaled work made for the Institute of Contemporary Art in Philadelphia. By the mid-1990s, she was exhibiting work across the United States and in Europe.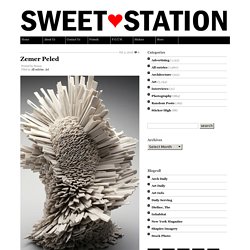 Sweet Station
The 90 Best Tumblr Blogs Of 2011
THE FEMALE ZOO
The Listicles - Top 10 Lists
The New Adventures of Stephen Fry
The New Hive
Think On Your Own
Trending Pastes at Pastebin.com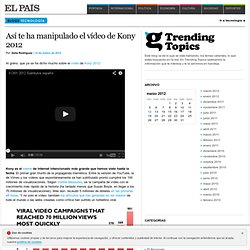 Al grano, que ya se ha dicho mucho sobre el vídeo de Kony 2012: Kony es el meme de internet intencionado más grande que hemos visto hasta la fecha. El primer gran triunfo de la propaganda memética. Entre la versión de YouTube, la de Vimeo y los vídeos que espontáneamente se han subtitulado pronto cumplirá los 100 millones de visualizaciones.
Trending Topics >> Delia Rodríguez en Blogs EL PAÍS
Tumblr Themes,Twitter Backgrounds,Tumblr Layouts,Tumblr Cursors
Wanelo - Find unique products and stores you have never heard of.
Word Tamer
{imaginarium of the BOOKNOMAD}: Archive