Espejoenigma
Las aplicaciones más útiles para 2014. El último estudio de The App Date, la plataforma de encuentro de desarrolladores de aplicaciones móviles, revela que España lideró este año el ranking europeo de penetración de tecnología móvil: 23 millones de personas tienen un smartphone y el flujo de descargas de aplicaciones se sitúa en torno a los cuatro millones diarios.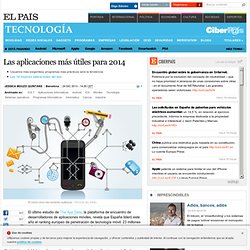 Hombre, de mediana edad, urbano y de clase media. Así es el perfil del nomofóbico por antonomasia, enganchado al teléfono móvil o a la tableta y activo en el uso y descarga de las aplicaciones móviles (apps, en su abreviatura en inglés; o aplis, en español). Según el estudio de The App Date, el 80% de los usuarios no se despegan del teléfono para comer y el 75% no lo desconecta ni siquiera para ligar o practicar sexo. "Uno de cada tres personas se lo llevan al baño y sólo el 1,5% lo deja en casa en vacaciones", remacha el informe publicado el pasado mes de septiembre. Economy, Innovation, Startups, Crowdsourcing, Advertising, Jobs.
Yesware, transforma tu Gmail en una herramienta de ventas colaborativa. Si usas Gmail como herramienta de trabajo enviando propuestas y ofertas a tus clientes seguramente te interesará conocer la extensión Yesware, pensada para vendedores profesionales y equipos de trabajo.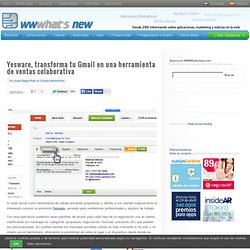 Con esta aplicación podemos tener plantillas de emails para cada fase de la negociación con el cliente, clasificando los mensajes en categorías (propuesta, negociación, facturas, posventa, etc) que pueden ser personalizadas. Es posible rastrear los mensajes enviados viendo en todo momento si ha sido o no abierto por el destinatario, ofreciendo la posibilidad de saber el lugar y el dispositivo desde donde se está abriendo el email. Para los equipos de trabajo tenemos la opción de comaprtir plantillas creadas y estadísticas relacionadas con los emails enviados y leídos en cada fase de la venta, teniendo un registro completo de la actividad de cada vendedor. Ocho aplicaciones gratuitas para convertir audio y vídeo.
Actualmente circulan por la red un gran número de formatos de audio y vídeo.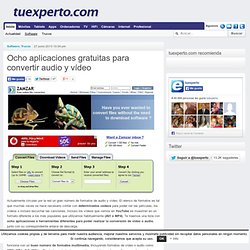 El elenco de formatos es tal que muchas veces se hace necesario contar con determinados codecs para poder ver las películas, los vídeos o incluso escuchar las canciones. Incluso los vídeos que vemos en YouTube se muestran en un formato diferente a los más populares que utilizamos habitualmente (AVI o MP4). Cómo son las funciones más sorprendentes de WhatsApp - WhatsApp Messenger. 1 Usa WhatsApp como si de un 'walkie talkie' se tratara.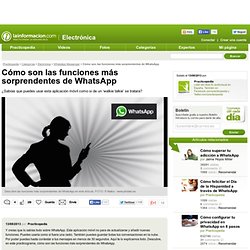 WhatsApp ha lanzado una actualización en agosto de 2013 que permite enviar notas de voz usando tu 'smartphone' como si de un 'walkie talkie' se tratara. Tan sencillo como pulsar un botón, hablar y soltar. El audio se enviará de forma automática a tu contacto. Es una funcionalidad perfecta para momentos en los que no puedes escribir mensajes. Te explicamos cómo funciona en el practicograma 'Cómo usar la función 'walkie talkie' de WhatsApp'. 2 Envía muchas fotos al mismo tiempo. Chrome.
Vanish from the Internet With This One-Stop Website | Gadget Lab. Even if you're not Edward Snowden, there are times when excising your social media presence is necessary.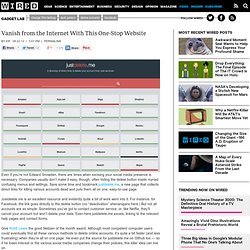 Companies usually don't make it easy, though, often hiding the delete button inside myriad confusing menus and settings. Save some time and bookmark justdelete.me, a new page that collects direct links for killing various accounts dead and puts them all on one, easy-to-use page. Justdelete.me is an excellent resource and evidently quite a bit of work went into it. Just Delete Me | A directory of direct links to delete your account from web services. El proceso de 5 pasos para ser un correcto pensador crítico. Por Ornela.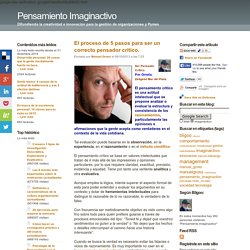 Zeitgeist Mar del Plata. El pensamiento crítico es una actitud intelectual que se propone analizar o evaluar la estructura y consistencia de los razonamientos, particularmente las opiniones o afirmaciones que la gente acepta como verdaderas en el contexto de la vida cotidiana. Tal evaluación puede basarse en la observación, en la experiencia, en el razonamiento o en el método científico. Storify · Make the web tell a story.
Home | Livefyre. Technology killed storytelling, then resurrected it. Ethiopia is a land of stories that are sometimes very, very mean.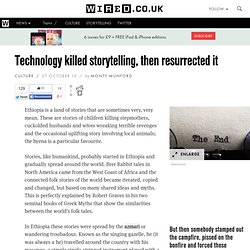 These are stories of children killing stepmothers, cuckolded husbands and wives wreaking terrible revenges and the occasional uplifting story involving local animals; the hyena is a particular favourite. Stories, like humankind, probably started in Ethiopia and gradually spread around the world. Brer Rabbit tales in North America came from the West Coast of Africa and the connected folk stories of the world became iterated, copied and changed, but based on many shared ideas and myths.
Following Pearlers & Pearls to curate. Social Networks; Global Brain; Mind Maps; Visual Thinking. Science, Nature & Ecology. Arts, Culture & Entertainment. El retorno de los charlatanes. Jorge Bustos: La pícara comezón de desollar al prójimo. El insulto es uno de los géneros más exigentes de la literatura y requiere enormes dosis de tacto y refinamiento intelectual.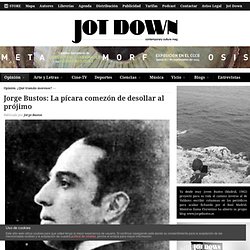 Lo escribí hace unos meses, añadiendo que insultarse está hoy mal visto en España, del mismo modo que está mal visto ganar el Premio Nobel o ameritar un crédito ICO. Si no hay talento para escribir grandes novelas ni guiones luminosos de cine español, tampoco iba a haberlo para insultarse con sabrosa malignidad, y la invectiva pública, tan fastuosamente cultivada por el español desde tiempos de Marcial, decae como cualquier género literario víctima de la revolución tecnológica y la crisis educativa, que es como decir de la falta de lecturas del personal. Twitter nos facilitó los mimbres para levantar un poco el rendido pabellón del denuesto, pero los resultados son más bien descorazonadores. Hay pocos trolls verdaderamente creativos. Simon de Pury: 'I'm Addicted to Instagram'
The show has been around for almost 20 years, and it's come back from the dead more than once.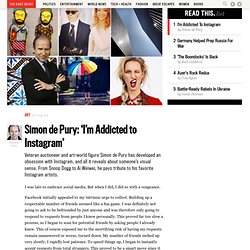 This time, though, it's returning without its creator. After a four-year hiatus, Aaron McGruder's The Boondocks is coming back to television without Aaron McGruder. UNA RETROSPECTIVA EN TRES CAPÍTULOS RECORRE LA OBRA DE JAMES TURRELL, EL ARTISTA DE LA LUZ. Desde mediados de los años 60, James Turrell ha empleado la luz -natural y artificial- como medio para crear proyectos ambientales monumentales e instalaciones site-specific que apelan a las sensaciones.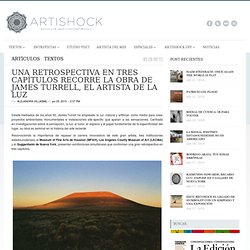 Centrada en investigaciones sobre la percepción, la luz, el color, el espacio y el papel fundamental de la especificidad del lugar, su obra es seminal en la historia del arte reciente. Reconociendo la importancia de repasar la carrera innovadora de este gran artista, tres instituciones estadounidenses, el Museum of Fine Arts de Houston (MFAH), Los Angeles County Museum of Art (LACMA) y el Guggenheim de Nueva York, presentan exhibiciones simultáneas que conforman una gran retrospectiva en tres capítulos. James Turrell, Roden Crater (vista exterior). Cortesía: James Turrell, The Skystone Foundation y Barbara Gladstone Gallery, Nueva York James Turrell, Roden Crater (portal Este).
Vicisitud y sordidez.
Cool stuff, Gastronomy, Travel, Fun, Pets, Maritime. Education, Philosophy, History, Health, Human Rights, TED Talks, The first 600 most common words in English for International Communication - Help2Say. Medieval Map. Skidsy. 40 maps that explain the world. Part two: 40 more maps that explain the world Maps can be a remarkably powerful tool for understanding the world and how it works, but they show only what you ask them to. So when we saw a post sweeping the Web titled "40 maps they didn't teach you in school," one of which happens to be a WorldViews original, I thought we might be able to contribute our own collection.
Some of these are pretty nerdy, but I think they're no less fascinating and easily understandable. A majority are original to this blog (see our full maps coverage here), with others from a variety of sources. Lingolex Homepage.
---
peggymiles Aug 12 2012

You are active and it's wonderful...now which path of your pearls should I start looking at first? If you do not mind me asking...since I like your pearls - I am wondering if these pearls are personal and professional interests...and love to know about your work. However...no worries if not...will enjoy wandering around your finds. Keep up the great work. Like a lot of the same things that you do!

zazzles Aug 9 2012

Thanks for picking my pearltree. It's significant to me because I get very few picks

ironbird Aug 6 2012

Hello! thanks a ot for adding some of my pearls! If you enjoy them you will enjoy a lot the future additions to such pearls and other stuff that i will add ;) thanks so much!

zazzles Jun 15 2012

I hope we can work together on that pearltree you copied from me. I'm glad to know that people like my work.

espejoenigma Jun 8 2012

That's becuase you have an impressive list of good pearls. Congratulations.

schenz Jun 8 2012

Wow, about 20 trees again! I am glad, that you like it and that you are copying so much! =D

schenz Jun 5 2012

Hello espejoenigma,

thx for your interest and your pearling of over 40 trees from me right now!

grz schenz
->

jenovesia May 25 2012

I have a weird sense of humor. And yes, intriguing!

pvenditti May 23 2012

Metaphors can be intriguing, can't they?

jenovesia May 23 2012

That almost sounds like something a man would get slapped across the face for...lol. thanks for sharing pearls!
---