Espejoenigma
Economy, Innovation, Startups, Crowdsourcing, Advertising, Jobs.
Self Improvement, Writing, Useful, Trends. Blog World; Personal & Favorite blogs. Science, Nature & Ecology. Following Pearlers & Pearls to curate. Arts, Culture & Entertainment.
News, Politics, Future. Cool stuff, Gastronomy, Travel, Fun, Pets, Maritime. Education, Philosophy, History, Health, Human Rights, TED Talks, Business, Businness Media, Jobs. Sight by Eran May-raz & Daniel Lazo | ObviusGeekObviusGeek. Las 19 mejores aplicaciones del año. Mil millones arriba, mil millones abajo, los internautas del mundo se han bajado este año 102.000 millones de aplicaciones, el doble que hace un año, según Gartner.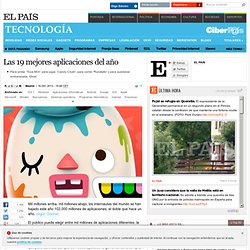 El público puede elegir entre mil millones de aplicaciones diferentes, la mayoría concentradas en las tiendas AppStore de Apple (aparatos con sistema operativo iOS) y de Google Play (sistema Android), aunque también las hay para Windows, Blackberry o Amazon. Las dos primeras se reparten el 90% del mercado. Hay muchas más para smartphones que para tabletas, aunque con estos aparatos la gente tiende a comprar más y más caro que desde los móviles. Son tiempos de resúmenes del año y cada cual elige a sus favoritos. The App Date, el sitio español dedicado a las aplicaciones, ha elegido el videocuento Los ríos de Alice, como la mejor del año. The Spanish VC industry has one big problem: it doesn't exist. Entrepreneurship is become more trendy in Spain – that's a fact.
A fresh law meant to attract entrepreneurs, a local Dragon's Den, a TV program showcasing new startups, another highlighting individual entrepreneurs, or inventions made in Spain, and a new one about to go live … you can almost feel the perception of about small businesses and their founders changing throughout the country. The question beckons, though: is Spain riding the entrepreneurship bubble as hard as it did the real estate one? A look at the numbers According to a recent report by Telefonica on the Accelerator and Incubator's ecosystem, Spain has had a massive influx of new startup programs in the past few years.
To be precise, Spain has 38 programs (versus Germany's 31 or France's 35). 30 Facebook Pages All Screenwriters Should "Like" By: ScreenCraft StaffPosted on: December 9, 2013Posted in: Blog, Featured If you're a screenwriter or interested in following the conversation surrounding the filmmaking industry, then social media is your oyster.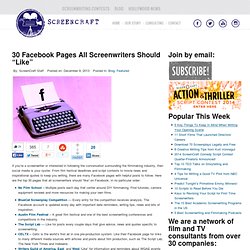 From film festival deadlines and script contests to movie news and inspirational quotes to keep you writing, there are many Facebook pages with helpful posts to follow. Here are the top 30 pages that all screenwriters should "like" on Facebook, in no particular order: No Film School – Multiple posts each day that center around DIY filmmaking. Find tutorials, camera equipment reviews and more resources for making your own films.BlueCat Screenplay Competition — Every entry for the competition receives analysis. 14 Screenwriters Writing.
Have I been pwned?, comprueba si tu dirección de correo ha sido comprometida. Durante los últimos meses, varios sitios web han sido atacados y se han filtrado los correos y contraseñas cifradas de millones de cuentas.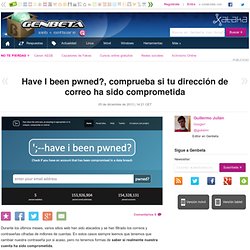 En estos casos siempre leemos que tenemos que cambiar nuestra contraseña por si acaso, pero no tenemos formas de saber si realmente nuestra cuenta ha sido comprometida. Have I been pwned? Es un sitio web muy simple que permite hacer precisamente eso: comprobar si tu dirección de correo ha sido filtrada en uno de esos ataques. Sólo tienes que introducir tu cuenta y verás en qué ataques apareció. De momento sólo tiene los datos de cinco ataques: Adobe en octubre de 2013, Yahoo! Errores comunes del emprendedor novato. Errores comunes del emprendedor novato A la hora de emprender son muchos los factores a tener en cuenta para tratar de equivocarse lo menos posible, nosotros desde nuestra experiencia intentamos aportaros nuestro granito de arena a aquellos que estáis empezando con una idea de negocio para que la lleveis a cabo con éxito.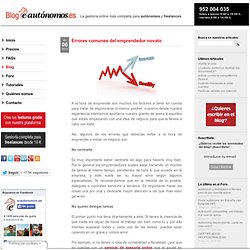 Así, algunos de los errores que deberías evitar a la hora de emprender e iniciar un negocio son: Aplicaciones para el mantenimiento de Android. Tan importante es tener el mejor teléfono inteligente del mercado, ya sea iOS, Blackberry, Windows Phone o Android, como cuidarlo para que dure y funcione siempre tan bien como el primer día.
Es de suponer que si un teléfono es bueno durará mucho, pero si lo llenas de archivos y aplicaciones innecesarios , tarde o temprano su rendimiento empeorará, al igual que ocurre con tu ordenador. Hemos reunido una lista de consejos y de aplicaciones para el mantenimiento de Android . Usando algunos de ellos conseguirás alargar la vida útil de tu dispositivo. Aplicaciones, archivos, memorias caché, widgets , versiones desactualizadas de Android...
---
peggymiles Aug 12 2012

You are active and it's wonderful...now which path of your pearls should I start looking at first? If you do not mind me asking...since I like your pearls - I am wondering if these pearls are personal and professional interests...and love to know about your work. However...no worries if not...will enjoy wandering around your finds. Keep up the great work. Like a lot of the same things that you do!

zazzles Aug 9 2012

Thanks for picking my pearltree. It's significant to me because I get very few picks

ironbird Aug 6 2012

Hello! thanks a ot for adding some of my pearls! If you enjoy them you will enjoy a lot the future additions to such pearls and other stuff that i will add ;) thanks so much!

zazzles Jun 15 2012

I hope we can work together on that pearltree you copied from me. I'm glad to know that people like my work.

espejoenigma Jun 8 2012

That's becuase you have an impressive list of good pearls. Congratulations.

schenz Jun 8 2012

Wow, about 20 trees again! I am glad, that you like it and that you are copying so much! =D

schenz Jun 5 2012

Hello espejoenigma,

thx for your interest and your pearling of over 40 trees from me right now!

grz schenz
->

jenovesia May 25 2012

I have a weird sense of humor. And yes, intriguing!

pvenditti May 23 2012

Metaphors can be intriguing, can't they?

jenovesia May 23 2012

That almost sounds like something a man would get slapped across the face for...lol. thanks for sharing pearls!
---