Espejoenigma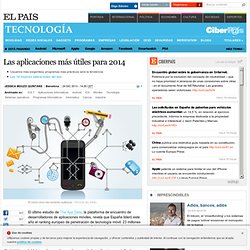 El último estudio de The App Date, la plataforma de encuentro de desarrolladores de aplicaciones móviles, revela que España lideró este año el ranking europeo de penetración de tecnología móvil: 23 millones de personas tienen un smartphone y el flujo de descargas de aplicaciones se sitúa en torno a los cuatro millones diarios. Hombre, de mediana edad, urbano y de clase media. Así es el perfil del nomofóbico por antonomasia, enganchado al teléfono móvil o a la tableta y activo en el uso y descarga de las aplicaciones móviles (apps, en su abreviatura en inglés; o aplis, en español). Según el estudio de The App Date, el 80% de los usuarios no se despegan del teléfono para comer y el 75% no lo desconecta ni siquiera para ligar o practicar sexo. "Uno de cada tres personas se lo llevan al baño y sólo el 1,5% lo deja en casa en vacaciones", remacha el informe publicado el pasado mes de septiembre.
Las aplicaciones más útiles para 2014
Economy, Innovation, Startups, Crowdsourcing, Advertising, Jobs
Internet, Computers, Mobiles & Engineering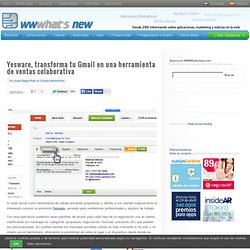 Yesware, transforma tu Gmail en una herramienta de ventas colaborativa
Si usas Gmail como herramienta de trabajo enviando propuestas y ofertas a tus clientes seguramente te interesará conocer la extensión Yesware, pensada para vendedores profesionales y equipos de trabajo. Con esta aplicación podemos tener plantillas de emails para cada fase de la negociación con el cliente, clasificando los mensajes en categorías (propuesta, negociación, facturas, posventa, etc) que pueden ser personalizadas. Es posible rastrear los mensajes enviados viendo en todo momento si ha sido o no abierto por el destinatario, ofreciendo la posibilidad de saber el lugar y el dispositivo desde donde se está abriendo el email. Para los equipos de trabajo tenemos la opción de comaprtir plantillas creadas y estadísticas relacionadas con los emails enviados y leídos en cada fase de la venta, teniendo un registro completo de la actividad de cada vendedor.
Ocho aplicaciones gratuitas para convertir audio y vídeo
Actualmente circulan por la red un gran número de formatos de audio y vídeo. El elenco de formatos es tal que muchas veces se hace necesario contar con determinados codecs para poder ver las películas, los vídeos o incluso escuchar las canciones. Incluso los vídeos que vemos en YouTube se muestran en un formato diferente a los más populares que utilizamos habitualmente (AVI o MP4).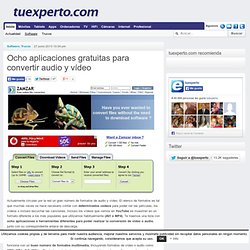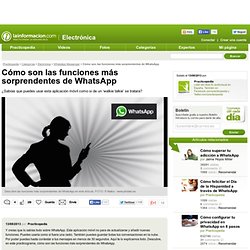 Cómo son las funciones más sorprendentes de WhatsApp - WhatsApp Messenger
1 Usa WhatsApp como si de un 'walkie talkie' se tratara. WhatsApp ha lanzado una actualización en agosto de 2013 que permite enviar notas de voz usando tu 'smartphone' como si de un 'walkie talkie' se tratara. Tan sencillo como pulsar un botón, hablar y soltar. El audio se enviará de forma automática a tu contacto. Es una funcionalidad perfecta para momentos en los que no puedes escribir mensajes. Te explicamos cómo funciona en el practicograma 'Cómo usar la función 'walkie talkie' de WhatsApp'. 2 Envía muchas fotos al mismo tiempo.
Chrome
Self Improvement, Writing, Useful, Trends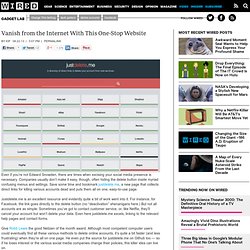 Vanish from the Internet With This One-Stop Website | Gadget Lab
Even if you're not Edward Snowden, there are times when excising your social media presence is necessary. Companies usually don't make it easy, though, often hiding the delete button inside myriad confusing menus and settings. Save some time and bookmark justdelete.me, a new page that collects direct links for killing various accounts dead and puts them all on one, easy-to-use page. Justdelete.me is an excellent resource and evidently quite a bit of work went into it. For instance, for Facebook, the link goes directly to the delete button (no "deactivation" shenanigans here.)
Can't find what you're looking for? Help make justdelete.me better. easy No Info Available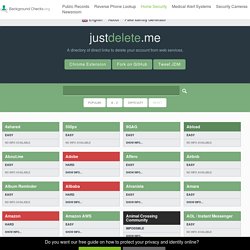 Por Ornela. Zeitgeist Mar del Plata. El pensamiento crítico es una actitud intelectual que se propone analizar o evaluar la estructura y consistencia de los razonamientos, particularmente las opiniones o afirmaciones que la gente acepta como verdaderas en el contexto de la vida cotidiana. Tal evaluación puede basarse en la observación, en la experiencia, en el razonamiento o en el método científico.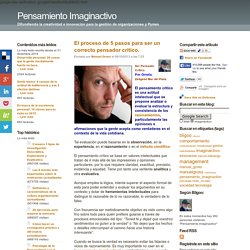 El proceso de 5 pasos para ser un correcto pensador crítico.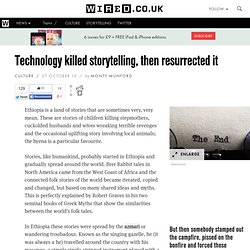 Technology killed storytelling, then resurrected it
Ethiopia is a land of stories that are sometimes very, very mean. These are stories of children killing stepmothers, cuckolded husbands and wives wreaking terrible revenges and the occasional uplifting story involving local animals; the hyena is a particular favourite. Stories, like humankind, probably started in Ethiopia and gradually spread around the world. Brer Rabbit tales in North America came from the West Coast of Africa and the connected folk stories of the world became iterated, copied and changed, but based on many shared ideas and myths.
Blog World; Personal & Favorite blogs
Following Pearlers & Pearls to curate
Science, Nature & Ecology
Arts, Culture & Entertainment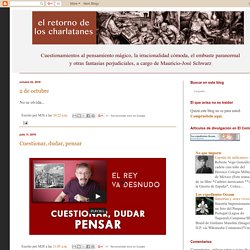 Cuando la ministra de sanidad Ana Mato anunció la intención de regularizar los preparados, pócimas o mejunjes homeopáticos mediante un proyecto de orden ministerial, las reacciones no se hicieron esperar. Muchos se declararon en contra de que se engañe a la gente vendiéndole 100% agua como medicamentos capaces de curar afecciones, prevenirlas o controlar síntomas, unos preparados que no han demostrado eficacia en estudios del rigor que se le exige a los medicamentos reales, estudios de laboratorio, en animales y en ensayos clínicos de cuatro fases, completos, sólidos y, de preferencia, verificados independientemente. La campaña de los médicos está basada en el concepto "No sin evidencia". Los alumnos de medicina también se manifestaron en contra.
El retorno de los charlatanes
Jorge Bustos: La pícara comezón de desollar al prójimo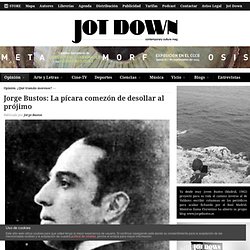 El insulto es uno de los géneros más exigentes de la literatura y requiere enormes dosis de tacto y refinamiento intelectual. Lo escribí hace unos meses, añadiendo que insultarse está hoy mal visto en España, del mismo modo que está mal visto ganar el Premio Nobel o ameritar un crédito ICO. Si no hay talento para escribir grandes novelas ni guiones luminosos de cine español, tampoco iba a haberlo para insultarse con sabrosa malignidad, y la invectiva pública, tan fastuosamente cultivada por el español desde tiempos de Marcial, decae como cualquier género literario víctima de la revolución tecnológica y la crisis educativa, que es como decir de la falta de lecturas del personal. Twitter nos facilitó los mimbres para levantar un poco el rendido pabellón del denuesto, pero los resultados son más bien descorazonadores. Hay pocos trolls verdaderamente creativos.
In his classic 1984 essay, Richard Ben Cramer wonders if Jerry Lee Lewis got away with his wife's murder. Richard Ben Cramer died one year ago this week and he is still sorely missed. His career began at the Baltimore Sun during the Watergate Era, blossomed at the Philadelphia Inquirer, where he won a Pulitzer for his reportage in the Middle East, and broadened in the 1980s when he conquered the long magazine profile with his enduring Esquire piece on Ted Williams.
Simon de Pury: 'I'm Addicted to Instagram'
UNA RETROSPECTIVA EN TRES CAPÍTULOS RECORRE LA OBRA DE JAMES TURRELL, EL ARTISTA DE LA LUZ
Desde mediados de los años 60, James Turrell ha empleado la luz -natural y artificial- como medio para crear proyectos ambientales monumentales e instalaciones site-specific que apelan a las sensaciones. Centrada en investigaciones sobre la percepción, la luz, el color, el espacio y el papel fundamental de la especificidad del lugar, su obra es seminal en la historia del arte reciente. Reconociendo la importancia de repasar la carrera innovadora de este gran artista, tres instituciones estadounidenses, el Museum of Fine Arts de Houston (MFAH), Los Angeles County Museum of Art (LACMA) y el Guggenheim de Nueva York, presentan exhibiciones simultáneas que conforman una gran retrospectiva en tres capítulos. James Turrell, Roden Crater (vista exterior). Cortesía: James Turrell, The Skystone Foundation y Barbara Gladstone Gallery, Nueva York James Turrell, Roden Crater (portal Este).
Vicisitud y sordidez
"I don't start watching shows until they're so popular that watching them is no longer a statement." Britta Perry (Community) Una de las mejores cosas de convertirse en un señor mayor es que ya no tienes que preocuparte de qué pensará la gente de tus gustos. Adiós a esa edad de 15 años, en la que decidir que grupo oír fuese a marcar tu vida. Bienvenido sea ese momento liberador en el que puedes rellenar una casete de 90 minutos en el que tienes grabado el 'Tales From the Topographic Oceans' de Yes con 'La flor de la canela' cantada por María Dolores Pradera (sí, lo realmente "nofollarásenlavida" es el disco de Yes, lo de la Pradera es más un "nofollarásconmujeresenlavida"). Por ese mismo motivo suelo evitar hablar de series de televisión en el blog.
Cool stuff, Gastronomy, Travel, Fun, Pets, Maritime
Education, Philosophy, History, Health, Human Rights, TED Talks,
The first 600 most common words in English for International Communication - Help2Say
Medieval Map
Skidsy
Lingolex Homepage