Canning
Get flash to fully experience Pearltrees
A common misconception about slow cookers is that they only make stews and soups, but you would be surprised at the things I've made in mine; lasagna, granola, fish, stuffed acorn squash, even play dough! This fruit butter is a great example of an unconventional slow cooker recipe.
I had no idea how many different kinds of bacon there are available. After a trip to my local Whole Foods deli counter, I decided to try everything they had - smoked, uncured, and Black Forest (my new favorite!)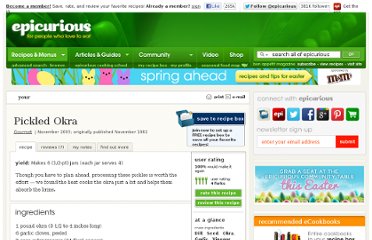 Sterilize jars and lids: Wash jars, screw bands, and lids in hot, soapy water, then rinse well.
I used to have a fantastic coworker named John.
So I'm pretty crazy about figs. Fortunately, or unfortunately, Messy is not a big fan of raw figs.
I love canning. No, I really do.
Last week, I received a charming email from a nice woman who wrote to tell me how much her family has enjoyed this blog. Letters like this just thrill me.
Canning/Preserving Bloggers
A couple of years ago I was surprised to see that the message on a poster from World War II was awfully similar to the messages we were trying to send at TreeHugger, such as growing your own food, walking instead of driving, and conserving everything we have.