Writing Systems, Contests, etc.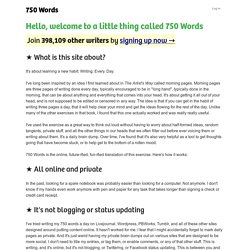 ★ What is this site about? I've long been inspired by an idea I first learned about in The Artist's Way called morning pages. Morning pages are three pages of writing done every day, typically encouraged to be in "long hand", typically done in the morning, that can be about anything and everything that comes into your head. It's about getting it all out of your head, and is not supposed to be edited or censored in any way. The idea is that if you can get in the habit of writing three pages a day, that it will help clear your mind and get the ideas flowing for the rest of the day.
Introducing Write or Die 2 Write or Die is an application for Windows, Mac and Linux which aims to eliminate writer's block by providing consequences for procrastination and, new to this version, rewards for accomplishment. Historically Write or Die has specialized in being the stick in the carrot/stick motivation continuum, but it's time to experiment with encouragement.