Writing Generators
Character Name Generator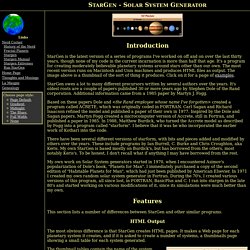 StarGen - Solar System Generator
Introduction StarGen is the latest version of a series of programs I've worked on off and on over the last thirty years, though none of my code in the current incarnation is more than half that age. It's a program for creating moderately believable planetary systems around stars other than our own.
By Samuel Stoddard - Version 1.5 One of the perks of creating fantasy stories -- whether by writing a story or game or by role-playing -- is you get to make up the names. Some people relish the task while others are frustrated by it. Some like it but can't seem to create names that are diverse enough. Fantasy Name Generator is a tool that can help you.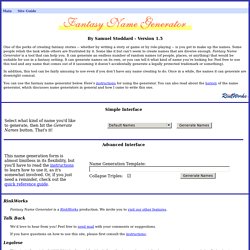 Chaotic Shiny is a generator site aimed at people who write, game, or live in fantasy worlds of their own creation. Grappling with writer's block? Need a character on the fly? Party just walked into a tavern and you want it to be a little more exciting than normal? Want to flesh out a setting with some detailed religions? Chaotic Shiny is the site for you.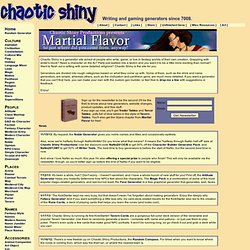 Chaotic Shiny - RPG-Related Generators
[Way With Worlds appears at Seventh Sanctum at at MuseHack] For the next few columns I'll be looking at specific things that you need to do and define when building your setting. This should not be taken as the only things that you have to do, but instead a list of basics, with advice and ideas on how you can develop them best. I'm sure you'll have your own ways to do things, that I may miss things, or that your writing may have some unique needs. But it's a place to start. In fact, on the subject of "starting," the first thing we're going to look at is literally the First Thing: The Origin of your setting.