Social media
S Social Media Guide for Small Businesses. Over the past year, Mashable has written extensively on the value of social media to small businesses.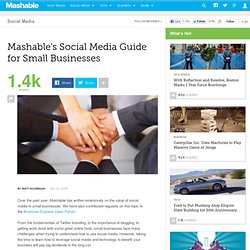 We have also contributed regularly on this topic to the American Express Open Forum. From the fundamentals of Twitter branding, to the importance of blogging, to getting work done with some great online tools, small businesses face many challenges when trying to understand how to use social media. However, taking the time to learn how to leverage social media and technology to benefit your business will pay big dividends in the long run.
Whether you're just signing up, or primed for some advanced social marketing, the posts below have all the tips, tricks, and wisdom you'll need to take your brand to the next level.
Blogging
Twitter. The Top 10 Social Media Blog Posts In 2009. It's been a big year for social media in 2009 with Twitter going mainstream, Facebook passing 300 million users, Twitter real time search being integrated into Google, Monthly online video views passing 25 billion a month, Pepsi forgoing it's normal $20 million dollar SuperBowl traditional mainstream marketing spend and instead invest it on a social media marketing campaign.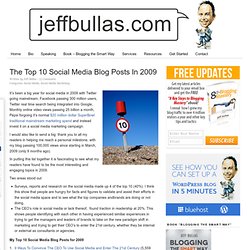 I would also like to send a big thank you to all my readers in helping me reach a personal milestone, with my blog passing 100,000 views since starting in March, 2009 (only 9 months ago). In putting this list together it is fascinating to see what my readers have found to be the most interesting and engaging topics in 2009. Two areas stood out Surveys, reports and research on the social media made up 4 of the top 10 (40%).
SEO. Marketing. G+ Articles. Blogs.
---