Japanese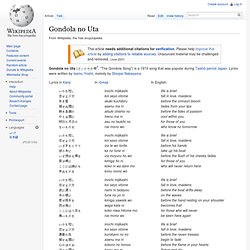 Gondola no Uta
Gondola no Uta ( ゴンドラの唄 ? , "The Gondola Song") is a 1915 song that was popular during Taishō period Japan . Lyrics were written by Isamu Yoshii , melody by Shinpei Nakayama . It was used as a theme song in Akira Kurosawa 's 1952 film Ikiru . [ 1 ] The song is also referenced in the Japanese manga titled, Fushigi Yūgi Genbu Kaiden . This music is also used in a Japanese Drama titled "Haikei Chichiue sama".
Speaking-Japanese.com - Scholars of Sound Hypnotext
Exploring Japanese Literature
Breaking into Japanese Literature is designed to make great works of Japanese literature accessible. It features four stories by Natsume Soseki, the father of modern Japanese literature, and three stories by Akutagawa Ryunosuke, the Japanese master of the short story.
In Edo Period (1603-1868) Kyoto, when a criminal was sentenced to exile his relatives were summoned to the jail to say their farewells, and after that he was placed on a boat that would take him down the Takase River to Osaka.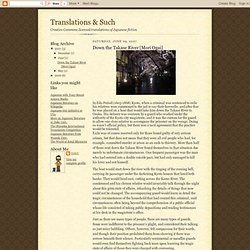 Down the Takase River [Mori Ogai]
Bungo Nyûmon — An Introduction to Classical Japanese
WASHOKU - Japanese Food Culture and Cuisine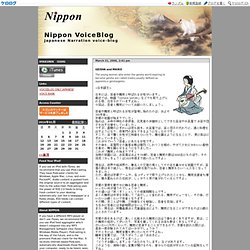 Nippon VoiceBlog
We offer Kagamimochi to God from Ganjitsu, the first day of New Year, to January 11th.