Cloud & Europe
Applying to G-Cloud | G-CloudG-Cloud. Cloud-based services through G-Cloud G-Cloud is a framework through which suppliers can provide public sector buyers with cloud-based services such as web hosting, site analytics or document collaboration tools.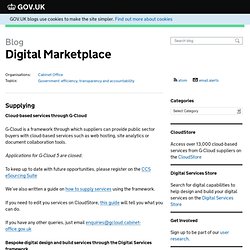 Applications for G-Cloud 5 are closed. To keep up to date with future opportunities, please register on the CCS eSourcing Suite. CloudStore opened by government | Guardian Government Computing | Guardian Professional. Defense giant ditches Microsoft's cloud citing Patriot Act fears. London-based defence contractor BAE has reportedly bailed on plans to adopt Microsoft's Office 365 cloud-based service, citing fears that critical defence secrets could land in U.S. hands.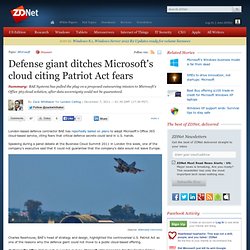 Speaking during a panel debate at the Business Cloud Summit 2011 in London this week, one of the company's executive said that it could not guarantee that the company's data would not leave Europe. (Source: Wikimedia Commons) Charles Newhouse, BAE's head of strategy and design, highlighted the controversial U.S. Code de procédure pénale. Lorsque les nécessités de l'information concernant un crime ou un délit entrant dans le champ d'application de l'article 706-73 l'exigent, le juge d'instruction peut, après avis du procureur de la République, autoriser par ordonnance motivée les officiers et agents de police judiciaire commis sur commission rogatoire à mettre en place un dispositif technique ayant pour objet, sans le consentement des intéressés, d'accéder, en tous lieux, à des données informatiques, de les enregistrer, les conserver et les transmettre, telles qu'elles s'affichent sur un écran pour l'utilisateur d'un système de traitement automatisé de données ou telles qu'il les y introduit par saisie de caractères.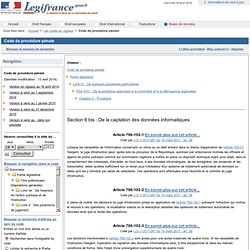 Ces opérations sont effectuées sous l'autorité et le contrôle du juge d'instruction. 2011-267 du 14 mars 2011 d'orientation et de programmation pour la performance de la sécurité intérieure (1) I. ― Assurer la sécurité partout et pour tous grâce à une approche globale de la politique de sécurité 1.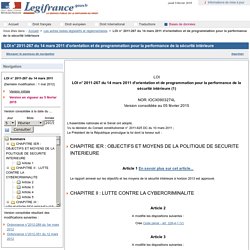 Mobiliser tous les acteurs au service de la sécurité de nos concitoyens2. Mieux répondre aux besoins de sécurité des différents territoires3. Mieux mobiliser les différentes réponses : prévention, dissuasion et répression4. 31995L0046. Directive 95/46/CE du Parlement européen et du Conseil, du 24 octobre 1995, relative à la protection des personnes physiques à l'égard du traitement des données à caractère personnel et à la libre circulation de ces données Journal officiel n° L 281 du 23/11/1995 p. 0031 - 0050 du 24 octobre 1995 relative à la protection des personnes physiques à l'égard du traitement des données à caractère personnel et à la libre circulation de ces données.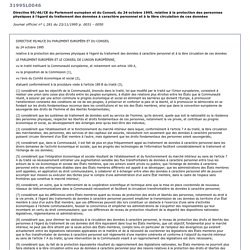 Cloud Computing: What do the new EU Data Privacy Regulations mean for Cloud adoption?Thought Feast. US-GreatSeal-Obverse.svg - Wikipedia, the free encyclopedia. Cloud Computing: Is data nationalisation a challenge to Cloud? - Thought FeastThought Feast. Ec.europa.eu/public_opinion/archives/ebs/ebs_359_en.pdf. Ec.europa.eu/justice/data-protection/document/review2012/factsheets/2_en.pdf. Justice. Isabelle Falque-Pierrotin (CNIL) : « Données personnelles : gare aux risques d'une baisse de la protection en Europe » En marge de la conférence de presse sur l'usage des données personnelles sur les smartphones (13/12/11), Isabelle Falque-Pierrotin, Présidente de la CNIL, a accordé à ITespresso.fr une interview sur le processus en cours de révision de la directive des données personnelles au niveau européen (datant de 1995)*.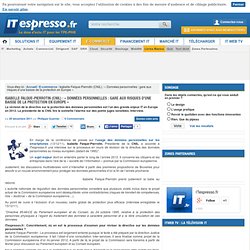 Un sujet majeur dont on entendra parler le long de l'année 2012. Il concerne les citoyens et les entreprises dans l'ère de la « société de l'information » promue par la Commission européenne. Justement, les discussions multilatérales vont s'intensifier à partir des premières propositions de Bruxelles pour aboutir à un nouvel environnement pour protéger les données personnelles d'ici la fin de l'année prochaine.
Isabelle Falque-Pierrotin prend justement la balle au rebond. Www.cnil.fr/fileadmin/documents/Vos_responsabilites/Transferts/CNIL-transferts-SAFE_HARBOR.pdf. Safe Harbor - List. Register | Login Find Opportunities Find Solutions Contact Us.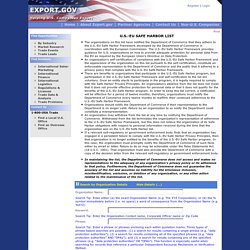 Safe Harbor. The European Commission's Directive on Data Protection went into effect in October of 1998, and would prohibit the transfer of personal data to non-European Union countries that do not meet the European Union (EU) "adequacy" standard for privacy protection.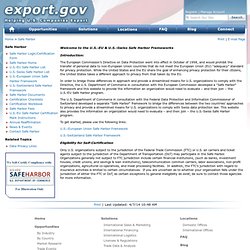 While the United States and the EU share the goal of enhancing privacy protection for their citizens, the United States takes a different approach to privacy from that taken by the EU. In order to bridge these differences in approach and provide a streamlined means for U.S. organizations to comply with the Directive, the U.S. Department of Commerce in consultation with the European Commission developed a "Safe Harbor" framework and this website to provide the information an organization would need to evaluate – and then join – the U.S. Safe harbor. Online Services. Microsoft: 'We can hand over Office 365 data without your permission' Microsoft's words, not mine.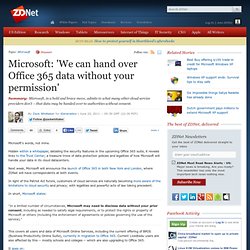 Hidden within a whitepaper, detailing the security features in the upcoming Office 365 suite, it reveals links to the Trust Center; a treasure trove of data protection policies and legalities of how Microsoft will handle your data in its cloud datacenters. Next week, Microsoft will announce the launch of Office 365 in both New York and London, where ZDNet will have correspondents at both events. In light of the Patriot Act furore, customers of cloud services are naturally becoming more aware of the limitations to cloud security and privacy; with legalities and powerful acts of law taking precedent. Microsoft admits Patriot Act can access EU-based cloud data. Editor's note: This article was first published in June 2011.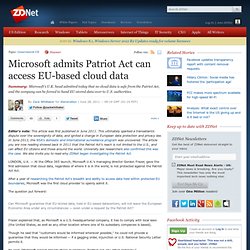 This ultimately sparked a transatlantic dispute over the sovereignity of data, and ignited a change in European data protection and privacy law. In June 2013, the NSA's domestic and international surveillance program was uncovered. The article you are now reading showed back in 2011 that the Patriot Act's reach is not limited to the U.S., and can affect EU citizens and those around the world. University law researchers also confirmed this was the case. We also invite you to read why ZDNet began investigating the Patriot Act. Patriot Act. The USA PATRIOT Act is an Act of Congress that was signed into law by President George W.
Bush on October 26, 2001. The title of the act is a ten-letter backronym (USA PATRIOT) that stands for Uniting and Strengthening America by Providing Appropriate Tools Required to Intercept and Obstruct Terrorism Act of 2001.[1] On May 26, 2011, President Barack Obama signed the PATRIOT Sunsets Extension Act of 2011,[2] a four-year extension of three key provisions in the USA PATRIOT Act:[3] roving wiretaps, searches of business records (the "library records provision"), and conducting surveillance of "lone wolves"—individuals suspected of terrorist-related activities not linked to terrorist groups.[4] Details[edit]
---