Cloud & Europe
Applying to G-Cloud | G-CloudG-Cloud
Unlike many other government procurements G-Cloud is not a single framework. Rather it is a program that is issuing a series of framework agreements over time.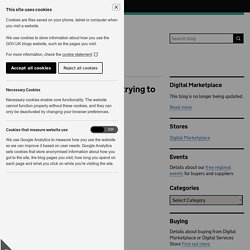 27th January 2012
Digital Commissioner announces 'G-Cloud' for Europe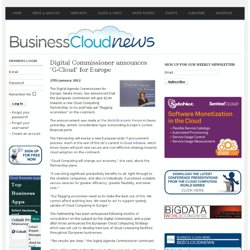 Mark Say
CloudStore opened by government | Guardian Government Computing | Guardian Professional
London-based defence contractor BAE has reportedly bailed on plans to adopt Microsoft's Office 365 cloud-based service, citing fears that critical defence secrets could land in U.S. hands.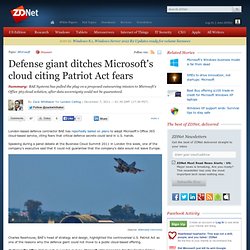 Defense giant ditches Microsoft's cloud citing Patriot Act fears
Code de procédure pénale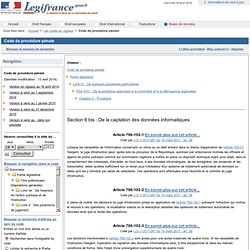 Lorsque les nécessités de l'information concernant un crime ou un délit entrant dans le champ d'application de l'article 706-73 l'exigent, le juge d'instruction peut, après avis du procureur de la République, autoriser par ordonnance motivée les officiers et agents de police judiciaire commis sur commission rogatoire à mettre en place un dispositif technique ayant pour objet, sans le consentement des intéressés, d'accéder, en tous lieux, à des données informatiques, de les enregistrer, les conserver et les transmettre, telles qu'elles s'affichent sur un écran pour l'utilisateur d'un système de traitement automatisé de données ou telles qu'il les y introduit par saisie de caractères.
I. ― Assurer la sécurité partout et pour tous grâce à une approche globale de la politique de sécurité
LOI n° 2011-267 du 14 mars 2011 d'orientation et de programmation pour la performance de la sécurité intérieure (1)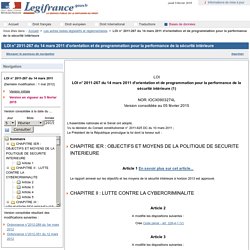 31995L0046 - FR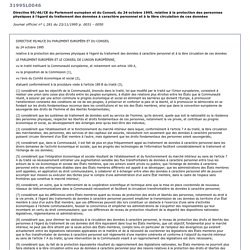 Directive 95/46/CE du Parlement européen et du Conseil, du 24 octobre 1995, relative à la protection des personnes physiques à l'égard du traitement des données à caractère personnel et à la libre circulation de ces données Journal officiel n° L 281 du 23/11/1995 p. 0031 - 0050 du 24 octobre 1995 relative à la protection des personnes physiques à l'égard du traitement des données à caractère personnel et à la libre circulation de ces données
Cloud Computing: What do the new EU Data Privacy Regulations mean for Cloud adoption?Thought Feast
US-GreatSeal-Obverse.svg - Wikipedia, the free encyclopedia
Cloud Computing: Is data nationalisation a challenge to Cloud? - Thought FeastThought Feast
ec.europa.eu/public_opinion/archives/ebs/ebs_359_en.pdf
ec.europa.eu/justice/data-protection/document/review2012/factsheets/2_en.pdf
Justice - European Commission
En marge de la conférence de presse sur l'usage des données personnelles sur les smartphones (13/12/11), Isabelle Falque-Pierrotin , Présidente de la CNIL , a accordé à ITespresso.fr une interview sur le processus en cours de révision de la directive des données personnelles au niveau européen (datant de 1995)*.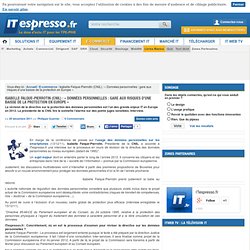 Isabelle Falque-Pierrotin (CNIL) : « Données personnelles : gare aux risques d'une baisse de la protection en Europe »
www.cnil.fr/fileadmin/documents/Vos_responsabilites/Transferts/CNIL-transferts-SAFE_HARBOR.pdf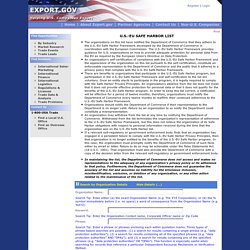 Register | Login
Safe Harbor - List
Safe Harbor
The European Commission's Directive on Data Protection went into effect in October of 1998, and would prohibit the transfer of personal data to non-European Union countries that do not meet the European Union (EU) "adequacy" standard for privacy protection.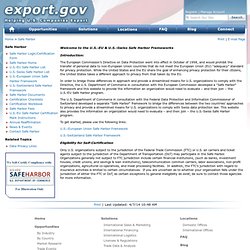 Safe harbor
Online Services
Microsoft: 'We can hand over Office 365 data without your permission'
Microsoft's words, not mine.
LONDON -- At the Office 365 launch, Microsoft U.K.'s managing director Gordon Frazer, gave the first admission that cloud data -- regardless of where it is in the world -- is not protected against the USA PATRIOT Act.
Microsoft admits Patriot Act can access EU-based cloud data
The USA PATRIOT Act (commonly known as the Patriot Act ) is an Act of the U.S.