Blog photo
2011 created by imagestropicales based on Photo Focus. ParisDailyPhoto. The Sartorialist. Un autre bout du monde. Votre galerie. Blog. Theix - Photos. Nicolas Erwan expose à la mairie. Photos. Les instantanés de concerts d'Erwan Nicolas - L'actualité de Bourg-Blanc est sur Le Télégramme.
Le Blog Rouge. L'Art et la Lumiere. La Tribu d'Anaximandre. Evry Polaroid. Photopassion.fr le blog de Guillaume Manceron photographe amateu. Instantsflous. Instants Morange. Comme Zoro. Runman blog. Hubert M. Carnets de la Run. Strange thougths. Images Tropicales. Spirit of ecstasy. Funchal Par melody nelson, dimanche 13 avril 2014 à 14:25 - Madeira A Funchal, c'est le printemps presque toute l'année.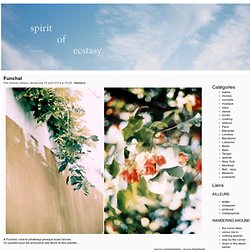 Un paradis pour les amoureux des fleurs et des plantes... aucun commentaire - aucun trackback Pico Ruivo. Polka Magazine. My funny eye. Mes images - Daily Photography from FRESNES, France. Imaz. L'inventaire de l'esthétique. Color Me Katie.
Djiwom in Poitiers. MadTraphoto.
Signus Photo Site. Sf.photos - Sébastien Fanget, auteur photographe en Haute-Savoie.
---