Plataformas de curación
Gentlemint - a mint of manly things. Everplaces - Save and share places you love. Surfmark: Annotate, capture, organize and share your web search. Curation Station.
Content Curation & Online Marketing Solution - Curata. Be Heard. Be a VJ. Welcome to Chill. The Tweeted Times - personal newspaper generated from your Twitter account. Storify · Create social stories. Curate.Me | Curated News Delivered On Your Schedule. Penguin's covers. Comme on a pas encore la fonction pour suggest, je vais utiliser les commentaires pour ça !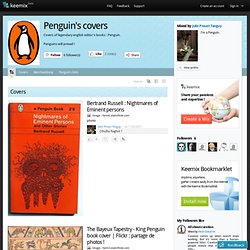 :)J'aime beaucoup ce que fait Will Self. Une partie de de ses bouquins ont été édités par Penguin (pas mes préférés !). La a été réédité avec une couverture faite par un tatoueur : sur flickr : "Penguin Books re-released some novels as part of a Penguin Ink collection, where the covers were re-designed by tattoo artists from all over the world.My favourite, and London-based, tattoo artist Duncan X designed the cover for Will Self's The Book of Dave (which just so happens to be a bloody good read too). " Juxtapost - All your favorite things, side-by-side. BUZZ RADIUS ™ | TWITTER AGGREGATION + CURATION, MADE EASY. CURATION STATION | FLEXIBLE CONTENT MARKETING SOFTWARE. Content Curation & Online Marketing Solution - Curata.
Shareist - Content Curation Platform. Marketing On Pinterest For Small Business Owners. Curatoria. Summify. Tumblr. Posterous. Scoop.it. Themeefy. Snip.it. Paper.li.
Evri. Pinterest.
---