Food
Recipe: Christmas Salad - I Love Vegan
Yield 8 – 10 servings (freezes well) Ingredients: 1 zucchini, quartered lengthwise and chopped 1 carrot, peeled and finely chopped 1 sweet potato, baked and chopped 1 corn cob (optional), kernels cut off handful of spinach 1 green pepper, chopped 3 garlic cloves, minced 1/2 can black beans or chickpeas, drained 1 can diced tomatoes, drained 1 stalk celery, finely chopped 1/2 onion, finely chopped 1 tbsp vegetable oil 1 tsp chili powder 1/2 tsp cocoa 1/2 tsp cumin 1/4 tsp oregano 1/4 tsp lemon juice 2/3 cup water (add more if necessary) 1 tsp salt and a pinch of pepper
Recipe: Sweet Potato Chili - I Love Vegan
Recipe: Herb Roasted Potatoes - I Love Vegan
Recipe: Candied Sweet Potatoes - I Love Vegan
Here's a handy list of cooking and baking tips from the 1950s and 1960s that I've collected from a variety of vintage clippings. Each of the tips are from magazine articles or newspaper advice columns containing helpful ideas sent in from women sharing their tips with each other. I consider these tips as timeless wisdom, they were our mothers and grandmothers–and it's hard to find someone with better tips than they have, these women knew how to work a kitchen! I've also included more tips and information found on Tipnut where there was more expanded info or helpful goodies on the topic. When boiling milk, first stir in a pinch of baking soda.
45 Cooking & Baking Tips: A Collection Of Timeless Wisdom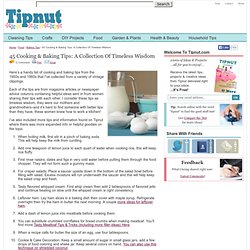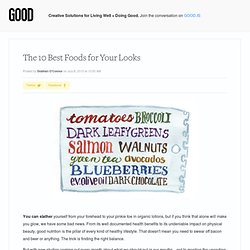 You can slather yourself from your forehead to your pinkie toe in organic lotions, but if you think that alone will make you glow, we have some bad news. From its well documented health benefits to its undeniable impact on physical beauty, good nutrition is the pillar of every kind of healthy lifestyle. That doesn't mean you need to swear off bacon and beer or anything. The trick is finding the right balance. But with new studies coming out every month about what we should put in our mouths—not to mention the unending discovery of mysterious superfruits from deep in the forests of wherever—it can be hard to keep track of what, exactly, we should be eating.
The Whole Food Chart for Health - Wonderfulinfo.com
Homemade Vanilla Extract
Neighbor gifts are one of my favorite things to do this time of year. It involves my love for baking and gifting. I've always been meaning to make some homemade vanilla extract, I have friends that swear by it! I think it would make a really special neighbor gift. Keep reading to see how to make vanilla extract (you'll never believe how easy it is), and also how to make the mini felt bow too!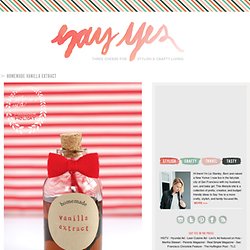 Food - Powered by Tofu
Hey, Lady Grey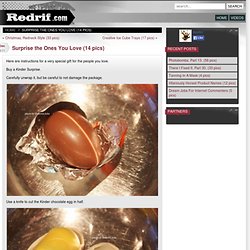 Dec 24/11 Surprise the Ones You Love (14 pics) Here are instructions for a very special gift for the people you love. Buy a Kinder Surprise.
What you need: 6 large onions 2 green bell peppers 6 huge, ripe tomatoes or 1-2 large cans of tomatoes 1 bunch of celery with leaves 1/2 head white cabbage 4 carrots 1/2 big can of tomato juice Salt, Pepper to taste * My mom also puts in 1 pack Lipton onion soup mix for flavor. If you don't have this, you can just use herbs and spices, as I did. What you do: Dice the vegetables and put them in a pot.
Wifely Steps » Blog Archive » Fat-burning Soup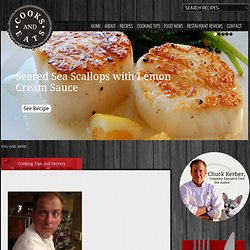 Chef Chuck Kerber Cooking Tips Never wash mushrooms! If the fungi have dirt or debris on them, simply brush it off with a cloth. Water will saturate the mushroom, leaving them tasteless and soggy. Leave your butter out.
Menuism