Museums/Galleries
Freer and Sackler Galleries. The Fashion World of Jean Paul Gaultier. From the Sidewalk to the Catwalk. Shelburne Museum. In Fashion: High Style, 1690-2011 « Shelburne Museum. In Fashion: High Style, 1690-2011 is Shelburne Museum's first major exhibition of fashion and historic costumes.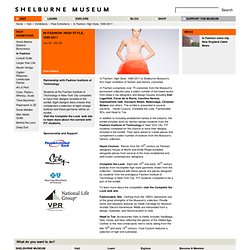 In Fashion comprises over 75 costumes from the Museum's permanent collection plus a select number of borrowed works from today's top designers and design houses including Karl Lagerfeld, Oscar de la Renta, Carolina Herrera, Giambattista Valli, Giovanni Bedin, Balenciaga, Christian Siriano and others. The exhibit is presented in several sections: Haute Couture, Complete the Look, Fashionable 50's, and Head to Toe. In addition to including established names in the industry, the exhibit includes work by fashion design students from the Fashion Institute of Technology in New York City. FIT students competed for the chance to have their designs included in the exhibit. Art Map Burlington | KASINI HOUSE.
Seaba. Museum of Fine Arts, Boston | VeggieArtGirl.com - The Official Website of Artist Stacey Lucas - Funky Art Finds and Original Designs. Artistic Roots - An Artisans' Co-Op, Plymouth, New Hampshire. The S.P.A.C.E. Gallery. Home. The Metropolitan Museum of Art, New York: metmuseum.org.
---