Museums/Galleries
The Fashion World of Jean Paul Gaultier. From the Sidewalk to the Catwalk
Shelburne Museum
In Fashion: High Style, 1690-2011 « Shelburne Museum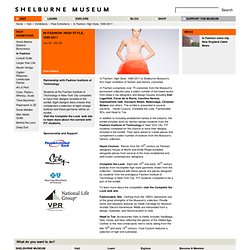 In Fashion: High Style, 1690-2011 is Shelburne Museum's first major exhibition of fashion and historic costumes. In Fashion comprises over 75 costumes from the Museum's permanent collection plus a select number of borrowed works from today's top designers and design houses including Karl Lagerfeld, Oscar de la Renta, Carolina Herrera, Giambattista Valli, Giovanni Bedin, Balenciaga, Christian Siriano and others. The exhibit is presented in several sections: Haute Couture, Complete the Look, Fashionable 50's, and Head to Toe. In addition to including established names in the industry, the exhibit includes work by fashion design students from the Fashion Institute of Technology in New York City. FIT students competed for the chance to have their designs included in the exhibit.
Art Map Burlington |
KASINI HOUSE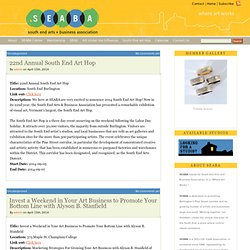 Title: 22nd Annual South End Art HopLocation: South End BurlingtonLink out: Click hereDescription: We here at SEABA are very excited to announce 2014 South End Art Hop! Now in its 22nd year, the South End Arts & Business Association has presented a remarkable exhibition of visual art, Vermont's largest, the South End Art Hop. The South End Art Hop is a three day event occurring on the weekend following the Labor Day holiday. It attracts over 30,000 visitors, the majority from outside Burlington.
seaba
VeggieArtGirl.com - The Official Website of Artist Stacey Lucas - Funky Art Finds and Original Designs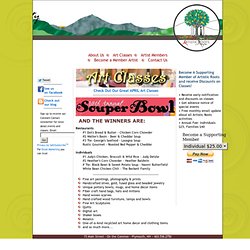 Artistic Roots - An Artisans' Co-Op, Plymouth, New Hampshire
Become A Supporting Member of Artistic Roots and receive Discounts on Classes! • Receive early notification and discounts on classes • Get advance notice of special events • Free monthly email update about all Artistic Roots activities • Annual Fee: Individuals $25, Families $40 Check Out Our Great APRIL Art Classes Restaurants #1 Dot's Bread & Butter - Chicken Corn Chowder #2 Walter's Basin - Beer & Cheddar Soup #3 Tie: George's Seafood - Lasagna Soup Rustic Gourmet - Roasted Red Pepper & Cheddar
'White Wash' March 7 – 29 Group Show Opening Reception: Friday, March 7 from 5 – 9 pm There is a beautifully eerie quality of winter when there's a fresh blanket of snow on the ground, and here in Vermont, we are in the thick of it. The pallet for 'White Wash' is clean, bright, and fresh with a side of the quiet, serene, and ghostly.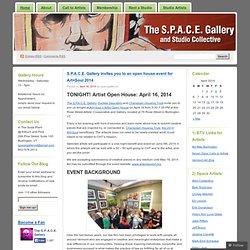 The S.P.A.C.E. Gallery
español deutsch français italiano 日本語 한국어 русский 中文(简体) 旧版 português Hours (Main Building) Open 7 Days a Week Sunday–Thursday: 10:00 a.m.–5:30 p.m.