CMAT
How Girls Watch TV
Odwalla
The grandfather of Euclio, an Athenian miser, entrusted a pot of gold to his household deity after burying the pot in the hearth. The god, angered in turn at Euclio's grandfather, his father, and Euclio himself, has kept the secret of the treasure from all, until finally the daughter of Euclio, Phaedria, has endeared herself to the god. In an effort to help the young woman, the deity shows Euclio where the gold is hidden, so that the miser, by using the money as a dowry, might marry his daughter to Lyconides, the young man who has seduced her. Euclio, miserly and distrustful by nature, is thrown into a feverish excitement by the discovery of the gold.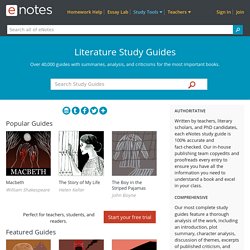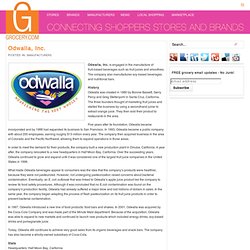 Odwalla, Inc. is engaged in the manufacture of fruit-based beverages such as fruit juices and smoothies. The company also manufactures soy-based beverages and nutritional bars. History Odwalla was created in 1980 by Bonnie Bassett, Gerry Percy and Greg Steltenpohl in Santa Cruz, California.
Odwalla, Inc. | Grocery.com
Odwalla Profile Overview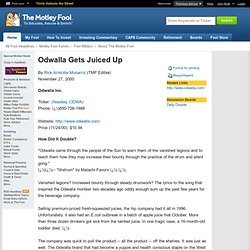 Odwalla Gets Juiced Up [Daily Double] November 27, 2000
By Ticker: (Nasdaq: ODWA) Phone: �650-726-1888 Website: http://www.odwalla.com/ Price (11/24/00): $10.94
Juice Left in Odwalla; Company Posts Loss, but Sales and Cash Up Despite Recall
Odwalla, Inc. Company Profile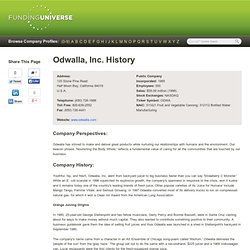 Address: 120 Stone Pine Road Half Moon Bay, California 94019 U.S.A. Telephone:(650) 726-1888Toll Free:800-639-2552Fax:(650) 726-4441
Odwalla, Inc.
Odwalla Juice Breakdown
April 10, 2014 7:52 PM ET Food Products Company Overview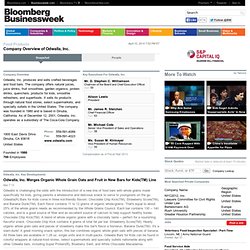 Odwalla, Inc.: Private Company Information - BusinessWeek