Eric Staggs: Writer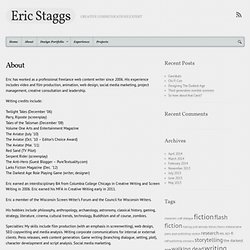 About | Eric Staggs: Writer
Eric has worked as a professional freelance web content writer since 2006. His experience includes video and film production, animation, web design, social media marketing, project management, creative consultation and leadership. Writing credits include: Twilight Tales (December '06) Parry, Riposte (screenplay) Tales of the Talisman (December '08) Volume One Arts and Entertainment Magazine The Aviator (July '10) The Aviator (Oct. '10 – Editor's Choice Award) The Aviator (Mar. '11) Red Sand (TV Pilot) Serpent Rider (screenplay) The Anti-Hero (Guest Blogger – PureTextuality.com) Larks Fiction Magazine (Dec. '12) The Darkest Age Role Playing Game (writer, designer) Eric earned an interdisciplinary BA from Columbia College Chicago in Creative Writing and Screen Writing in 2006.
copywriting, web content, fiction, screenwriting and games | Eric Staggs: Writer
The season finale was pretty anti-climactic. The group is back together and that's that. But there's something pretty awful happening here that should have been apparent to us a couple weeks ago. When Maggie and Glen and entourage arrived at Terminus, they old lady was cooking on the grill. Grilling meat. Long thick strips of meat.