Version Control
Get flash to fully experience Pearltrees
Tie Git Submodules to a Particular Commit or Branch While working on getting QUnit-CLI cleaned up and refactored a bit, I realized I needed to tie the example code in the Git repository to a particular version of QUnit.js (those guys are making changes too fast for me to keep up). I have used SVN:externals prevsiously so Git submodules seemed like an obvious solution. A single submodule should allow me to keep QUnit-CLI inherently pointing to a particular revision of QUnit.js without requiring me to seperately document which version I was testing against.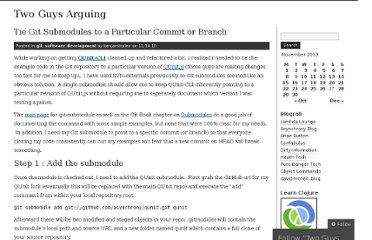 This guide is based on the Ubuntu Installation Guide from the Gitorious Wiki , but it is a little outdated, so here's my updated version. Pretty much all of the following commands need to be executed as the superuser, so first of all we make ourselves root (alternatively you could prepend sudo to every command, but that is rather tiresome. I do not recommend to always work as root though, because that way you will incur the wrath of the invisible pink unicorn ):
This is everything I've figured out so far about how to get Gitorious up and running on your own server. It's not everything yet, but it's a lot of stuff. OK, so first you want to install the dependencies. I think this are all of them, assuming you've installed the basic rails stuff:
Welcome to the Git version control system! Here we will briefly introduce you to Git usage based on your current Subversion knowledge. You will need the latest Git installed; There is also a potentially useful tutorial in the Git documentation. This page is not maintained anymore! The up-to-date version of this tutorial is the GitSvnCrashCourse page at the Git wiki.
You may have heard some hubbub over distributed version control systems recently. You may dismiss it as the next hot thing, the newest flavor of kool-aid currently quenching the collective thirst of the bandwagon jumpers.
Let's go through a simple example of branching and merging with a workflow that you might use in the real world. You'll follow these steps: Do work on a web site.
It was about one year ago that we switched to Git. Previously, we used Subversion, through the Mac app Versions , which (rightly) holds an Apple Design Award. I made the executive decision to leave our comfy world of Versions because it seemed clear that Git was winning the Internet. There was much grumbling from my teammates, who were busy enough doing actual work thank you very much. But I pressed forward. We signed up for accounts on Github .