Programming
There are millions of articles on how to setup LAMP setup on your own machine to allow developing websites locally.
Virtual Machines for Web Developers - Web Species blog
I recently wrote a blog on setting up a local environment in macosx to develop locally. Although this is great and a good alternative the the web servers out there as it is faster, it is not ideal if you need to run different versions of php and also doesn't truly reflect the set up of the linux servers that you are running your website off. That is why I have written this blog, it is a guide to setting up a virtual machine in virtualbox which you can run your website through and develop against.
Web Development through a VM | Mat Searle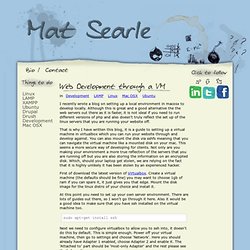 a side-by-side reference sheet sheet one: grammar and invocation | variables and expressions | arithmetic and logic | strings | regexes | dates and time | arrays | dictionaries | functions | execution control | exceptions | concurrency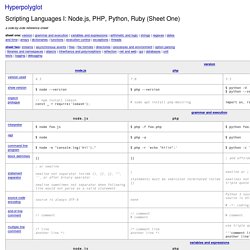 restful url - How to create REST URLs without verbs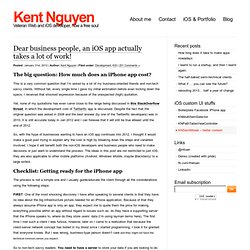 Posted: January 31st, 2012 | Author: Kent Nguyen | Filed under: Development, iOS | 201 Comments » The big question: How much does an iPhone app cost?
Dear business people, an iOS app actually takes a lot of work! | Kent Nguyen