Politics
Networks 4 Causes. Money and Politics. Hollywood Politics. Energy news. Standard Bank says Chinese copper market cause for concern. Wall Street: Aiding Economic Recovery, or Strangling It? Ever wonder how investment bankers, a breed known in the past more for its social skills and golf handicaps than for its mathematical prowess, ever invented products like those crazily sophisticated, synthetic collateralized debt obligations that brought down the financial system?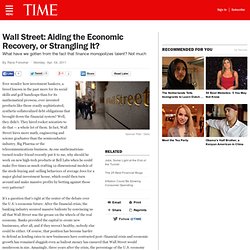 Well, they didn't. They hired rocket scientists to do that — a whole lot of them. In fact, Wall Street hires more math, engineering and science graduates than the semiconductor industry, Big Pharma or the telecommunications business. As one mathematician-turned-trader friend recently put it to me, why should he work on new high-tech products at Bell Labs when he could make five times as much crafting 12-dimensional models of the stock-buying and -selling behaviors of average Joes for a major global-investment house, which could then turn around and make massive profits by betting against those very patterns? It's a question that's right at the center of the debate over the U.S.'
Military
Cool Hand Luke: Learn the rules. FishbowlDC - Where Politics & DC Media Mesh. Who's on the talk shows this weekend?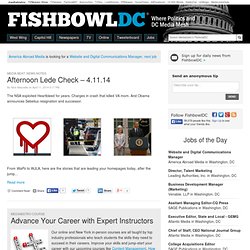 Glad you asked: Sunday: CBS's "Face the Nation" : Michael Eric Dyson, Georgetown University; Nikole Hannah-Jones, ProPublica and The Atlantic; Evan Wolfson, Freedom to Marry; Tavis Smiley, PBS; Peter Baker, The New York Times; Leigh Gallagher, Fortune; Michael Gerson, The Washington Post; and Frank Rich, New York Magazine. How the Fed's dividend daze could backfire - Street Sweep: Fortune's Wall Street Blog. It's all gravy for the bankers now.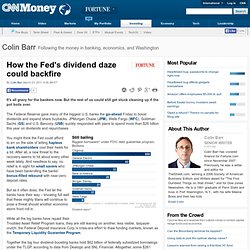 But the rest of us could still get stuck cleaning up if the pot boils over. The Federal Reserve gave many of the biggest U.S. banks the go-ahead Friday to boost dividends and expand share buybacks. JPMorgan Chase (JPM), Wells Fargo (WFC), Goldman Sachs (GS) and U.S. Bancorp (USB) quickly responded with plans to spend more than $26 billion this year on dividends and repurchases. Dividend daze? Still No Recovery In: Jobs, Housing, Energy Use, Consumer Credit. Tremble the Devil — the story of terrorism as Jesus Christ, James Bond, and Osama bin Ladin would tell it. Why Wall Street Lobbyists Want to Scare Small Businesses | BNET. Last Updated Mar 2, 2011 3:08 PM EST The financial industry and their allies in Congress are using every trick in the book to thwart the Consumer Financial Protection Bureau even before the new agency officially opens its doors in July.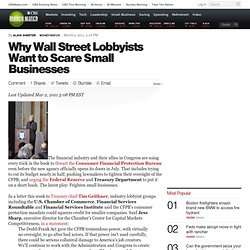 That includes trying to cut its budget nearly in half; pushing lawmakers to tighten their oversight of the CFPB; and urging the Federal Reserve and Treasury Department to put it on a short leash.
Transactional Records Access Clearinghouse (TRAC) - Comprehensive, independent, and nonpartisan information on federal enforcement, staffing and funding. Koch brothers quietly open lobbying office in downtown Madison. The billionaire brothers whose political action committee gave Gov.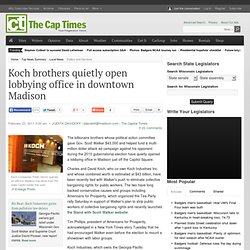 Scott Walker $43,000 and helped fund a multi-million dollar attack ad campaign against his opponent during the 2010 gubernatorial election have quietly opened a lobbying office in Madison just off the Capitol Square. Charles and David Koch, who co-own Koch Industries Inc. and whose combined worth is estimated at $43 billion, have been recently tied with Walker's push to eliminate collective bargaining rights for public workers. The two have long backed conservative causes and groups including Americans for Prosperity, which organized the Tea Party rally Saturday in support of Walker's plan to strip public workers of collective bargaining rights and recently launched the Stand with Scott Walker website.
Tim Phillips, president of Americans for Prosperity, acknowledged in a New York Times story Tuesday that he had encouraged Walker even before the election to mount a showdown with labor groups. The Hamilton Consulting Group of Madison, Wisconsin. America's hottest export: Arms - Feb. 11. Boeing's Joint Direct Attack Munition (JDAM) bomb, which is used to target surface threats and is used by 26 countries.By Mina Kimes, writerFebruary 24, 2011: 3:02 PM ET FORTUNE -- This time last year, Boeing's F-15 production line, which is housed in a beige, dreary building on the outskirts of Lambert-St.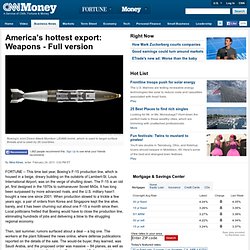 Louis International Airport, was on the verge of shutting down. The F-15 is an old jet, first designed in the 1970s to outmaneuver Soviet MiGs. It has long been surpassed by more advanced rivals, and the U.S. military hasn't bought a new one since 2001. Pension Bill Irks Experts - Bond Buyer Article. WASHINGTON — As a House Judiciary Committee panel meets Monday to hold a hearing on public pensions and the need for state bankruptcy protection, pension and muni bond experts are opposing a recently introduced bill that would prohibit them from issuing tax-exempt bonds unless they subject their pension plans to federal oversight and regulation.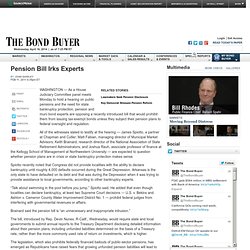 All of the witnesses slated to testify at the hearing — James Spiotto, a partner at Chapman and Cutler; Matt Fabian, managing director of Municipal Market Advisors; Keith Brainard, research director of the National Association of State Retirement Administrators; and Joshua Rauh, associate ­professor of ­finance at the Kellogg School of Management at Northwestern University — are expected to question whether pension plans are in crisis or state bankruptcy protection makes sense.
Spiotto recently noted that Congress did not provide localities with the ability to declare bankruptcy until roughly 4,000 defaults occurred during the Great Depression. MEDIA EMAIL ADDRESSES. This page of email addresses is NOT designed to be used to send individual emails.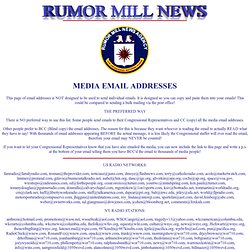 It is designed so you can copy and paste them into your emails! This could be compared to sending a bulk mailing via the post office! Outlook 2011: States Brace for Toughest Year Yet. In the past few years, states and cities have had to make unprecedented budget cuts as revenues tumbled with the economic downturn — but the worst is still to come.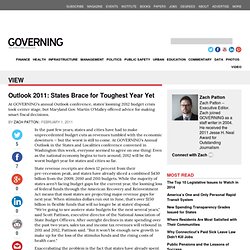 At GOVERNING's Annual Outlook in the States and Localities conference convened in Washington this week, everyone seemed to agree on one thing: Even as the national economy begins to turn around, 2012 will be the worst budget year for states and cities so far. State revenue receipts are down 12 percent from their pre-recession peak, and states have already sliced a combined $430 billion from the 2009, 2010 and 2011 budgets. While the majority of states aren't facing budget gaps for the current year, the looming loss of federal funds through the American Recovery and Reinvestment Act means that most states are projecting major revenue gaps for next year. Energy industry braces for cuts - Darren Samuelsohn. Energy interests of all stripes are on alert to defend their share of tax breaks, loan guarantees and other financial sweeteners amid growing calls to slash spending.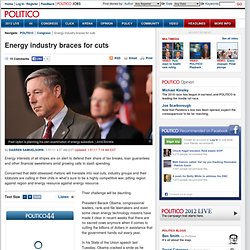 Concerned that debt-obsessed rhetoric will translate into real cuts, industry groups and their lobbyists are calling in their chits in what's sure to be a highly competitive war, pitting region against region and energy resource against energy resource. Continue Reading Their challenge will be daunting. President Barack Obama, congressional leaders, rank-and-file lawmakers and even some clean energy technology mavens have made it clear in recent weeks that there are no sacred cows anymore when it comes to cutting the billions of dollars in assistance that the government hands out every year.
In his State of the Union speech last Tuesday, Obama cracked a smile as he repeated a call he's made the past two years for the elimination of billions of dollars in tax breaks for oil companies. The Independent | News | UK and Worldwide News | Newspaper. Secret GOP plan: Push states to declare bankruptcy and smash unions | Analysis & Opinion | Congressional Republicans appear to be quietly but methodically executing a plan that would a) avoid a federal bailout of spendthrift states and b) cripple public employee unions by pushing cash-strapped states such as California and Illinois to declare bankruptcy.
This may be the biggest political battle in Washington, my Capitol Hill sources tell me, of 2011. That's why the most intriguing aspect of President Barack Obama's tax deal with Republicans is what the compromise fails to include — a provision to continue the Build America Bonds program. Election Law. Bye-Bye Bell's | Feature. At the Map Room, a Bucktown bar with a tap list the length of a novel, the beers of Bell's Brewery are suddenly what everyone wants. "They've never been more popular," says bar owner Laura Blasingame. "If you can't have it, you really want it. " Wanting won't help. Due to a much-publicized dispute with its Chicago distributor, the southwest Michigan brewery has pulled out of the state entirely. Medicare Cuts: Doctors Brace For Big Cuts. WASHINGTON — Breast cancer surgeon Kathryn Wagner has posted a warning in her waiting room about a different sort of risk to patients' health: She'll stop taking new Medicare cases if Congress allows looming cuts in doctors' pay to go through.
The scheduled cuts – the result of a failed system set up years ago to control costs – have raised alarms that real damage to Medicare could result if the lame-duck Congress winds up in a partisan standoff and fails to act by Dec. 1. That's when an initial 23 percent reduction would hit. Neither Democrats nor newly empowered Republicans want the sudden cuts, but there's no consensus on how to stave them off. Total Election Awareness: Track Voting Problem Reports in Real Time. Our Vote Live .org. The Capitol Steps Home Page.
Project Vote Smart's VoteEasy ™ Research Congress. Public Workers Rush for Retirement.
---