Law Dept Resources
Cloud Data & Virtualization
It's no secret that the business of practicing law has changed—and continues to change—in ways that are both subtle and dramatic.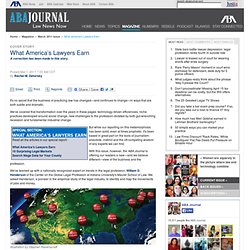 What America's Lawyers Earn - Magazine - ABA Journal
Library
Don't Outsource In-House Counsel, Transform Them
No matter how you slice it, it's a HUGE change: The fundamental goal for legal departments today is to validate the legal budget as a business enabler driving greater profits.
Securities Law Practice Center - PLI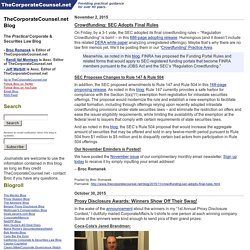 Blog
The Practical Corporate & Securities Law Blog Broc Romanek and Dave Lynn are Editors of TheCorporateCounsel.net Receive an email notification when this blog is updated: Journalists are welcome to use the information contained in this blog as long as they credit TheCorporateCounsel.net - contact Broc if you have any questions.
Mallon PC | Hedge Fund and Commodities Law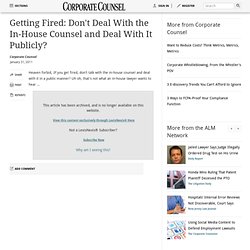 Heaven forbid, IF you get fired, don't talk with the in-house counsel and deal with it in a public manner? Uh oh, that's not what an in-house lawyer wants to hear ... The ALM® and LexisNexis® Content Alliance
New York Wants to Make Things Easier for In-House Lawyers
Legal Research – Solo Practitioner – Small Law – Lexis® Advance | LexisNexis
myCorporateResource.com--Empowering the Corporate Community - Home
Statutory Construction
Prism Legal Consulting, Inc.
Internal Investigation Issues
Online File Delivery | Secure File Storage and File Sharing Since 1999 | My Docs Online
This tool will generate a venture financing term sheet based on your responses to an online questionnaire. It also has an informational component, with basic tutorials and annotations on financing terms. This term sheet generator is a modified version of a tool that we use internally, which comprises one part of a suite of document automation tools that we use to generate start-up and venture-financing-related documents.
Website: Wilson Sonsini Goodrich & Rosati - Term Sheet Generator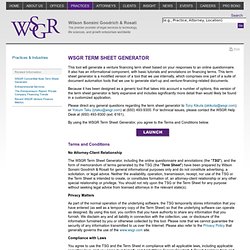 ISDA - International Swaps and Derivatives Association, Inc.
LSTA Home Page
Health Care litigation
2012 Anti indemnity statutes
PLI's In Brief: The Leader in Continuing Legal Education Since 1933